Learn about Decontamination for Drinking Water and Wastewater Utilities
On this page:
---
What is decontamination?
Decontamination is the inactivation or reduction of contaminants from surfaces by physical, chemical, or other methods to meet a cleanup goal. Decontamination does not include the treatment of contaminated water or wastewater. Decontamination happens after confirming the contamination and before returning the system to service. Decontamination is part of "Remediation and Cleanup" following an incident.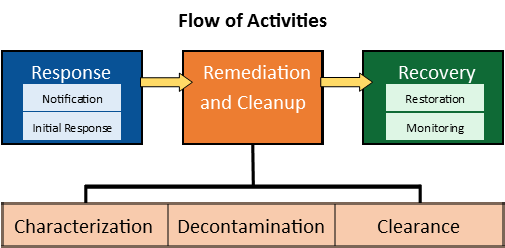 ---
Handling contaminated water
Contamination emergencies at utilities may occur naturally or by man-made causes. Manmade causes may be accidental or intentional. During a contamination incident, utilities will have to handle contaminated water properly. This may include:
Isolating and treating contaminated water
Storing treated water and decontaminated infrastructure components 
Access our guide to find out how to handle contaminated water: Containment and Disposal Guide  
---
Learn the decontamination strategy
Learn more about the resources being developed to help drinking water and wastewater facilities in the following areas with the Progress on Water Sector Decontamination Recommendations & Proposed Strategic Plan:
Providing guidance regarding decontamination  
Containment and disposal of contaminated water
Developed planning documents to facilitate preparation and response to a contamination event
Evaluated results from studies on the persistence of target contaminants in water systems and the efficacy of treatment technologies and protocols
Developed Web-based resources
Conducted decontamination-specific training