StoryMap Guidance and Resources
EPA's licensed mapping software provider, Esri, developed the concept of StoryMaps to enhance content communication around spatial data. Practically speaking, when EPA employees, contractors, and external collaborators have spatial data in EPA's GeoPlatform Online (GPO) and wish to share it, Esri's StoryMap template can be useful. The EPA StoryMap theme guides users on how to present EPA content in a meaningful way.
In July 2019, Esri released a new ArcGIS StoryMap template Exit that will replace the classic layouts used by the Agency since ~ 2011. It is highly recommended that EPA users adopt the new ArcGIS StoryMap (Cascade) template and use the EPA-specific theme. Classic Esri StoryMaps will only receive critical maintenance support Exitthrough July 2024, but will remain in the EPA GeoPlatform Online. If you use a classic Esri template, please be aware that your StoryMap may not meet Section 508 Exitrequirements.
Esri provides ArcGIS StoryMap support and design ideas through ESRI Academy. Exit Examples from other federal agencies and agency collaborators can be found in ESRI's StoryMap Gallery. Exit
On this page:
---
Making a StoryMap
StoryMaps, like all other new web content, must be reviewed and approved before they are made publicly available. There are two review steps for StoryMaps. The first review takes place at the concept stage before work begins on the StoryMap. The second is the final review, which occurs when the StoryMap is final (or near-final), before the StoryMap becomes publicly available.
Three steps to creating and maintaining a StoryMap:
REVIEW
REVIEW
Identifying A StoryMap Concept
As a first step, please contact your Web Council member before submitting your StoryMap to OPA/OWC for concept review. Your Web Council member will help you determine if a StoryMap format is appropriate and coordinate with your Public Affairs Director or Communications Director. Members of the EPA's Office of Research and Development should first consult their lab's Web and Communications lead before contacting their lab's Web Council Member.
Review Considerations
Your Public Affairs Directory or Communications Director will ensure that the StoryMap is in accordance with the goals of your AAship or Region.
Your Web Council Member will help you determine if a StoryMap is the best way to tell your story.
One of your Geoplatform Administrators can help you gain credentials in the GeoPlatform and will answer technical questions, provide training resources, and review the cartographic elements of your StoryMap.
After the Web Council Member approves a StoryMap concept, the StoryMap creator should submit an online StoryMap Approval Form to the Office of Web Communications. The StoryMap review may also include the OPA senior management. Note that OPA/OWC review and approval are necessary before proceeding. Please contact the Office of Web Communication (OWC) if no message is received within a week.
Developing a StoryMap
To begin developing  your map content and StoryMap application visit the EPA GeoPlatform and login using your LAN credentials. Our Geo Resources Sharepoint has details on how to get help and how to get your StoryMap published by a GeoPlatform Administrator once it has passed both concept phase and final review in addition to related training and other support.
An EPA-specific ArcGIS StoryMap theme has been developed for use at the Agency. This theme uses the new ArcGIS Cascade template. It is highly recommended that you use this theme, which includes key design elements and best adheres to web standards. Using this theme will likely expedite the review and approval of your StoryMap. Use the EPA StoryMap theme.
ArcGIS StoryMap Required Elements
When designing StoryMaps, project owners must adhere to the EPA Web Standard: StoryMaps, all other EPA Web Standards, and Web Style Guide as much as possible. Additional considerations should made regarding Section 508 compliance and web-based writing standards and guidance.
NOTE: EPA Interactive Geospatial and Data Visualization software at the EPA were approved of class undue burden pursuant to EPA Section 508 Policy Accessible Electronic and Information Technology Guidance CIO 2130-P/S/G-01.0 section 4 and subsequent CIO2130.1 guidance section 6 subsection E, I. Read the memo. This means that while you are required to make every effort to make your geospatial or data visualization products 508-compliant, it is not always possible.
Google Analytics Code
OMB and EPA require that all public-facing EPA.gov webpages collect data and send metrics to Google Analytics. To capture and send this data to Google Analytics, you must ensure that EPA's Google Tag tracking ID ( UA-32633028-1) is included in the ArcGIS Storymap tab labeled Story Settings (see screenshot below).  Google Analytics will provide Agency users with key metrices to measure both StoryMap success and impact.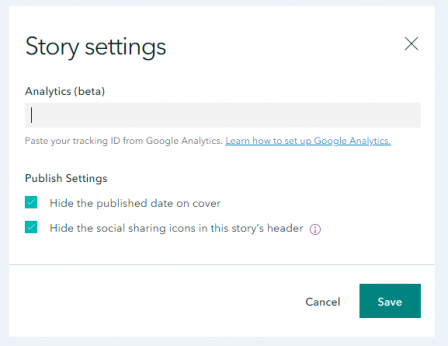 Text Equivalent of Information
Visitors who rely on screen-readers and/or have visual impairments may not be able to discern the information that a map or interactive feature provides to sighted readers. Section 508 requires that we provide equivalent information in a way that is accessible to all.
To provide this equivalent information:
Provide a link just below or to the left or right of the map that goes directly to the equivalent information, i.e., the raw data underlying the link.

This information should be in an Excel table or other format capable of being read by a screen reader.
The link should include an Exit EPA icon  (Exit) if the link takes the user to a location that is not a federal website (.gov).
If the information is located in a source file other than an HTML file, indicate the file extension (PDF, DOC, etc.) after the link, following EPA standards.
Include Alt Text for Images, Tables, Graphics and Charts
Alternative Text (AltText) is used within HTML code to describe the appearance and function of a webpage element, such as an image, table or chart. Adding alternative text to these elements ensures accessibility for individuals who cannot visually process the element. Alt text should convey information presented in charts, tables and images. Alt Text for images do not need to be a literal description, it can instead be used to convey supplemental tone or meaning that sighted users might infer naturally. For charts, graphs, tables and other technical data presentation methods, it is important to describe the results shown in the alt text. Learn more from W3C AltText best practices, especially their Writing for Web Accessibility Exit and Image Concepts Exit tutorials.
Make sure that all photos, graphics and tables have alt text associated with them. Exit
Sufficient Color Contrast
The Chrome extension, WAVE Evaluation Tool Exit allows you to easily view contrast information for your StoryMap and check for other accessibility requirements. Once this extension is installed to your Chrome browser, you can run a quick report of the StoryMap to check for color contrast and other issues. StoryMaps should strive to adhere to the acceptable color contrast ratio for federal webpages which is 5:1 or higher.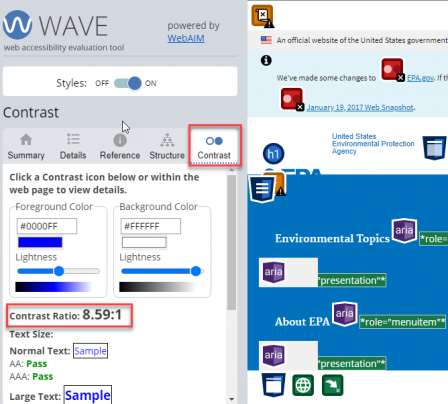 ColorBrewer Exitis an online tool that can be very helpful when choosing colors for your maps. ColorBrewer allows you to test out color palettes based on number of data sets, type of data (sequential, diverging, etc.), and other handy filters. When choosing a colors for your map, you must select a palette that is colorblind safe to ensure accessibility and 508 compliance. Learn more about color use in data visualization.Exit
Flexible Sorting (do not rely solely on color)
If the locations or facilities shown on your map fall into different classes (e.g. locations of different types of federal cleanups, different types of media), then the pushpins, flags or other identifying markers should not rely solely on color to tell the difference between the types of data presented. The markers should also rely on shape to distinguish the different locations, types of results, or facilities.  Alternatively, you can have them rely solely on color if you also provide a way to filter the map so only markers of one color are displayed.  See the Well Class tab on the Aquifer Exemptions map for an example of this filtering.
Final Approval of your StoryMap
StoryMaps, like all other new web content, must go through the appropriate reviews before they can be published. Use of the EPA StoryMap theme is strongly encouraged to help ensure that required elements are included in your StoryMap. Before your StoryMap will be considered for final approval and public posting, you must ensure that the requirements outlined below are met:
StoryMap requirements stated on this page
Section 508 compliance requirements for StoryMaps (Note that there are some exclusions outlined in the U.S. EPA StoryMap Waiver)

You must make every effort to make StoryMaps 508 compliant and accessible for all audiences.
Steps for Final StoryMap Approval
Submit the StoryMap link to your Web Council member and Public Affairs Director/Communications Director, who will all review.  If you are in an ORD lab, contact your lab's web and communications lead before you submit the draft for review.
Once your Web Council member and Public Affairs Director/Communications Director have reviewed and approved, you should notify OPA/OWC via the StoryMap Approval form to seek their final review.

OPA/OWC will review your StoryMap and email you with any comments, CC:ing your Web Council member and at least one of your Geoplatform Administrators. You should typically receive this email within a week. Please contact the Office of Web Communication (OWC)

 if you do not receive a reply to your review request within a week.

OPA/OWC will review your StoryMap for the following:

Ensure that it supports the goals of the current administration
Adherence to the StoryMap requirements on this page
Adherence to EPA Web Standards
Section 508 compliance requirements for StoryMaps

Once OWC's comments have been incorporated, let OWC know. 

Once OPA/OWC has performed their final review you are ready to publish!  Please contact one or more of your Geoplatform Administrators who will ensure that all the components of your product (StoryMap, web map, feature layers, etc.) include the standard metadata described in the EPA Style Guide for Documenting GeoPlatform Online Content Items and they will guide you through the mechanics of making items public.
Maintain Your StoryMap
The content of StoryMaps must be maintained and kept up-to-date just like any other EPA web content. StoryMaps are subject to review schedule for public EPA web content as outlined in EPA's Procedure: Web Content Types and Review. Please be sure to maintain your map and webpage so that it continues to be useful and relevant to your audience.
As with all EPA public web content, StoryMaps should be unpublished when they cease to be useful or relevant. There is no way to archive StoryMaps at this time.