Kansas Protects and Restores Wetlands, Streams and Riparian Areas
The effort to develop a Wetland Program Plan (WPP) and an effective method for identifying wetlands throughout the state of Kansas is an effort six years in the making.  It began with receiving a Wetland Program Development Grant (WPDG) in 2007 when the Kansas State Conservation Commission began identifying interests in developing a framework for a comprehensive Wetland and Aquatic Resources Conservation Plan.  They found that the main hurdle to overcome was to locate wetlands within the state of Kansas, as there has been a loss of approximately 50% of historical wetlands in the state. The best source for this, The National Wetlands Index (NWI), existed for just a few counties in Kansas, meaning the state essentially started from scratch. This project focused on monitoring and assessment and protection and voluntary restoration.
The Kansas Department of Health and Environment, Bureau of WaterExit utilized the grant to begin developing a tool that would allow them to identify and locate wetlands throughout the state using remote sensing and modeling.  The office then began developing a wetland assessment and prioritization method in two pilot watersheds intended to complement and implement high priority watershed-based goals, projects and policies statewide. 
The funds from their WPDG allowed them to develop the following:
The first complete watershed-based wetland inventory in the state with a watershed comprising two HUC 11s
Topographic Wetland Identification Process (TWIP) -a standardized methodology for wetland assessment and prioritization that can be used for protection and restoration efforts
A tool to support development of a Kansas WPP
A working standard for all agencies, watershed planning, and stakeholder groups in the state of Kansas
Existing opportunities to integrate methods with overlapping interests and spin-off technologies-

Proper Functioning Condition of Riparian Areas
Riparian Vegetation Potential & Ecoregion Recommendations for Kansas
Evaluation of Stream Evolution & Stability
Aquatic Passage Barrier Inventories
Playa wetland identification and watershed delineation
TMDL Source Assessments
Kansas also spent time working with both the Kickapoo Nation and the Prairie Band Potawatomie Nation. They collaborated with them through watershed groups, providing input and sharing their experiences in developing Wetland Program Plans.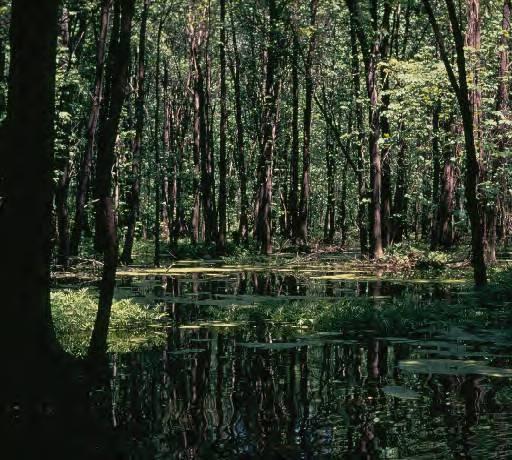 Photo courtesy of: U.S. Fish and Wildlife Service