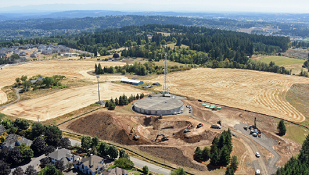 Borrower: City of Beaverton
Location: Beaverton, Oregon
WIFIA Loan Amount: $81.1 million
Population Served by Project: 90,000 people
Number of Jobs Created: 530 jobs
Project Description
The city of Beaverton Water Supply Improvement Program includes a combination of projects that will enhance the reliability and resiliency of the water system and meet the needs of a growing urban area. The program will construct major new transmission mains, new or improved connections to neighboring water systems, and additional seismically resilient storage. It will also expand service to a new area, install a system-wide advance metering infrastructure system, and work toward a new stormwater reuse system.
Project Benefits
Maintains the existing system's performance and improves its reliability.
Increases resiliency of water system to seismic events.
Provides system access to new drinking water source under construction.
Saves the city of Beaverton an estimated $31.3 million from financing with a WIFIA loan.
You may need a PDF reader to view some of the files on this page. See EPA's About PDF page to learn more.