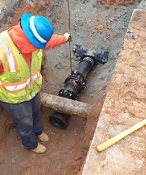 Borrower: DeKalb County
Location: Decatur, Georgia
WIFIA Loan Amount: $265 million
Total WIFIA Project Costs: $541 million
Population Served by Project: 745,000 people
Number of Jobs Created: 1,891 jobs
Project Description
The Priority Areas Sewer Assessment and Rehabilitation Program Consent Decree Packages project will rehabilitate and repair the highest priority areas of an aging wastewater collection and treatment system. This large program of rehabilitation work includes sewer replacement, trunk sewer upsizing, full or partial length sewer lining, and related activities at various locations within the County. The project will assess and rehabilitate the sewer system infrastructure to help eliminate sanitary sewer overflows and comply with the County's Consent Decree.
Project Benefits
Helps the county satisfy and comply with the recently renegotiated sanitary sewer overflow Consent Decree.
Rehablitates and repairs the highest priority components of an aging wastewater collection system.
Saves DeKalb County an estimated $65 million over the life of the loan, from financing with a WIFIA loan.
You may need a PDF reader to view some of the files on this page. See EPA's About PDF page to learn more.