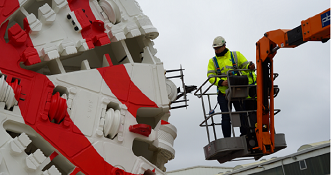 Borrower: King County
Location: King County, Washington
WIFIA Loan Amount: $96.8 million
Population Served by Project: 175,000 people
Number of Jobs Created: 632 jobs
Project Description
The Ship Canal Water Quality Project will improve water quality by reducing the volume of combined sewer overflow discharges into Lake Washington Ship Canal, which flows into the Puget Sound, by about 90 percent. The project will build an offline storage tunnel to capture untreated stormwater and sewage during heavy storms and temporarily hold it until the West Point Treatment Plant is able to process it. The project is designed to meet the Consent Agreement requirement to control combined sewer overflow discharges at six locations.
Project Benefits
Improves water quality in the Puget Sound and its tributary, the Lake Washington Ship Canal, by reducing the number of combined sewer overflows from 8.5 per year to 1 per year.
Reduces the pollutant discharge load by 84 percent per year.
Meets requirements of a Consent Agreement with U.S. EPA and the Washington Department of Ecology.
Saves King County an estimated $34 million from financing with a WIFIA loan.
You may need a PDF reader to view some of the files on this page. See EPA's About PDF page to learn more.