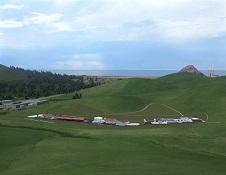 Borrower: City of Morro Bay
Location: Morro Bay, California
WIFIA Loan Amount: $61.7 million
Total WIFIA Project Costs: $125.9 million
Population Served by Project: 10,600
Number of Jobs Created: 403 jobs
Project Description
The City of Morro Bay, a small community, will replace its over 60-year-old Morro Bay-Cayucos Wastewater Treatment Plant which discharges into the estuary. The new advanced water treatment reclamation facility will recapture and recycle wastewater to help supplement the city water supply. As a result, the city will reduce its reliance on imported water and improve groundwater quality in the local aquifer by adding highly treated water. In addition, the new facility will be moved inland to increase its resiliency and reduce the risk of flooding.
Project Benefits
Produces 0.97 million gallons per day of recycled water that will meet indirect potable reuse standards.
Helps the city meet the California Coastal Commission's requirements by relocating the facility inland and producing more locally-sourced water.
Saves the city of Morro Bay ratepayers an estimated $28.6 million by financing the project with a WIFIA loan compared to a bond issuance.
You may need a PDF reader to view some of the files on this page. See EPA's About PDF page to learn more.