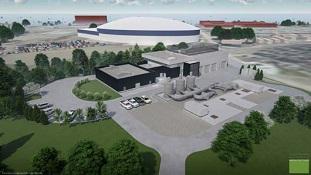 Borrower: City of Omaha
Location: Omaha, Nebraska
WIFIA Loan Amount: $69.7 million
Total WIFIA Project Costs: $142.2 million
Population Served by System: 400,000
Number of Jobs Created: 165 jobs
Project Description
Saddle Creek Retention Treatment Basin will be a partially underground structure where combined sewage is held and treated during wet weather events. The project is part of the city's sewer system which serves 400,000 people over 300 square miles in the Omaha area. It is an important part of the $2 billion Clean Solutions Omaha plan required by the Nebraska Department of Environmental Quality to meet federal clean water requirements.
Project Benefits
Intended to decrease the number and volume of overflow events into Little Papillion Creek, a Missouri River tributary, from 58 to 5 times a year and 560 to 70 million gallons per year.
Reduces in the volume of untreated combined sewer overflow, total suspended solids, and E. coli bacteria entering the creek.
Saves the City of Omaha about $20 million in interest costs by utilizing WIFIA financing for this project.
You may need a PDF reader to view some of the files on this page. See EPA's About PDF page to learn more.