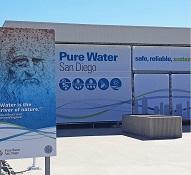 Borrower: City of San Diego
Location: San Diego, California
WIFIA Loan Amount: $614 million
Total WIFIA Project Costs: $1.4 billion
Population Served by System: 1.4 million
Number of Jobs Created: 480 jobs
Project Description
The City of San Diego will construct a new water reuse/recycling facility to produce 30 million gallons per day (mgd) of purified water. This is the first phase in its multi-year Pure Water Program that will use proven technology to clean non-potable reused/recycled water into safe, high quality, drinking water and provide one-third of the City's water supply by 2035. This purified reused/recycled water will blend with imported and locally sourced water and will be treated again at the Miramar Water Treatment Plant before being distributed to the public. The construction project will include new pump stations and conveyance systems, expansion of the existing North City Water Reclamation Plant, and improvements to the existing Miramar Reservoir Pump Station. This project will provide a reliable, sustainable supply sourced from reused/recycled water, reduce the need for imported water, and divert wastewater flows away from the Point Loma ocean discharge plant.
Project Benefits
Produces 30 mgd of purified water by 2024 and maximizes the amount of water that is reused.
Sets the City on course to produce one-third of its water supply through the Pure Water Program by 2035.
Decreases reliance on imported water and exposure to its projected cost increases.
Decreases ocean discharges and provides consistent water availability regardless of drought or rain.
Saves the City of San Diego an estimated $184 million from financing with a WIFIA loan compared to typical market financing.
Re-execution of the WIFIA loan in 2020 saves the City of San Diego an additional $290 million.
You may need a PDF reader to view some of the files on this page. See EPA's About PDF page to learn more.