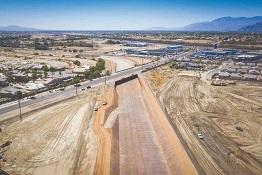 Borrower: Coachella Valley Water District
Location: Coachella, California
WIFIA Loan Amounts: $59.1 million
Total WIFIA Projects Costs
: $120.7 million
Population Served by Projects: 136,839
Number of Jobs Created: 378 jobs
Project Description
The Coachella Valley Water District will make stormwater channel improvements to increase their capacity to capture and convey stormwater and help the district meet current design standards. As a result, the projects will reduce stormwater runoff to nearby and adjacent properties and maintain the environmental integrity of the area. In addition, the projects will remove lands from the Federal Emergency Management Agency (FEMA) Special Flood Hazard Area resulting from a 100-year storm event.
Project Benefits
Allows for containment of 100-year storm events, preventing run-off, silt, and other debris from impacting a wide area of land.
Removes 275 acres of land from special flood areas.
Saves Coachella Valley Water District ratepayers an estimated $9.8 million by financing the project with a WIFIA loan compared to a bond issuance.
You may need a PDF reader to view some of the files on this page. See EPA's About PDF page to learn more.