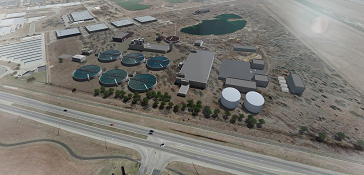 Borrower: City of Wichita
Location: Wichita, Kansas
WIFIA Loan Amount: $280.9 million
Total WIFIA Project Costs: $573.2 million
Population Served by Project: 500,000
Number of Jobs Created: 1,830 jobs
Project Description
The Northwest Water Treatment Facility is a new water treatment plant that will serve the City of Wichita, surrounding communities, industries, and wholesale customers. The new plant will provide 120 million gallons per day of drinking water and will replace the aging Main Water Treatment Plant. The purpose of the project is to replace aging infrastructure to provide reliable delivery of drinking water.
Project Benefits
Replaces an 80-year-old drinking water treatment plant at the end of its useful life which will increase reliability and reduce risk of failure.
Includes innovative treatment strategies and robust design standards which are focused on meeting current and future water quality standards.
Allows the project to begin 7 years earlier than it would without WIFIA funding.
Saves the City of Wichita ratepayers an estimated $97 million by financing the project with a WIFIA loan compared to a bond issuance.
You may need a PDF reader to view some of the files on this page. See EPA's About PDF page to learn more.