Visiting EPA's Region 6 Office in Dallas
Region 6 Offices Are Currently Closed
To ensure the health and safety of our employees and any potential visitors, the Region 6 offices remain closed.  This includes our main Dallas office, our Laboratory in Houston, and our Border Office in El Paso, Texas.  
If you need assistance, please visit our Contact EPA Region 6 page.
---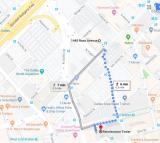 Path from Fountain Place to Renaissance Tower in Dallas.EPA's Region 6 has moved its Dallas offices from Fountain Place (1445 Ross Ave.) to the Renaissance Tower (1201 Elm Street), about three blocks to the south.
Renaissance Tower is located in downtown Dallas at the southwest corner of Field Street and Elm Street.
On this page:
Address
US EPA Region 6
1201 Elm Street, Suite 500
Dallas, TX 75270
Call our Public Information Center:
(800) 887-6063 or
(214) 665-2760 if calling from outside Region 6 states (Arkansas, Louisiana, New Mexico, Oklahoma and Texas)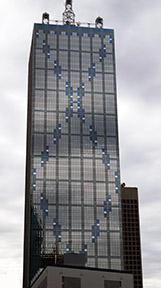 Building Access
The Renaissance Tower is open weekdays from 7:00 am to 6:00 pm. There is limited pedestrian access to the building after hours and on weekends.
All EPA Region 6 visitors must go to the 5th floor reception and security lobby upon arrival. EPA federal facility access may be granted after successfully passing security screening, and EPA sponsorship is obtained.  Weapons are not allowed in federal facilities. Visitors will need to present a REAL ID Act compliant identification (current ID with photo) in order to be sponsored by the EPA as a visitor.
All EPA sponsored visitors must be issued a visitor badge by the receptionist and must be escorted by the sponsor at all times. Once official business is completed, visitors must check out at the reception desk and the visitor's badge(s) must be returned to the receptionist.
More information for visitors to EPA's Region 6 office:
Renaissance Tower Facilities
The following links exit the site ExitEPA Region 6 Reception and Security Lobby is on the 5th floor.
Handicapped access to Renaissance Tower is from the Elm Street side of the building.
The Crystal Court restaurants are on the west side of Renaissance Tower.
The  underground tunnel system links many buildings, restaurants, and businesses. The entrance to the tunnel is under Renaissance Tower.
Read more about Renaissance Tower.
Directions and Parking
Driving Directions
From North ⁄US-75
From US-75 South, take the I-35 to Waco exit, which will put you onto Woodall Rogers Freeway westbound.
Take the Field Street exit and turn left onto Field Street.
The building is located at the corner of Field Street and Elm Street.
From South ⁄I-35
Follow I-35 North towards Denton. Just past the intersection with I-30 take ramp to US-75. This will put you on the Woodall Rogers Freeway.
Take the first exit off Woodall Rogers for Griffin Street toward Field Street.
Turn right onto N Griffin Street. Pass 7-Eleven on the right in 0.2 miles.
Turn left onto Pacific Avenue.
Turn right onto N Field Street, and then immediately turn right onto Elm Street.
Arrive at 1201 Elm Street. The building is located at the corner of Field Street and Elm Street.
Additional driving directions can be found on the Renaissance Tower directions webpage.
Parking
There are several parking lots near Renaissance Tower, and a limited amount of metered street parking in the area. These parking lots are not attended and machines do not give change. Several lots accept both cash and credit cards. EPA Region 6 does not validate parking.
Airports
Public Transportation
Dallas Area Rapid Transit (DART) runs city buses and the light rail system. The closest DART light rail stop is Akard station (Red, Orange, Blue, and Green lines), which is across Field Street from Renaissance Tower. DART's West End bus station is two blocks west of the building and provides access to 24 citywide bus routes. DART's Orange line provides access to both Dallas/Fort Worth International Airport and Love Field Airport.
The EBJ Union Station is less than a mile from Renaissance Tower, and serves DART light rail, Trinity Railway Express commuter rail, and Amtrak intercity rail.
International Visitors