AgSTAR National Mapping Tool
What is the National Mapping Tool?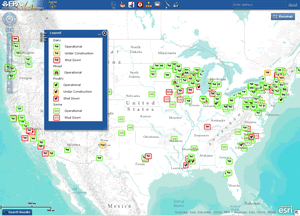 Launch the National Mapping Tool. (Remember to right click on the link and choose "Open link in new window" to view the tool and this page at the same time.)
The National Mapping Tool helps advance the use of anaerobic digestion in the agriculture sector in the United States. The National Mapping Tool helps you:
Locate anaerobic digesters using livestock waste,
Examine the potential for growth in the agriculture sector,
Identify and compare investments,
Find organizations related to the AgSTAR program, and
Compare state incentives, policies, standards and emissions.
Getting Started (Frequent Questions)
About the Data
The Mapping Tool allows you to customize your research using different types of data—known as data layers. Brief descriptions of the data layers available in the mapping tool include: facilities, growth potential, state summaries, investments and related organizations.