Land Application of Biosolids
On this page:
Land application involves the spreading of biosolids on the soil surface or incorporating or injecting biosolids into the soil. Biosolids land application occurs at various sites including agricultural lands, forests, mine reclamation sites, and other disturbed lands, parks, and golf courses. Composted and treated biosolids are used frequently by landscapers and nurseries and by homeowners for lawns and home gardens. Land application has been practiced for decades and continues to be the most common method for using biosolids. Biosolids serve as a soil enrichment and can supplement or replace commercial fertilizers.
EPA Documents about Land Application of Biosolids
Meeting Biosolids Class Requirements
40 CFR Part 503 divides biosolids into "Class A" and "Class B" biosolids in terms of pathogen reduction requirements. However, the terms have been more commonly used to describe the suite of requirements and treatment methods for pollutants, pathogens, and vector attraction reduction.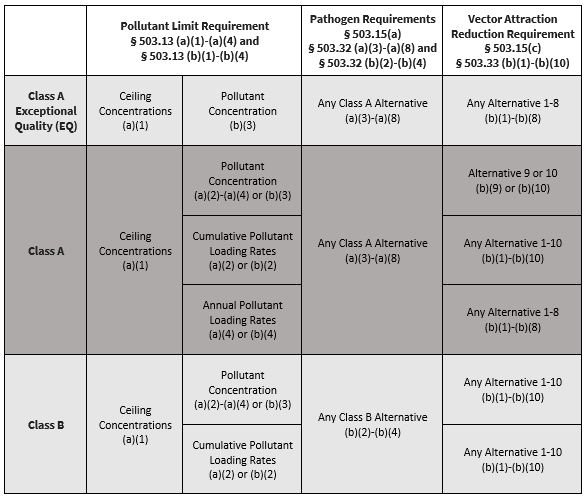 While Part 503 mandates specific method alternatives for meeting all requirements, there are several documents that help outline and describe those options:
A Plain English Guide to the EPA Part 503 Biosolids Rule
EPA's A Plain English Guide to the EPA Part 503 Biosolids Rule summarizes 40 CFR Part 503. While the guide is not a substitute for the actual rule, it is consistent with the content of the Part 503 rule and can be a helpful tool for the rule's interpretation and implementation.
Control of Pathogens and Vector Attraction in Sewage Sludge
This document is not regulatory in nature and is only intended to serve as a guide to pathogen and vector attraction reduction for anyone who is involved with the treatment of sewage sludge for land application. 
Part 503 Implementation Guidance
This document is a guidance manual and is intended to provide assistance with implementing Part 503.
Composting
Composting is the biological degradation of organic materials in sewage sludge under controlled aerobic conditions. The process is used to stabilize wastewater solids to create a marketable end-product that is easy to handle, store, and use as a soil amendment. The end product is often a Class A, humus-like material without detectable levels of pathogens that can be applied as a soil conditioner and fertilizer to gardens, food and feed crops, and rangelands.