Quantile Regression: Chironomid richness vs. Metal Toxicity Units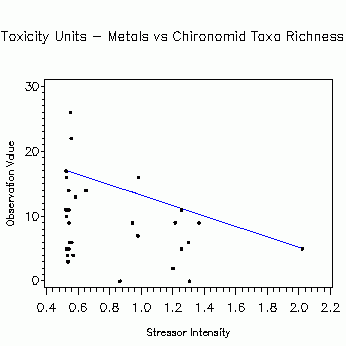 Plot
Analysis: Quantile regression
Independent variable: Metal Toxicity Units
Dependent variable: Chironomid taxa richness
Key: dot=observation; line= 90th quantile
Sample size: n = 37
Model
Chironomid taxa richness = 21.221 - 8.018*(Metal Toxicity Units)
Date: 12 November, 2006
| Variable | Estimate | Lower CL | Upper CL | Test Type | Statistic | p |
| --- | --- | --- | --- | --- | --- | --- |
| Intercept | 21.221 | -1.282 | 43.723 | T value | 1.914 |   |
| Metal Toxicity Units | -8.018  | -40.937 | 24.902 | T value | -0.494 | 0.624 |
| WALD |   |   |   | Chi2 | 0.244 | 0.621 |
| Likelihood Ratio  |   |   |   | Chi2 | 1.408 | 0.235 |
Data Analysis
Model generated using SAS Proc QUANTREG with the smoothing algorithm. The WALD and Likelihood test statistics were used to test the linear null hypothesis, H0: slope=0.
Analysis for sites classified as pH neutral, but with strong AMD input.
Metal Toxicity Units (TU) were calculated as sum of the ratios of each measured metal concentration with the criterion for that metal.
Replicate visits to a site were not excluded from the data set.
Data Origin
Agency: U.S. Environmental Protection Agency
Program: Environmental Monitoring and Assessment Program (EMAP)
Project: Colorado Metals Belt Stream Assessment (EPA Region 8)
Filenames: Files benmet, fishmet and chem downloaded from the Surface Waters Information Management (S.W.I.M.S.) database web site
Sampling Design
Data collected 1994 through 1995.
Analyzed metals and metalloids: aluminum, arsenic, cadmium, chromium, copper, iron, manganese, nickel, lead, selenium, silver, zinc.
A description of the sampling methods may be found in the EMAP West Methods Manual for Streams found on the S.W.I.M.S. database web site.