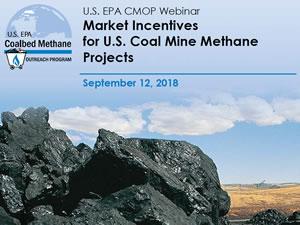 CMOP hosted this webinar on 12 September 2018.  The webinar focused on:
Emerging financial, regulatory and policy incentives for coal mine methane (CMM) project development in the U.S.;
Major U.S. greenhouse gas registries and their requirements for listing CMM projects for compliance and voluntary markets; and
The impact of the California Cap-and-Trade program on U.S. CMM project planning, development and implementation, including a review of recent legislative changes to the Cap-and-Trade program and developments in other offset markets.
A question-and-answer session with the following presenters concluded the webinar:
Phil Kong, Advanced Resources International – Financial and regulatory incentives for U.S. CMM projects
Eric Ripley, American Carbon Registry – The California Cap-and-Trade program's impact on U.S. CMM projects and changes to offset markets that could impact future project development
You may need a PDF reader to view some of the files on this page. See EPA's About PDF page to learn more.