Ports Primer – 4.2 Case Studies: Port-Community Relations
On this page:
---
The relationship between ports and near-port communities can be complex, ranging from adversarial to collaborative. The case studies presented here illustrate this range, including:
Reminder
Check the Community Action Roadmap for a step-by-step process to apply the information in the Primer for building capacity and empowering communities.
Instances where near-port communities fought legal battles to hold ports accountable for community impacts.
Instances where community-based organizations and local government work to limit the impact of port activity through policies protecting sensitive populations.
Instances where ports and communities work collaboratively to create positive community change.
Note that ports can partner with communities in many ways including financial support, in-kind support and volunteer efforts by employees. Additional case studies are provided in Sections 5 and 6.
Los Angeles and Long Beach Ports: Clean Trucks Program
The Trade, Health, Environment (THE) Impact Project is a regional community-based participatory research partnership to address air pollution and health impacts related to activities at the Los Angeles and Long Beach Ports. THE Impact Project played a role in encouraging the adoption of the Clean Air Action Plan (CAAP) and an increase in accountability to local communities for health and environmental impacts. One strategy of the CAAP is the Clean Trucks Program (CTP), which phases out older, more polluting diesel

dieselA type of fuel typically used in a compression-ignition engine. In common maritime use, diesel can refer to several varieties of fuels including Marine Diesel Oil (MDO) and Marine Gas Oil (MGO). Diesel may also be labeled by its sulfur content, such as the case of LSD (low sulfur diesel with less than 500 parts per million (ppm) sulfur) or ULSD (ultra-low sulfur diesel with less than 15 ppm sulfur). trucks and replaces them with 16,000 port-serving cleaner fuel trucks. Two crucial objectives of the CTP include advancing the improvement of air quality at the Port and reducing the negative impacts of goods movement

goods movementThe distribution of freight (including raw materials, parts and finished consumer products) by all modes of transportation including marine, air, rail and truck. on the local community. During CTP's first year, there was a 70 percent reduction in the rate of port truck emissions. In 2012, the fully implemented program reduced port truck emissions by more than 80 percent.
For more information:
Camden Waterfront South: Education and Retrofit Grant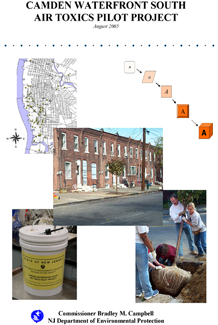 The Waterfront South neighborhood of Camden, New Jersey, has approximately 1,700 residents from more than 500 households and is located among a heavy concentration of industries ranging from scrap-handling facilities, Camden County's municipal waste combustor and sewage treatment plant, and the world's largest licorice processing plant. The neighborhood also sits between two busy urban ports owned and operated by the South Jersey Port Corporation. It was estimated that as many as 77,000 trucks travel through the neighborhood to local industries in a year.
In 2006, EPA awarded $250,000 to Clean Air Communities (CAC), a non-profit organization and subsidiary of Northeast States for Coordinated Air Use Management, to reduce exposure to pollution in Waterfront South. The funds were part of EPA's Community Action for a Renewed Environment program, which supported communities in creating and using collaborative partnerships to reduce environmental risks. For the Waterfront South community, air pollution was identified as a priority concern. The project used educational outreach to help community groups fully understand local sources of air pollution, including port operations, and developed ways to continue the process of citizen environmental health education and a dialogue between residents and local industries. The project also used the best available technology to retrofit diesel vehicles and equipment owned and operated by the South Jersey Port Corporation. The New Jersey Department of Environmental Protection (NJDEP) contributed $500,000, using Supplemental Environmental Projects money to fund the diesel retrofit technologies. EPA provided technical assistance and support throughout the process.
Clean Air Communities partnered with NJDEP, the South Jersey Port Corporation, Heart of Camden, the Camden County Municipal Utilities Association and South Camden Citizens in Action to carry out the project.
For more information:
Ditching Dirty Diesel Collaborative: Diesel Pollution Reduction Strategies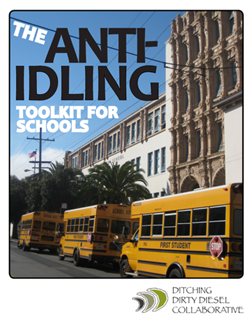 Formed in 2004, this community-driven collaborative advocates to reduce diesel pollution in low-income communities of color. The collaborative includes 15 community-based environmental justice, public health and environmental organizations and agencies from across the San Francisco Bay area. EPA participated in the founding of this collaborative and continues to serve as an advisor.
The Ditching Dirty Diesel Collaborative (DDDC) has participated in land use planning processes and advocated for the use of zero-emission technologies in ships, trucks and trains to reduce vulnerable residents' exposure to diesel pollution. In addition, the DDDC, in partnership with the Pacific Institute, has produced many resources that can support reduction of diesel pollution in communities nationwide including:
Anti-Idling Toolkit for Schools
Gearing Up for Action: A Curriculum Guide for Freight Transport Justice (also available in Spanish)
At a Crossroads in our Region's Health: Freight Transport and the Future of Community Health in the San Francisco Bay Area
Paying with Our Health: The Real Cost of Freight Transport in California
Materials for anti-idling campaigns including: door hangers, bumper stickers and ads
For more information: Ditching Dirty Diesel Exit 
 
Los Angeles and Long Beach Ports: Air Quality Settlement Funding
In 2001, the Port of Los Angeles had plans to expand an existing shipping terminal. San Pedro and Wilmington neighborhood residents came together based on concerns over how the expansion would increase pollution, traffic and blight. Two San Pedro homeowners associations, the Natural Resources Defense Fund (NRDC) and the Coalition for Clean Air, filed a lawsuit against the City of Los Angeles and the Port of Los Angeles citing a violation of the California Environmental Quality Act.
Those that brought the lawsuit were successful and a landmark settlement was negotiated. In 2003, a $50 million fund was established to mitigate the impacts of port operations in San Pedro and Wilmington. This settlement also required the Port of Los Angeles to adopt pollution prevention measures that had never been implemented before at a shipping terminal, including shore power for container vessels and alternative-fuel yard equipment. As a result, the project reduced air pollution by 1 ton a day per ship, and became a model for future port development.
For more information:
Baltimore Port Alliance: Proactive Community Engagement
The Baltimore Port Alliance (the Alliance) represents a coalition of maritime

maritimeLocated on or near the sea. Commerce or navigation by sea. The maritime industry includes people working for transportation (ship, rail, truck and towboat/barge) companies, freight forwarders and customs brokers; stevedoring companies; labor unions; chandlers; warehouses; ship building and repair firms; importers/exporters; pilot associations, etc. businesses. Its mission is to "improve the Port of Baltimore by creating a forum where information that impacts the Port Community can be presented in a constructive environment and acted upon in support of the members and the Port as a whole".1 Baltimore was recognized by EPA as a model collaboration between community and port stakeholders at the 2014 Port Stakeholders Summit.2
The Alliance has two subcommittees. The Education and Outreach Committee focuses on supporting educational partnerships with entities across the Chesapeake region.3 The Environmental Committee is responsible for (1) informing Alliance members about key environmental issues and (2) sharing the Port's role in environmental stewardship with community stakeholders. Activities have included hosting compliance assistance workshops for the maritime community and participating in cleanup efforts across the Chesapeake Bay region.
For more information: Baltimore Port Alliance Exit 
---
Select to go forward or back.