Ports Primer – 5.4 Case Studies: Land Use and Transportation
On this page:
---
Strategies to reducing the impact of goods movement and land use on near-port communities are often interrelated. Examples include:
Delaware Valley Regional Planning Commission – An MPO uses federal transportation funding to conduct diesel retrofit projects.
Air Pollution and Public Health in Galena Park, Texas – A regional non-profit partners with a near-port community to quantify public health impacts from air pollution and identify strategies for reducing air pollution.
Advocating for Healthy Land Use Siting Practices in the San Francisco Bay Area – A local collaborative advocates for land siting practices that protect sensitive populations from air pollution impacts.
Delaware Valley Regional Planning Commission: Diesel Retrofit Projects
The Delaware Valley Regional Planning Commission (the Commission) serves nine counties in the Greater Philadelphia area and is responsible, among other things, for regional transportation planning and administration of federal transportation funds from the Congestion Mitigation and Air Quality Improvement (CMAQ) program. In 2012, the Commission sponsored a competitive process to award $10.7 million in CMAQ funds to local transportation-related projects. This led to the selection of 18 projects, including three diesel retrofit projects that received a total of $2.9 million. These projects included:
A diesel locomotive repower initiative by the Southeastern Pennsylvania Transit Authority
A diesel locomotive retrofit for a CSX switcher locomotive
Construction equipment retrofits in the south Jersey area
Together, these three projects are estimated to reduce diesel emissions by 258 kilograms/day.
Galena Park: Air Pollution and Public Health Study1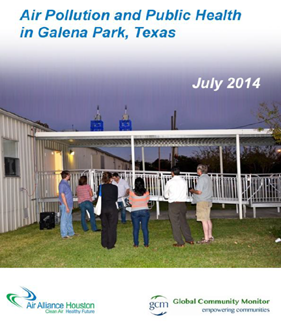 The community of Galena Park is located adjacent to the Houston Ship Channel. Galena Park is also surrounded by additional land uses associated with air pollution risks including industry, rail lines, and interstates and high traffic roadways. In 2014, Air Alliance Houston (AAH), a clean air research, education and advocacy non-profit, released a report titled Air Pollution and Public Health in Galena Park, Texas.
The report was the result of several years of research and relationship building in Galena Park by Air Alliance Houston and Global Community Monitor. These two organizations conducted a community health impact survey, a community mapping workshop, and a year-long community air monitoring project where air monitors were placed in locations identified by the community. The outcomes of this research identified localized exposures to high rates of diesel pollution as well as a disproportionate risk for cancer.
In addition to reporting these results, the report offers policy recommendations for reducing diesel emissions and improving public health, including:
Recommendations for alternate truck routes and/or improvements to existing truck routes
Providing waiting areas for trucks at the Port of Houston that support options other than idling while drivers wait
Retrofitting and/or replacing older vehicles
Adopting a "no idling" ordinance in the City of Galena Park
Conducting additional air monitoring in locations with sensitive populations
Providing access to information on how individuals can limit exposure for themselves and their loved ones
For more information: Galena Park Exit
San Francisco Bay Area: Advocating for Healthy Land Use Siting Practices2
The Ditching Dirty Diesels Collaborative (DDDC), a community-driven collaborative in the San Francisco Bay Area, advocates to reduce diesel pollution in low-income and communities of color. The collaborative includes 15 community-based environmental justice, public health and environmental organizations and agencies. Catalina Garzon of the Pacific Institute says, "One of our key messages has been that we either pay at the front end or the back end of the process. Because if we site housing and sensitive land uses next to sources of toxic pollution, people are going to get sick. And that means our healthcare costs are going to go up, and that's going to affect everyone. We just don't want people to pay with their health when we could be doing something to prevent the health problems from happening." Approaches the DDDC has used to promote healthy land use planning practices include:
Educating land use planners on how to use healthier siting practices for new uses that serve sensitive populations (e.g., housing, schools and parks)
Advocating for zero-emission technologies in trucks, ships and trains
Working to establish new truck routes that keep diesel trucks away from residential areas and other sensitive populations
Meeting with regional planning agencies such as the Metropolitan Transportation Commission (MTC) to discuss healthy strategies for the regional transportation plan and health-based incentives for use of transportation funding
Collaboration between the DDDC and the MTC resulted in the development of health-based criteria for locating new construction (infill development). These criteria have been incorporated into the project funding the MTC provides to localities for implementing the regional transportation plan. The DDDC also released a report titled At a Crossroads in Our Region's Health: Freight Transport and the Future of Community Health in the San Francisco Bay Area, which analyzes priority development areas across the San Francisco Bay area for air pollution risks and provides health-related guidelines for siting new land uses.
Vuosaari Harbor: Land Use Planning3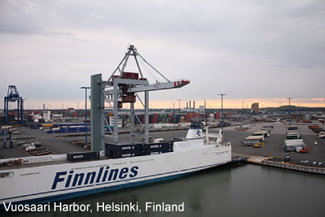 In Helsinki, Finland, the Vuosaari Harbor facility is being relocated away from the downtown area to reduce the impacts of pollution, noise and traffic for the downtown community. The new port development includes extensive precautions to reduce the impact of port operations on wildlife and communities. These include:
Warning devices to prevent birds from flying into bridge cables
Noise barriers and native landscaping
Bicycle paths, foot paths and footbridges
Rail and road tunnels to avoid disturbing sensitive wildlife areas by minimizing noise, vibrations and the potential for hazardous spills and contamination
U.S. ports typically do not have the option of relocating due to limited availability of waterfront space; however, some of the strategies used by the Vuosaari Harbor may still be useful in helping to mitigate land use impacts on near-port communities.
---
Select to go forward or back.