Ports Primer: 8.1 Using Scientific Data and Research
On this page:
---
Communities can demonstrate environmental concerns by providing scientific evidence of environmental impact. In some cases, communities may be able to access existing local data and conduct their own analyses by partnering with a local agency, organization or academic institution that collects raw data. Studies using local data are not common because of the high level of resources typically needed to collect the data. Additionally, technical support may be needed to conduct the data analysis desired by the community. However, when these resources are available, local data can be an extremely powerful tool. One example from the San Francisco Bay Area is provided below.
When local data are not available, communities may turn to existing studies to demonstrate the known and potential impacts of environmental conditions on human health and the environment. This approach can also be an effective tool for communicating the urgency to address the community's environmental concerns.
Bay Area Air Quality Management District: Local Data Analysis
The Bay Area Air Quality Management District has done air quality analyses for regional land use and transportation planning as well as local air quality analyses for West Oakland, California. These analyses were conducted in the context of development of two Environmental Impact Reviews (EIRs) triggered by California Environmental Quality Act (CEQA) requirements. (CEQA is the state version of the National Environmental Policy Act (NEPA) and triggers development of EIRs, which are similar to the Environmental Impact Statements triggered by NEPA.)
These air quality analyses are available in the form of individual chapters of the respective EIRs. The methodologies might be adapted by other agencies or technical service providers partnering with local communities. To access the analyses, follow the links provided below:
Mapping and Data Tools Available to the Public
Numerous mapping and data tools are available to communities through a variety of sources. Some examples of the kind of information available:
Air quality data
Air quality nonattainment areas
Air Toxics
Population distribution and make-up
Locations where pollution is being or has been cleaned up
Transportation infrastructure
For more a more detailed list of mapping and data tools and considerations related to each, see Appendix A2. 
EJSCREEN
Mapping and screening tool based on nationally consistent data that combines environmental and demographic indicators in maps and reports. This tool may support residents in highlighting environmental concerns in their communities.
For more information: EJSCREEN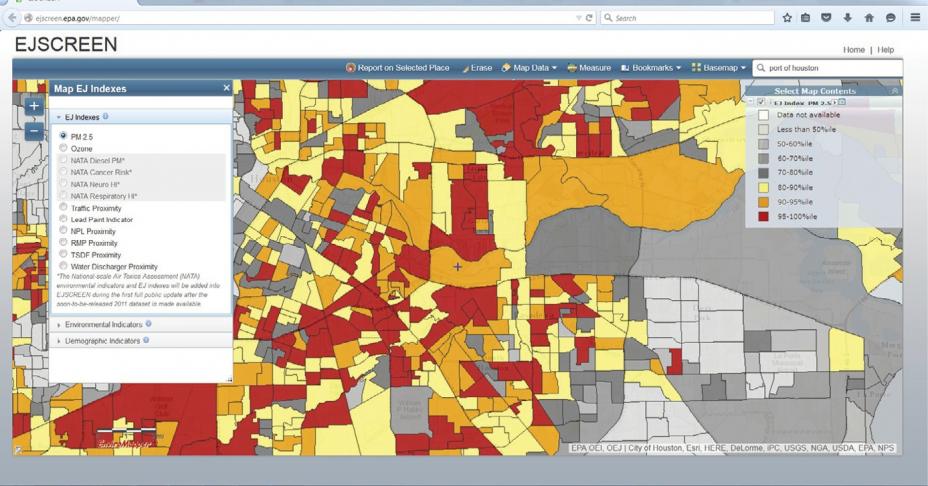 EJSCREEN displays PM2.5 Index data on communities around the Port of Houston.
EnviroAtlas
EnviroAtlas provides geospatial data, easy-to-use tools, and other resources related to the benefits that people receive from nature, their stressors and human health. Communities may benefit from working together to identify and evaluate issues and interpret EnviroAtlas maps and data.
The EnviroAtlas Interactive Map contains data such as EPA Regulated Facilities, Impaired Waters, demographic data, and in 2019 will also include the 2014 National Air Toxics Assessment (NATA) data. The EnviroAtlas Compare My Area Tool, planned for release in 2019, will allow users to select a location on a map and view summarized information for the area of interest and compare those values to surrounding county and state summarized values. Ambient air toxics concentrations, health risks associated with air toxics, the demographic make-up of an area, and watershed land cover characteristics will be available.
For more information:
---
Select to go forward or back.