Ports Primer: A1. Federal Role in the Marine Transportation System
---
The Committee on the Marine Transportation System (CMTS) has developed a compendium addressing federal programs in the Marine Transportation System  (MTS) and an accompanying
set of online resources. According to the Committee, the compendium represents "the first-ever categorical matrix of programs and functions for the 37 Federal Departments, agencies, and bureaus engaged with the MTS." The following resources are available online:
A Compendium of Federal Programs in the MTS – A resource guide to the roles, responsibilities and interests of the federal agencies involved in the MTS.
Accompanying Matrices – A set of matrices with varying degrees of detail that outline the interests and responsibilities of the federal agencies and offices involved in the MTS. For an example, view the simplest matrix below. For more detailed matrices, follow the link and explore online.
Federal Funding Handbook for Marine Transportation Infrastructure – A resource of federal funding sources for marine transportation.
For more information:
Educational Matrix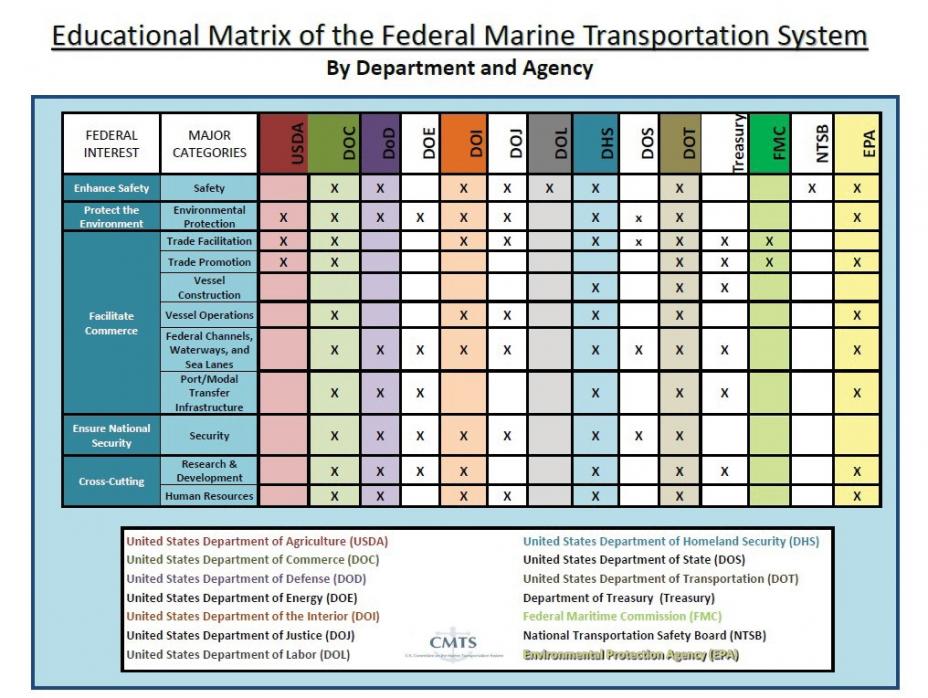 ---