Section B: Environmental Justice Primer for Ports Good Neighbor Roadmap Overview
Using the Good Neighbor Roadmap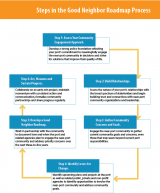 Have port staff experienced repeated community meetings characterized by anger and frustration? Or spent hours responding to public comments that do not seem related to the decision at hand? These are common agency experiences when sharing decisions with highly impacted communities. However, they can often be avoided by taking a proactive approach to building community relationships.

This Good Neighbor Roadmap outlines six key steps for effectively engaging communities in ports decision-making. While the steps follow a set order (see diagram  to the right), start with the step that best fits your needs and circumstances. Timeframes for each step will vary depending on the local context. Over time, port decision-makers may cycle through the steps several times as part of addressing new issues and strengthening local partnerships.
Selecting a starting place
The scenarios below provide examples of how different port agencies may approach using the Good Neighbor Roadmap. These scenarios are only two of many situational dynamics that the Roadmap could address.

Scenario A – The community has persistently raised a particular issue and your port is considering how to address it within the scope of port planning and operations. You could start with Step 4 – Identify Levers for Change – and identify plans or projects that might best address the issue. Your port could then choose to circle back to Step 2 – Build Relationships – to assess priority relationships with residents and local organizations.

Scenario B – Your port has to make a decision regarding a new infrastructure project or operational change and needs community input on the proposed plan. Starting at Step 3 helps you identify community issues and goals. Steps 4 and 5 enable you to look for connections between community goals and the proposed plan.  Following a successful community engagement effort, you may decide to work toward capturing the community's interests and momentum over the long term, by circling back to Step 1 to develop a policy for continued engagement.
Try It Out! Determine a Starting Place
The following assessment is designed to help you determine which step would most benefit your port at the moment. Review the questions and mark "no," "some" or "yes." Consider starting with the step in the process that you first marked with a "no" or "some."
| Step | Port Assessment | Mark "no," "some" or "yes" |
| --- | --- | --- |
| 1 | Does your port have a robust approach to engaging near-port communities? Does the approach result in consistent positive community outcomes and productive working relationships? |   |
| 2 | Does your port have strong working relationships with a broad range of community stakeholders, including community members and area organizations representing near-port residents? |   |
| 3 | Is your port aware of the range of near-port community concerns and needs? |   |
| 4 | Has your port identified upcoming plans and projects that may be able to address specific near-port community concerns? |   |
| 5 | Does your port have a Good Neighbor Roadmap with specific actions and priorities that address community needs and mitigate impacts on near-port communities? |   |
| 6 | Does your port have a Community Advisory Group that helps integrate local goals into planning and decision-making? Does your port have a way to measure and track community engagement success relative to local goals and priorities? |   |
---