Iron and Steel Manufacturing Effluent Guidelines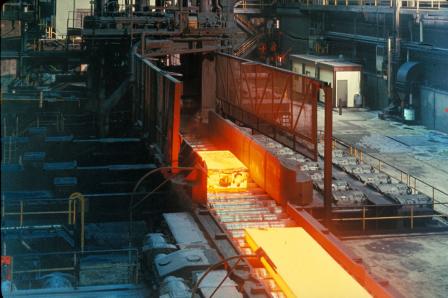 EPA promulgated the Iron and Steel (I&S) Effluent Guidelines and Standards (40 CFR Part 420) in 1974, and amended the regulation in 1976, 1982, 1984, 2002 and 2005. The regulation covers any facility that is engaged in iron or steel manufacturing, forming, and finishing, including coke manufacturing. EPA estimates there are 254 iron and steel facilities discharging directly to surface waters or indirectly through publicly owned treatment works (POTWs).
The I&S Effluent Guidelines and Standards are incorporated into NPDES permits for direct dischargers or permits or other control mechanisms for indirect dischargers (see Pretreatment Program).
On this page:
---
What is the Iron and Steel Industry?
Iron and steel manufacturing processes include cokemaking, sintering, briquetting, ironmaking (including direct-reduced ironmaking), steelmaking, vacuum degassing, ladle metallurgy, casting, hot forming, forging, and finishing (e.g., acid pickling, descaling, cold forming, surface cleaning, hot coating and annealing).
Facilities Covered
The I&S regulation applies to facilities organized into 13 subcategories:
Cokemaking
Sintering
Ironmaking
Steelmaking
Vacuum Degassing
Continuous Casting
Hot Forming
Salt Bath Descaling
Acid Pickling
Cold Forming
Alkaline Cleaning
Hot Coating
Other Operations
(direct-reduced iron production, briquetting, forging)
These activities are included within the following NAICS groups:
3311: Iron and Steel Mills and Ferroalloy Manufacturing
3312: Steel Product Manufacturing from Purchased Steel
Note: the NAICS group listings are provided as a guide and do not define the coverage of the I&S category. For precise definitions of coverage, see the applicability sections in 40 CFR Part 420.
---
---
Rulemaking History
2005 Amendment
EPA restored the provision that allows the use of alternative oil and grease limitations in NPDES permits (known as the "water bubble") and corrected errors in the effective dates of NSPS.
2002 Amendment
Revised Subparts A, B and D, and added Subpart M. Also deleted provisions covering obsolete operations: beehive coke ovens, ferromanganese blast furnaces, and open hearth furnace steelmaking.
1984 Amendment
Revisions pursuant to settlement agreement
Documents, including:

Final Rule (May 17, 1984)
Proposed Rule (October 14, 1983)
Final and Interim Final Rule (October 14, 1983)
1982 Amendment
Revised BPT, BAT, PSES, PSNS, and NSPS; and adopted an alternate effluent limitations policy ("water bubble").
Final Rule (May 27, 1982)

Development Document (May 1982, 440/1-82/024)
Industry description, wastewater characterization, treatment technologies, regulatory compliance cost estimates and pollutant loadings for the final rule

Proposed Rule (January 7, 1981)
1976 Amendment
Established BPT for steel forming and finishing operations within the iron and steel industry
1974 Initial Rulemaking
Established BPT and BAT, NSPS, and PSNS for the basic steelmaking operations within the integrated steel industry
Documents, including:

Final Rule (June 28, 1974)
Proposed Rule (February 19, 1974)
---
Additional Information
For additional information regarding Iron and Steel Effluent Guidelines, please contact Ahmar Siddiqui (siddiqui.ahmar@epa.gov) or 202-566-1044.