Criminal Investigations
Understanding Criminal Investigations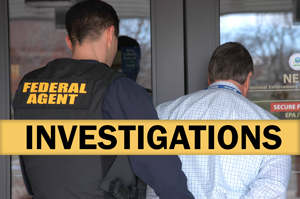 EPA Special Agents investigate the most significant and egregious violations of environmental laws which pose significant threats to human health and the environment.  Your Safety Comes First - never try and investigate on your own - report what you see at www.epa.gov/tips.  Criminal investigations may be prompted by reports from victims or concerned citizens, or from violations which cause significant harm. 
Frequently, the investigations of environmental crimes will uncover other types of crimes, such as lying to the government, fraud or conspiracy. These crimes could also be prosecuted.  Some environmental concerns are handled by State and Local Authorities who have immediate jurisdiction over such matters. Click the "Recognizing Violations" tabs below for more information.
What is an Environmental Crime?
Generally speaking, an environmental crime is a negligent, knowing or willful violation of a federal environmental law. "Knowing" violations are those that are deliberate and not the product of an accident or mistake. 
Recognizing Violations
  - What to Report
Signs of Environmental Violations that should be Reported to EPA

Environmental violations are not always obvious. Here are some signs of possible environmental violations. If you notice any of these signs, please report them at www.epa.gov/tips

Strong, offensive, or unusual chemical odors
Large numbers of dead birds, fish or other animals
Pipes or valves appear hidden or bypass waste treatment systems
Tank trucks discharging into drains, manholes or bodies of water
Oily slicks on bodies of water
Drums or containers dumped at odd hours in out-of-the way places
Corroded, leaking waste containers

Examples of Environmental Concerns that should be Reported to State and Local Authorities

Please contact your State and Local Health Department Officials, and/or State and Local Environmental Authorities by phone or web with these types of concerns.

The residential or household dumping of vehicle and/or lawnmower oil
The disposal of litter
The use of a residential garage to paint vehicles
The presence of mold in residences or rental units
The venting of air coolants from a single car
Surfacing sewage in the yard of a residence

Please contact your State and Local Health Department Officials, and/or State and Local Environmental Authorities by phone or web with these types of concerns.

Common Violation Types and Scenarios

Typical violations which result in investigations may involve, but are not limited to:.

Illegal disposal of hazardous waste
Export of hazardous waste without the permission of the receiving country
Illegal discharge of pollutants to a water of the United States
The removal and disposal of regulated asbestos containing materials in a manner inconsistent with the law and regulations
Illegal importation of certain restricted or regulated chemicals into the United States
Tampering with a drinking water supply
Mail fraud/Wire fraud
Conspiracy
Money laundering relating to environmental criminal activities

Click here for typical violation scenarios (Clean Air Act, Clean Water Act and RCRA)
Criminal Investigations - Major Cases
Criminal Provisions of Environmental Laws
Task Forces and Partnerships in which EPA's Criminal Enforcement program participates