Why is Environmental Education about the Gulf of Mexico Relevant?
The relevancy of the Gulf and its economic abundance has to resonate with citizens. Environmental education and outreach efforts are cornerstones to environmental stewardships. By developing environmental experiential initiatives and engaging residents in restoration programs/projects, citizens will have a heightened appreciation for the Gulf, which consequently leads to positive behavioral practices. 
Forward Movement in Education and Expanded Partnerships
Memoranda of Understanding
The Gulf of Mexico Program (GMP) developed a collegiate partnership program to increase opportunities for experiential learning. The partnerships, formally executed through Memorandums of Understanding (MOUs) will increase cooperation between institutions of higher learning and the GMP in areas of mutual interest. The implementation of program activities in the MOUs are intended to:
promote equal opportunity in higher education,
contribute to the capacity of the Gulf Program to provide high-quality education,
encourage participation of students and faculty in GMP's activities,
and assist GMP in expanding the conversation on environmentalism and working for environmental justice while stimulating an interest in science, technology, engineering, and mathematics.
GMP has MOUs with the following institutions of higher learning:
Hands-on Involvement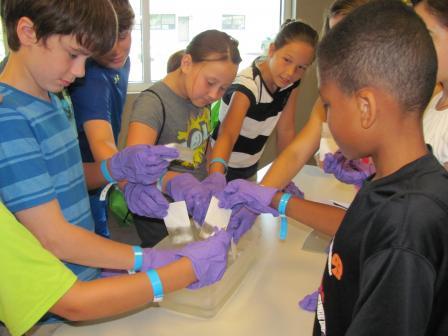 Take Our Children To Work Day at John C. Stennis Space Center in Stennis, MSThe Gulf Program creates opportunities for community members, teachers and students to participate in annual field experiences to expand environmental awareness and to promote EPA's mission of protecting human health and the environment. These hands-on opportunities help to change behaviors of Gulf residents as "keepers of the coast" with vested interest in its protection. Some examples of these events include, but are not limited to:
Stennis Space Center's Annual Earth Day Celebration 
Celebrate the Gulf
Take Our Children To Work Day
Environmental Education Transformed
Gulf Awareness Patch (GAP)
The Gulf of Mexico Awareness Patch (Patch) was introduced by the U.S. EPA's Gulf of Mexico Program in October 2013 to teach the importance of preserving the ecosystem of the Gulf of Mexico.  Students from the Gulf States of Alabama, Florida, Mississippi, Louisiana and Texas can take part in a series of activities designed to develop and increase awareness of the need for ocean stewardship.  In addition to providing opportunities to learn about protecting the Gulf and keeping it healthy, the Gulf of Mexico Program staff trains interested educators on facilitating lessons that result in earning the Gulf Awareness Patch.
The Gulf Awareness Patch is used as a tool for outreach and education and can be earned throughout the year at a variety of events such as community events or summer camps, just to name a few. To learn how you can receive training or to request the Gulf of Mexico Program staff's participation at your next event to guide children through activities to earn the Gulf Awareness Patch.
A Gulf of Mexico Coastal Training Program Initiative
The Gulf of Mexico Program and the Weeks Bay National Estuarine Research Reserve will be conducting the Coastal Training Program (CTP) through a cooperative agreement.  The Gulf Coast National Estuarine Research Reserves (Reserves) propose a regional collaborative program offering targeted training and technical assistance to the Reserves resource managers and decision-makers such as local mayors, city planners and waste water treatment plant operators in each of the five Gulf coast states. These training events and direct assistance will employ proven educational methodologies, to increase regional awareness to the region's coastal decision-makers.
This project includes funding to support a minimum of 15 workshops on the Gulf coast and providing technical assistance to five selected coastal communities over three years.  This cooperative agreement will work with the five CTP Coordinators to engage local communities and raise awareness of environmental issues Gulf-wide. Overall, getting the experts together to train others will aid in preventing habitat loss and water degradation through education and outreach to result in a better environment.
Watershed Education Aboard A Research Vessel
The Gulf of Mexico Program and the University of Southern Mississippi at the Gulf Coast Research Laboratory are working together through a cooperative agreement to provide environmental education to enhance watershed literacy in the region to middle and high school students.  Students will learn the importance of clean water in their daily environment, discuss the behaviors that negatively impact the watershed and work to change those behaviors to improve water quality in their area.
Students will also spend a few hours monitoring the overall health of the Gulf of Mexico ecosystem on a research vessel.  During this activity, the students capture waters at varying levels, perform water quality tests and document results. The data will be interpreted and then disseminated to the local community to report on the ecosystems overall health and used in discussions on what the required salinity, temperature and/or pH of the water to sustain different species of aquatic life. 
Environmental Justice in the Gulf of Mexico
Adopting practices to ensure a healthy ecosystem for all means developing programs that meet varying needs of communities.  To address the unique complexity of each community's composition and set of issues, the Gulf of Mexico Program has cooperative agreements, partnerships, and initiatives underway that respond to the needs or challenges of underserved communities. The GMP is working to address the following issues:
language barriers
community sustainability (i.e. flooding and natural disaster preparedness)
lack of understanding and awareness of federal policies or program which impact communities
limited involvement in the decision making process
exposure to environmental impairments (i.e. water quality)
displaced job training for communities economically impacted by recent disaster
Environmental Justice is the fair treatment and meaningful involvement of all people regardless of race, color, national origin, or income with respect to the development, implementation, and enforcement of environmental laws, regulations, and policies. The Gulf Program's goal is to work in concert with communities to assess needs, rebuild communities, and develop sustainable practices.
Environmental Justice Workshops in the Gulf
The Environmental Justice Workshops (one in each Gulf State) provide a platform for communities to share information, develop an action plan, and leverage each partner's resources. These efforts improve conditions in communities devasated by environmental injustices, such as contaminated water supply and diminished habitats that serve as a barrier-protecting communities from floods. As a result of each workshop, the communities gain knowledge of each participating state/federal agencies' authority regarding environmental justice issues, become aware of the process for reporting environmental issues and work to develop relationships with the local, state and federal agencies who serve them.
Building Blocks for Sustainable Communities
Through EPA's Building Blocks for Sustainable Communities Program, the Gulf communities of Prichard and Mobile, Alabama will receive technical assistance to address issues impacting equitable development and flood resilience, respectively. One example of equitable development is expanding a community's infrastructure while maintaining its local culture and retaining affordable housing options. An example of flood resilience is ensuring that a community has effective storm water drainage systems in place.
The Gulf of Mexico Program staff, working with regional partners, local government and community leaders, will hone in on probable barriers of equitable development and flood resilience. Based on feedback from each community, a memorandum outlining possible options to explore for remediation will be developed. The Gulf of Mexico Program will then work with the Interagency Working Group on Environmental Justice, which consists of multiple federal agencies, to address issues and to develop a course of action for improving conditions in each community.
Gulf Coast Community Collaborative
The Gulf Coast Community Collaborative (Collaborative) supports the overall health, welfare, resiliency and sustainability of vulnerable communities located in the Gulf.  The Collaborative, comprised of community leaders with vested interest in the health and productivity of their communities, provides services to communities through the development of projects or initiatives. The Collaborative assists community leaders in addressing issues that may adversely impact their communities where they live, work and play.
The Collaborative aims to provide support to communities that will help mitigate longstanding issues by promoting a call to action. The Gulf of Mexico Program, through community liaisons, is developing a pilot project in East Biloxi that will examine impediments to sustainability and allow for the implementation of community improvement projects.