Why is Habitat Restoration Near the Gulf of Mexico Essential?
Gulf of Mexico coastal wetlands make up 37% of the total coastal wetland bordering the United States.  These wetlands provide ecosystem services that are vital to the health and well-being of our nation.  They serve as buffers, protecting coastal areas from storm damage and sea level rise.  They support commercial and recreational fisheries, providing essential fish and shellfish habitat.  Wetlands serve as nesting and foraging habitat for birds and other wildlife, improve water quality by removing pollutants, nutrients, and sediments.  Wetlands minimize erosion of uplands, protect property and infrastructure and support tourism, hunting, and fishing.
There are a number of threats to wetland habitats, including:
conver­sion of wetlands to other land uses
climate change
freshwater inflow
saltwater intrusion
A report, funded in part by EPA entitled "Status and Trends of Wetlands in the Coastal Watersheds of the Conterminous United States 2004 to 2009," tracked wetland loss on the Pacific, Atlantic, and Gulf coasts, as well as the Great Lakes shorelines. It concludes that more than 80,000 acres of coastal wetlands are being lost on average each year, up from 60,000 acres lost per year during the previous study.   
Notable wetland losses were recorded along the Gulf Coast (257,150 acres) and accounted for 71% of the total estimated loss during the study period.  Wetland loss can be mitigated through wetland permitting, effective use of dredged sediments, and the use of smart growth practices. Wetland restoration, conservation, and protection programs and policies can also help reduce the rate of wetland loss. 
Habitat Restoration Projects
Brownsville Public Utilities Board Resaca Project
The Gulf of Mexico Program and Brownsville Public Utilities Board (BPUB), the main municipally owned utility company in the city of Brownsville, Texas have chosen a Resaca, a geographical feature in the Rio Grande basin in Texas, as the first in the area for wetland habitat restoration. Through this cooperative agreement, BPUP is hoping to use information gathered as a model to not only inform future work on the other city resacas, but also gain support to complete that work.
Over the next year, the focus of this project is to restore both aquatic and riparian habitat, which are habitats located on the bank of a natural watercourse. Years of agricultural influences, urban development of roads and houses, and use of bulkheads, which is a man-made retaining wall to control beach erosion, have resulted in decreased water depth, water quality, and water circulation. 
Water quality analysis will be performed to ensure improvement of water quality, with samples collected and sent to the lab to analyze specific parameters both before and after restoration to measure improvements. This project will result in restoring the Resaca by increasing the quality of water, providing a more natural bank, incorporating the native species of plants and increasing the water flow.
At the conclusion of this project, BPUB will have documented improvements in the water quality, participated in public outreach to educate residents and paved the way to begin restoration of the other four resacas in the area.
Texas A & M Corpus Christi Artificial and Shell Reef Sites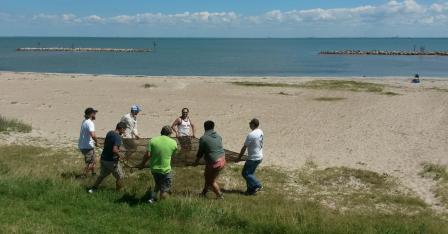 Team works to install artificial reef in Corpus Christi, BayThe Gulf of Mexico Program (GMP) and Texas A&M Corpus Christi (TXAMCC) will build artificial and shell reef sites to compare using electrolysis to grow benthic habitat verses a traditional recycled oyster bed.  Nueces Bay is a 75 km2 bay that had nearly 100% oyster removal during road construction in the 1940-1980s. Since removal, wind driven sediment re-suspension events maintain high turbidity and limit productivity in this system; the system also suffers from reduced freshwater inflows, which contributes to hyper salinity.
 
Through this cooperative agreement, TXAMCC will enhance existing restoration efforts by using artificial reefs to provide suitable habitat for growth and expansion of oysters. Two reef sites will be constructed, one in Corpus Christi Bay and the other one in Nueces Bay. The team will then monitor development of this hard bottom community during the next 2 years and compare to a traditional recycled oyster shell reef that will be replicated at the Corpus Christi Bay reef site.