Examples of Habitat Condition Assessments for Watershed Health
Freshwater habitats are comprised of flowing (i.e., streams and rivers) and standing (i.e., lakes, ponds and wetlands) waters. Habitat extent and quality are directly related to landscape condition and hydrologic and geomorphic processes. Habitat quality is also affected by the physical and chemical characteristics of the water (e.g., water temperature). The number and distribution of different habitat types and their connectivity influence species population health.
 
On this page:
You may need a PDF reader to view some of the files on this page. See EPA's PDF page to learn more.   Most of the following links exit the site. EXIT
National
An Index of Cumulative Disturbance to River Fish Habitats of the Conterminous United States from Landscape Anthropogenic Activities Report This assessment resulted in an index of cumulative anthropogenic disturbance to fish habitats in approximately 2.23 million U.S. river reaches by using spatial data to attribute 15 disturbance variables to the catchments of mapped river reaches and calibrating an index of cumulative disturbance that considered effects originating from both local and upstream catchments. The influence of each variable was adjusted in the index based on the results of multiple linear regression analyses of all variables against percent intolerant fishes at a site-a commonly used biological indicator of habitat condition.
Regional
Riparian Area Management: Process for Assessing Proper Functioning Condition (PDF) (58 pp, 1.9MB) is a qualitative watershed assessment tool developed by the Bureau of Land Management that assesses proper functioning of riparian-wetland areas and the condition of these areas based on observations focusing on the physical condition of the channel and riparian-wetland area. PFC is used widely in the West as a quick assessment tool to determine the stream's stability and identify management practices that need to be changed in order to improve channel conditions. The basic question PFC answers is whether or not a stream channel and its corresponding wetland-riparian area can withstand high flow events, e.g., 5-, 10- and 20-year events without significant loss of integrity. PFC can be used to identify riparian-wetland systems for protection.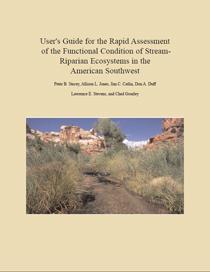 Rapid Assessment of the Functional Condition of Stream-Riparian Ecosystems in the American Southwest (PDF) (60 pp, 3MB)   Combinations of up to seven indicators in five different ecological categories (water quality, fluvial geomorphology, aquatic and fish habitat, vegetation composition and structure and terrestrial wildlife habitat) are used to generate numeric scores in this Rapid Stream Riparian Assessment. The scores rank the level of disturbance to natural processes in riparian systems and their habitat complexity.
Combined Habitat Assessment Protocols (CHAP) Registry  The Combined Habitat Assessment Protocols (CHAP) is an accounting and appraisal tool that uses simple, yet scientifically advanced methodology to measure habitat quality (including aquatic habitats) by evaluating biodiversity within a habitat type and/or structural condition. It has been applied in the Western U.S. with its origins in transportation project mitigation. It was developed as a collaborative effort with 11 resource agencies that included: U.S. Army Corps of Engineers, Bureau of Land Management, Oregon Department of Environmental Quality, Oregon Department of Fish and Wildlife, Oregon Department of State Lands, Federal Highway Administration, NOAA Fisheries Service, State Historic Preservation Office, U.S. EPA, U.S. Forest Service and U.S. Fish & Wildlife Service.
Mesohabitat Simulation Model  The Mesohabitat Simulation Model (MesoHABSIM) allows for modeling instream habitats at the river and site specific scales. The model predicts the quantity of habitat for aquatic communities in rivers and streams for watershed management scenarios. The tool can support water management for instream flow assessments, as well as river conservation and restoration planning.
State
Closing The Gaps in Florida's Wildlife Habitat Conservation System (PDF) (246 pp, 22MB)  Identifies a statewide system of landscape hubs and conservation corridors to conserve critical elements of Florida's native ecosystems and maintain connectivity among ecological systems and processes.
BioMap2: Conserving the Biodiversity of Massachusetts in a Changing World  BioMap2 is designed to guide strategic biodiversity conservation in Massachusetts over the next decade by focusing land protection and stewardship on the areas that are most critical for ensuring the long-term persistence of rare and other native species and their habitats, exemplary natural communities and a diversity of ecosystems. BioMap2 identifies core forest, wetland and aquatic habitats that are critical for protecting rare, threatened, and endangered species. In addition, it identifies critical natural landscapes that provide habitat for wide-ranging native species. The assessment is based on the principles of landscape ecology and ecosystem resilience, and makes use of sophisticated geographic information system methods to model ecological integrity across the landscape.
Vermont Reach Habitat Assessment Protocols (PDF) (209 pp, 7.6MB)  Vermont has integrated geomorphic and stream habitat assessments by linking physical processes with habitat indicators that are relevant to aquatic biological communities.
A Physical Habitat Index for Freshwater Wadeable Streams in Maryland (PDF) (150 pp, 1.3MB)  The Maryland Biological Stream Survey undertook an effort to update their provisional physical habitat index (PHI) to investigate additional physical habitat measures for their potential to improve the characterization of habitat quality in freshwater wadeable streams. Through analysis of biological, chemical, land use, and physical habitat data the state first identified a set of reference and degraded streams for each of its ecoregion-based stream classes. Physical habitat measures were then evaluated for their ability to discern between reference and degraded conditions and a subset of measures was combined into a physical habitat index. The resulting index was tested and adjusted to account for watershed size and other sources of bias
Field Evaluation Manual for Ohio's Primary Headwater Habitat Streams (PDF) (129 pp, 10 MB) Because many "index of biotic integrity" assessment systems are dependent upon watershed size, they often cannot be used to identify the well-being of the native fauna that survive and reproduce in small headwater stream ecosystems. This manual provides a method for assessing headwater stream habitats.
California Rapid Assessment Method (CRAM)  The California Rapid Assessment Method is designed for use in monitoring wetland health and assessing the effectiveness of wetland and riparian restoration projects. CRAM can be applied to seven main types of wetlands (riverine and riparian, lacustrine, depressional, estuarine, wet meadows, vernal pools, and playas). A 1-3 hour field assessment is used to generate a wetland condition score. The maximum CRAM score possible represents the best condition that is likely to be achieved for the type of wetland being assessed based on landscape context, hydrology, physical structure and biotic structure.
Ohio Rapid Assessment Method for Wetlands v. 5.0 (ORAM) (PDF) (72 pp, 1.3MB)  To facilitate comparison of the quality and function of wetlands across the state, Ohio developed a Rapid Assessment Method for Wetlands. The ORAM sorts wetlands among three categories using a numeric scoring system.