Redevelopment Goals in Dubuque, Iowa, Come Alive by Strengthening Central Neighborhoods
– EPA Region 7 Feature –
By Emily Albano, Office of Public Affairs
Dubuque, Iowa, is one of the great showcases nationwide on how to revitalize urban centers and clean up abandoned contaminated industrial areas. The city's successful renewals of the North Port Area and Millwork District took vision and planning. To make it happen, they leveraged resources and expertise from EPA, local businesses, and other community partners.
North Port Area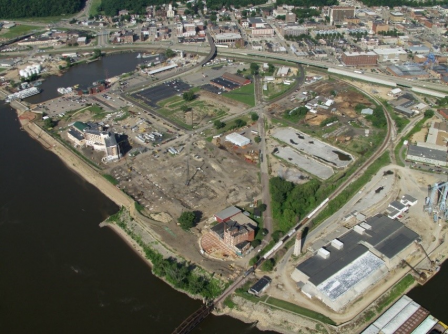 Aerial view of Dubuque's North Port area before revitalization efforts. (Photo credit: City of Dubuque)Originally settled at the southern end of a large flat plain next to the Mississippi River, DubuqueExitbecame an ideal location for industrial production and shipping. Over time, many of those industrial factories along the port were shuttered, leaving behind rusting steel warehouses and remnants of pollutants and chemical waste in the soil.
The city of Dubuque has since used Brownfields funding for a remarkable turnaround in the North Port area.
"You can't argue with success. Communities in Iowa, Kansas, Missouri and Nebraska are achieving key land revitalization goals by leveraging EPA's Brownfields Program," said EPA Region 7 Administrator Jim Gulliford. "Dubuque's North Port waterfront revitalization initiative took a contaminated industrial area and turned it into a wonderful business and entertainment destination."
"Time and time again in Dubuque, EPA Brownfields grants have helped the city and its residents start down the path of impactful redevelopment," said City of Dubuque Project Manager Steve Sampson Brown.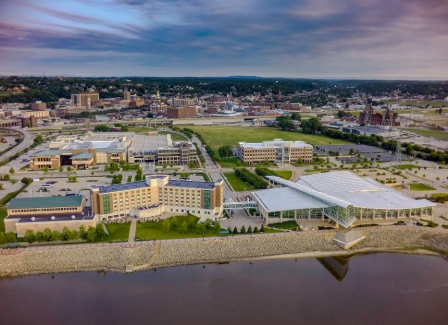 Dubuque's North Port area after revitalization. (Photo credit: City of Dubuque)"Many of our brownfield sites historically had too many unknowns, and private developers had no interest in spending their own money to figure out what contaminants were present on these sites and how to deal with them," Brown said. "Strategic utilization of assessment grant funding has allowed the city and brownfield property owners to define the extent of contamination at these locations and also establish a redevelopment framework that affordably allowed for many of these blighted sites to be redeveloped. Once the extent of the contamination problem was delineated, private developers became willing to get involved."
"The modest Brownfields grants have now leveraged over half a billion dollars in public and private investment. It has brought educational, recreational, business, and entertainment options to residents and visitors alike," said City of Dubuque Economic Development Director Jill M. Connors. "We estimate 1 million visitors a year to the North Port. Most importantly, it has reconnected our residents to the river. Dubuque has since made use of nearly a dozen Brownfields grants to transform our downtown, which was first populated in the early 1800s, into a clean, thriving mixed-use asset to our community."
Millwork District
Once a bustling center of regional economic activity, Dubuque's Millwork District sat vacant for decades after it fell victim to the economic shifts that touched much of the Midwest in the mid-1900s. The adjacent Washington Neighborhood was affected by the Millwork District's decline, facing disinvestment and neglect when the mills began to close, and residents moved away from downtown.
Today, thanks to strong community partnerships, public engagement, and an overarching citywide commitment to sustainability, Dubuque is successfully restoring both the Millwork District and Washington Neighborhood to the vibrant neighborhoods they once were.
In 2006, Mayor Roy D. Buol and the Dubuque City Council identified sustainability as their top community priority, prompting a citizen task force to create a new sustainability initiative, Sustainable DubuqueExit. Reinvestment in Dubuque's historic Millwork District and neighboring Washington Neighborhood were key to the community's plan.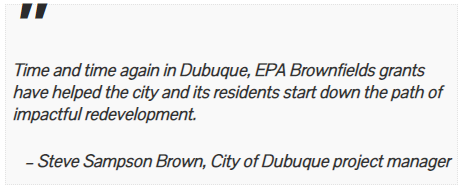 The Millwork District covers 11 city blocks, including more than 1 million square feet of formerly vacant warehouse space, and sits prominently between Dubuque's downtown core and the Mississippi River. Its redevelopment builds upon the city's sustainability vision and capitalizes on the district's existing assets to create a compact, walkable environment where over 1,000 new residents will inhabit the refurbished warehouses.
The rehabilitation of the anchor building, the old Caradco factory, is already complete. The building incorporates a variety of retail, commercial, social, art and civic spaces that have brought culture and vibrancy back to the area. This type of multi-use development is the model for the district's future growth. The Millwork District includes innovative green infrastructure and energy-efficient technologies to improve environmental quality and public health for the neighborhood's residents and Dubuque as a whole.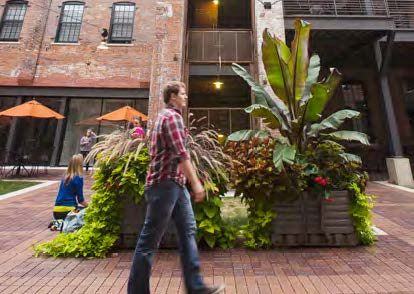 Original old mill building elements, like open staircases, south-facing windows and insulating exterior walls, showcase the Millwork District's character while creating energy-efficient spaces. (Photo credit: U.S. EPA)The community has also reduced the flood risk to over 1,100 flood-prone properties by "daylighting" Bee Branch Creek, uncovering and redirecting the creek so that it now flows above ground. By restoring the creek to its native path, the city avoided having to spend millions of dollars to build new storm sewers because the creek performed the same function in a natural way. Daylighting the creek not only saves money but provides residents of nearby neighborhoods an attractive community park.
"Without redevelopment opportunities, urban and rural communities – even those with deep historic roots – can eventually wither," said EPA Office of Land and Emergency Management Assistant Administrator Peter Wright. "Brownfields remediation and revitalization supports communities by investing in the redevelopment of existing properties in the community."
The goals of Sustainable Dubuque have come alive through these revitalized central neighborhoods. A renewed feeling of community has emerged as a result of the Millwork District's focus on the arts through festivals, classes, and gallery space. By catalyzing redevelopment of these great places, Dubuque demonstrates that nothing is more sustainable than strengthening existing neighborhoods.