Parents and Students and Healthy Indoor School Environments
Parents and students who are passionate about clean, healthy indoor air are often effective members of a school's IAQ management team.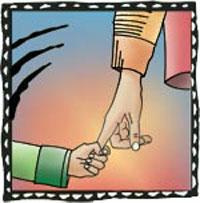 School-aged children spend a great deal of time inside school buildings. Parents can play an important role in creating healthy indoor school environments. Parents and students alike can make a powerful case for protecting health in schools.
---
Tell-Tale Signs that Your Child's Complaints are IAQ-Related
Health complaints are associated with particular times of the day or week.
Other occupants in the same area experience similar problems.
Health complaints end when the child leaves the building and recur when the child returns.
The school has recently been renovated or refurnished.
The child has recently begun working with new or different materials or equipment at school.
New cleaning or pesticide products or practices have been introduced into the school.
Smoking is allowed in the school.
A new warm-blooded animal has been introduced into the classroom.
Top Actions Parents and Students Can Take to Address IAQ
Learn how to effectively communicate with school officials and teachers.
Participate in your school's IAQ committee.
If your child has asthma, you can take steps to reduce their risk of exposure to environmental asthma triggers in schools. Communicate what you know with your child's school teachers and nurses, and be sure your child has an Asthma Action Plan at school.
---
EPA Resources for Parents and Students
Help Your Child Gain Control Over Asthma This brochure offers tips on how to manage asthma and follow simple steps to minimize exposure to asthma triggers found indoors and out.

Ayude a su niño a controlar el asma Este folleto le ofrece consejos sobre cómo manejar el asma, tales como pasos sencillos a seguir para minimizar su exposición a provocadores de asma encontrados en los interiores y al aire libre.

Managing Asthma in the School Environment This resource includes information on how to identify and control common environmental factors in schools that trigger asthma attacks.