S.H. Bell Chicago Facility
Air Monitoring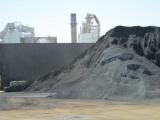 S.H. Bell- Outdoor Bulk Material Storage Pile
April 25, 2014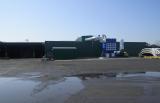 S.H. Bell- Outdoor Bulk Material Storage Pile
August 16, 2017U.S. EPA staff continues to inspect S.H. Bell's Chicago facility to confirm the company is complying with federal and state regulations. S.H. Bell is operating and maintaining air monitors at the facility. EPA reviews and publishes the results of the monitoring each month. (For the latest data, see S.H. Bell Chicago Air Monitoring Data.) Since EPA issued the S.H. Bell Chicago Notice of Violation - August 2017 (PDF) (5pp, 648K, About PDF)  and engaged in settlement negotiations with S.H. Bell, the average manganese concentration between September 2017 through July 2018 (11 months) is 0.089 µg/m3. That is below the minimal risk level for chronic inhalation exposure to manganese, which is 0.3 μg/m3.
Southeast Side Site near the S.H. Bell Property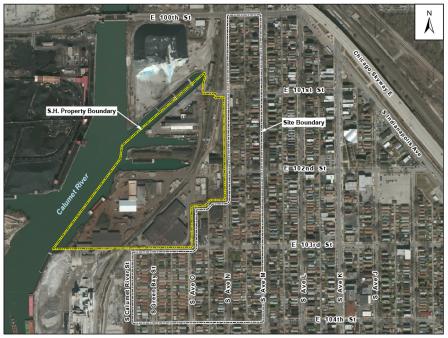 S.H. Bell Chicago facility and Southeast Side Site boundary map.
U.S. EPA oversaw the cleanup of manganese-contaminated soil in seven residential properties and one right-of-way in Chicago's Southeast Side site near the S.H. Bell facility. All field work was completed in November 2020.
The agency had conducted residential soil sampling in the summer and fall of 2018 in response to a request from the City of Chicago received in April 2018. Earlier that year, the City of Chicago Department of Public Health had collected limited soil samples in right-of-way areas near the S.H. Bell facility, and some sample results indicated elevated manganese levels.
Validated data results from EPA's 2018 soil sampling study for the Southeast Side Site
For more information about manganese and lead, see Advice for Residents. 
Agency Response
U.S. EPA has been studying air in Chicago's East side since 2013 in response to residents' concerns about the area's long industrial history. The agency has inspected the S.H. Bell Company facility, which is located in the neighborhood, several times since 2014. As a result, the company has installed a particulate matter ambient air monitoring network on site. S. H. Bell Company handles, stores and processes industrial materials, including metals. EPA is committed to investigating sources of pollution, fugitive dust, and toxic metals in Southeast Chicago, including conducting inspections, issuing Section 114 Information Requests, and taking appropriate enforcement action. (Learn about EPA enforcement in The Clean Air Act in a Nutshell: How It Works (PDF) (23 pp, 250 K, March 22, 2013) 
Site Community Involvement Plan (PDF) (48pp, 8.71MB, About PDF)
Advice for Residents