On this page:
---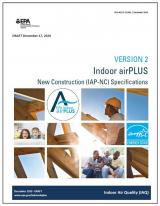 After a decade of positive growth, Version 2 of Indoor airPLUS reflects the program's ongoing commitment to support the building industry in constructing healthy homes. EPA strives to improve indoor air quality for occupants with cost-effective design approaches and straight-forward specifications for builders to encourage the implementation of improved construction practices and technologies.
Indoor airPLUS Version 2 revises specifications for the new construction market and expands project eligibility to include multifamily buildings of all heights. Approved Indoor airPLUS labeled homes and apartments provide peace of mind to home buyers and renters seeking to keep their family healthy.
Key technical changes being proposed to the Indoor airPLUS New Construction Specifications include mandatory requirements for balanced dwelling-unit ventilation, improved performance for filtration, lower envelope air leakage allowances, additional humidity control and local exhaust requirements, and quality assurance measures in verification, among others. Additional advisories are also included as recommendations for improved practices and may become future program requirements, as codes, standards, emerging technologies, and building science research continue to progress.
Additional updates in Indoor airPLUS Version 2 include formatting updates to both the specifications and the checklist. In Version 1, Revision 4, numerous specification items were not included in the checklist if they were overlapping ENERGY STAR requirements. In Version 2, all the specifications have been reincorporated into the checklist, with gray highlighting indicating any overlapping ENERGY STAR requirements. While it may appear that the number of requirements has increased significantly, many of these requirements already existed but were obscured in the format of the checklist. This change is intended to improve clarity on the comprehensive set of requirements, while also improving verification and quality assurance.
EPA also intends to expand the Indoor airPLUS program to existing homes in a future update to Version 2. The existing homes label will provide an opportunity to address the indoor air quality of the millions of existing homes across the country, because everyone deserves a healthy home.
We invite you to participate in the public comment period to provide feedback on the draft specifications. Please see below for details and instructions.
Public Comment
December 18, 2020—March 17, 2021 
To provide comment, please email Indoor_airPLUS@epa.gov with the following subject line: "Public Comment: Indoor airPLUS Version 2." You are encouraged to use the Word document below for formatting your comments, but if you chose another format in your email, please clearly identify the section(s) and item(s) to which your comment(s) refer.
For a summarized list of the proposed changes to Version 2 of the Indoor airPLUS New Construction Specifications see the Indoor airPLUS Version 2 Highlights (PDF) document. The content provided is not exhaustive but intends to capture the most notable changes.
---
Timeline
Following public comment and potential EPA revisions to the New Construction Specifications, Indoor airPLUS Version 2 is anticipated to be available for implementation in Fall 2021. It is expected that Version 2 will become required for all new projects by mid to late 2022. During this transition time period, partners will have the opportunity to continue to use Version 1 Rev.4 or begin to use Version 2.
---
Calendar of Events
Interested in learning more about Indoor airPLUS Version 2? We will be updating this section with links to past or upcoming events where the Indoor airPLUS team discusses Indoor airPLUS Version 2. 
You may need a PDF reader to view some of the files on this page. See EPA's About PDF page to learn more.