EPA On-the-Ground Stories to Protect Children from Lead Exposures
On this page:
EPA Region 1
EPA Region 2
EPA Region 3
EPA Region 4
EPA Region 5
EPA Region 6
EPA Region 7
EPA Region 8
EPA Region 9
EPA Region 10
---
Region 1
soilSHOP event in Portland, Maine
On September 26, 2020, EPA Region 1 and the Cumberland County Soil and Water Conservation District (CCSWCD) organized a safe and socially distant soilSHOP event at the Deering Oaks Park Farmer's Market in Portland, Maine. This event raised awareness of lead in soil and provided free lead soil screening to interested local residents. Region 1 and CCSWC incorporated safety measures to address health concerns presented by COVID-19, including limiting staff on site, maintaining social distance, wearing face masks, and identifying safe collection methods to gather soil samples and transport them for subsequent screening at EPA Region 1's laboratory in Chelmsford, MA.
The 6-hour event explained lead in soil safety practices to over 70 local residents, including 15 families with young children. A total of 43 soil samples were gathered for screening. EPA Region 1's laboratory used an X-ray fluorescence unit to screen all of the samples in a single day. Soil screening results ranged between 21 parts per million (ppm) to 2,800 ppm (EPA's Residential Screening Level is 400 ppm). Over half the samples were above 240 ppm and three samples were above 1,600 ppm. Local partners contacted the participants to explain the results and answer questions about best practices and additional resources.
This innovative approach demonstrated how EPA Region 1 can work with community partners to safely provide outreach, education and technical assistance even during the unique challenges of a pandemic. Thanks to this effort, Portland residents are better informed of lead in their soil and can take steps to minimize risk and protect children and families from lead exposure.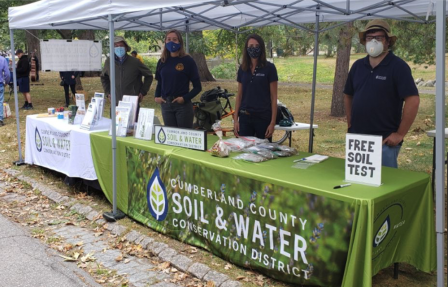 From Left to Right: Rob Guillemin (EPA), Laura Heinlein (CCSWCD), Jenna Martyn-Fisher (CCSWCD)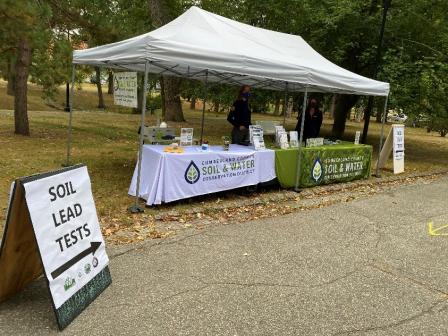 From Left to Right: Rob Guillemin (EPA), Laura Heinlein (CCSWCD), Jenna Martyn-Fisher (CCSWCD), Damon Yakovleff (CCSWCD).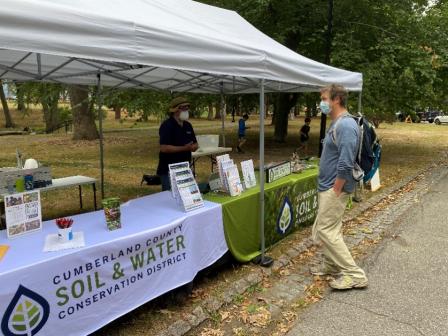 Damon Yakovleff (CCSWCD) and visitor.
---
Region 2
WIIN 2107 Grants in EPA Region 2
No safe level of lead exposure has been identified for children, making them particularly vulnerable and underscoring that anything you can do to reduce exposures can improve life outcomes. Lead is harmful to health, especially for children who are the most vulnerable. One source of lead exposure is drinking water, particularly in older cities which have lead service lines. Reducing exposure to lead in drinking water is a priority for EPA Region 2, as well as our states (New Jersey, New York, Puerto Rico, the U.S. Virgin Islands and eight Indian Nations).
While New York and New Jersey have state regulations to test for lead in schools, there is currently no federal requirements in place. Section 1464(d) of the Safe Drinking Water Act (SDWA), as amended by section 2107 of the Water Infrastructure Improvements for the Nation (WIIN) Act, authorizes EPA to award grants to states for assistance in voluntary testing for lead in drinking water at schools and childcare programs. As such, the WIIN 2107 Lead Testing in School and Child Care Program Drinking Water Grant was developed. In 2019, the grant included approximately $43.7 million in funding. To participate in this noncompetitive grant program and receive their allotment of funds, states were required to submit a Notice of Intent to Participate (NOIP) to EPA. Both New York and New Jersey elected to participate in 2019.
After working extensively with Region 2 to develop their workplans, New York and New Jersey were awarded $1,960,000 and $1,537,000, respectively, in May 2020. The funds are enabling the two states to conduct lead testing using EPA's Training, Testing and Taking Action (3Ts) program in schools and childcare centers not currently covered by state regulatory requirements. This includes approximately 4,200 licensed childcare centers in New Jersey, and a high percentage of the approximately 14,000 licensed child care centers (serving approximately 320,000 children) in New York, with a focus on providing testing for centers in low-income areas.
In its second year, the Lead Testing in School and Child Care Program Drinking Water Grant received $24.4 million in funding. Following outreach from Regional Administrator Peter Lopez to the Governors of Puerto Rico and the U.S. Virgin Islands, Region 2 was able to secure the participation of both territories in the WIIN 2107 program, along with New York and New Jersey.
Region 2 expects to receive draft workplans for Puerto Rico, the US Virgin Islands, New York and New Jersey for their 2020 WIIN 2107 funding allotment. Once received, we will review and provide feedback on the workplans to ensure that once the workplans are formally submitted, the states and territories will receive their allotments as quickly as possible. The 2020 allotments for WIIN 2107 funds in Region 2 are as follows:
New York: $1,159,000
New Jersey: $476,000
Puerto Rico: $182,000
US Virgin Islands: $56,000
---
Region 3
Mid-Atlantic Region and Partner Cities Work to Reduce Childhood Lead Exposure
EPA Region 3 held the Mid‐Atlantic Lead Forum on October 1‐2, 2019, in Hunt Valley, Maryland. The forum was the first milestone in the Region's Geographic Initiative to Reduce Childhood Lead Exposure, in support of the Federal Action Plan to Reduce Childhood Lead Exposures and Associated Health Impacts. The Lead Forum brought together federal, state and local entities, and community representatives from select cities in Region 3, and served as a space to share experiences and concerns related to lead across various media, as well as best practices to work through challenges. The forum's presentations and discussions revealed many opportunities for building and strengthening partnerships and creative ideas to address common problems.
Following the successful Region 3 Mid-Atlantic Lead Forum in which EPA Administrator Andrew Wheeler highlighted the importance of our combined efforts to reduce childhood lead exposure, especially in communities with populations vulnerable to lead exposure, Region 3 continued to engage our partner cities. EPA supported community engagement in a forum on lead in Reading, Pennsylvania. The meeting, organized by the Reading Area Water Authority and the Reading National Association for the Advancement of Colored People, welcomed stakeholders including local, state and federal government, political representatives, local organizations, and more. EPA Mid-Atlantic Region committed to attending, and invited additional federal, state, and city partners to attend and present at the event. There were approximately 45 people in attendance, representing over 20 agencies and organizations.
Reading meeting organizers presented the goals for creating a sustainable program to reduce lead exposure and building a consortium of partners to work together on the solutions. The Reading Lead Forum featured presentations on lead-related bills, lead as a community issue, and an overview of the lead poisoning prevention program by neighbor City of Lancaster, PA. The conversation continued afterwards with an open discussion among attendees covering many topics including health, data reporting, lead exposure pathways, federal funding, community history, schools, and more. It was a successful kick-off to the conversation on addressing lead in the community. EPA and ATSDR Region 3 continue to connect with Reading representatives and provide information, opportunities, and tools such as the local Lead Action Plan template. EPA looks forward to advancing our work with our partners to reduce lead exposure in cities and communities across the Mid-Atlantic Region.
Mid-Atlantic Lead Forum resources are available here: https://arch.umd.edu/research-creative-practice/centers/environmental-finance-center/project-areas/technical-assistance/mid-atlantic-lead-forum.
A Success Story "EPA Works with Partners to Protect Children from Lead Exposure" under "Land" tab, highlights EPA Region 3's commitment to working with partners throughout the region to advance the childhood lead exposure reduction of these cities, and throughout the Mid-Atlantic. https://epa.maps.arcgis.com/apps/MapSeries/index.html?appid=56e5446ee0264adfbd5d1e46d8345d1c.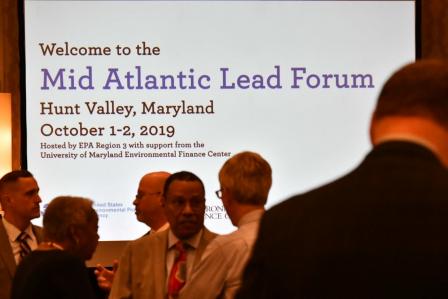 Attendees networking at the Mid-Atlantic Lead Forum. October 1, 2019.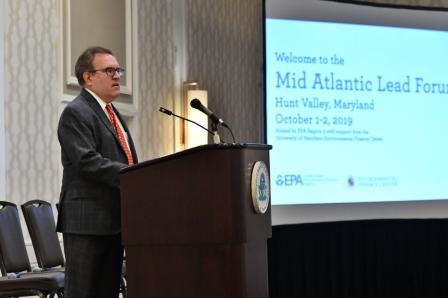 Administrator Wheeler presenting at the Mid Atlantic Lead Forum (October 1, 2019).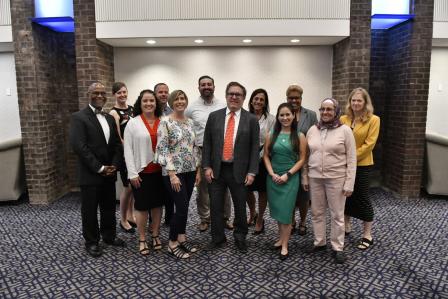 EPA staff attending the Mid-Atlantic Lead Forum with Administrator Wheeler (October 1, 2019).
EPA Region 3 Administrator Cosmo Servidio speaking at the Mid-Atlantic Lead Forum. (October 1, 2019).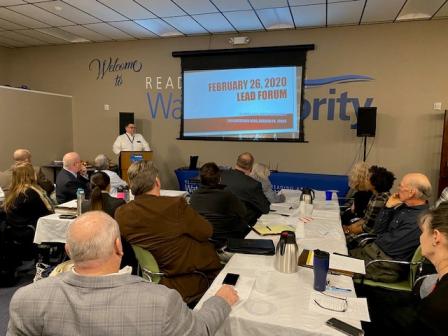 Attendees watching a presenting at the Reading Lead Forum (February 26, 2020).
Childcare webinar a success!          
On May 14, 2020, 283 participants from across the nation attended the Mid-Atlantic Center for Children's Health and the Environment (MACCHE) in partnership with the Children's Environmental Health Network (CEHN) webinar for childcare providers on potential environmental hazards in childcare settings. At least 17,572 children will benefit from discussions held on how to minimize potential environmental exposures to children in early care settings. The children in the care of the providers will benefit from the knowledge, best practices and actions taken by their care providers in response to the information provided by the webinar. Sixty-seven (67) childcare providers were from Region 3 states with approximately 2,798 children in their care. Childcare licensing staff, nurse consultants, and others that work with childcare providers were also in attendance and will potentially expand the reach of this information. Region 3's Office of Communities, Tribes and Environmental Assessment (OCTEA) funded MACCHE to hold this webinar to further regional efforts in meeting national priorities in lead poisoning and healthy learning environments. There were more than 600 people registered for the webinar, showing high interest in this topic area. The recorded webinar has received 357 views to date.
---
Region 4
EPA Region 4 Addresses Residential Lead Contamination in 3 States
EPA has been actively cleaning up lead contamination in residential yards at the 35th Avenue site in Birmingham, Alabama, the Southside Chattanooga Lead site in Chattanooga, Tennessee, and the Westside Atlanta Lead site in Atlanta, Georgia. All three communities have strong historical ties and have been impacted by long-standing past practices of placing lead-contaminated soil in low-lying areas. In FY 2020, EPA Region 4 actively engaged the community, state and local governments, stakeholder groups, and leaders to spread the word about the dangers of lead contamination, consistent with on-the-ground implementation of EPA's 2018 Federal Action Plan to Reduce Childhood Lead Exposures and Associated Health Impacts. In FY 2020, EPA reached out to 3,568 residents via letter and conducted door-to-door outreach in all three communities to request permission to sample their yards. The Agency received permission to sample 653 yards and have cleaned up 171 properties this fiscal year.
During the COVID-19 pandemic, EPA implemented enhanced health and safety protocols based on CDC guidelines to continue addressing these sites. Many of these practices include social distancing and implementing innovative methods to engage the primarily low-income, minority communities at all three sites. For transparency and awareness, the Agency conveyed our enhanced protocols to local elected officials and residents through various communication methods. EPA posted newspaper and radio advertisements, videos on its websites and social media to inform residents about EPA's mission to reduce lead exposure in their communities and requested permission to sample residents' yards. Fact sheets were prepared in English and Spanish to address language barriers in the Chattanooga neighborhoods. EPA coordinated with school districts to test the soil in school playgrounds and local parks, as well. The Region 4 Superfund site teams will continue to engage the community and clean and restore the yards in these areas.
---
Region 5
Residential Cleanup Success in East Chicago, Indiana
When cleanup of lead at the USS Lead Superfund site began in 2016, residents in East Chicago were concerned and largely unaware of the Superfund cleanup process. This large-scale residential cleanup began with an emergency response to lead contamination at several hundred homes, quickly drawing media, community, and political interest. EPA Region 5 quickly understood that meaningful community engagement was of the upmost importance at this site and looked for ways to gain the community's trust and partnership to ensure a successful cleanup.
While the EPA Region 5 team engaged in typical ways with the community during the lead cleanup, Region 5 thought outside the box to find ways to engage with impacted residents and families. As the cleanup progressed, Region 5's commitment to transparency and availability resulted in regular community meetings and availability sessions and more than 2,000 in-person and/or telephone contacts with residents, city officials, press, and community activists seeking information about cleanup progress. The Region also coordinated with EPA Headquarters to hold a Superfund Jobs Training Initiative program for over 20 East Chicago residents. This resulted in 10 trainees being hired by Site cleanup contractors or subcontractors to help with the lead cleanup in their own community.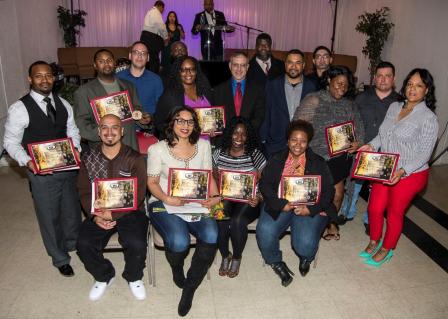 Superfund Jobs Training Initiative graduates, East Chicago, IN.
The extra efforts made in community outreach paid dividends in moving the project along swiftly. Region 5 established a staffed local hotline number and afforded concerned residents drop-in office time five (5) days a week to meet with the team during construction season. Residents' requests were tracked on a SharePoint site to ensure each request was addressed. An online data viewer was also established for the community, ensuring immediate data availability and transparency. To further facilitate information sharing, Region 5 also successfully launched the USS Lead Newsletter, which provided Site cleanup progress details to area residents, tips for preventing exposure to lead and contact information for other agencies that may be able to provide further assistance to residents. The newsletter has received positive reviews from the City and residents.
Team members often went door-to-door to solicit access agreements from property owners for sampling and cleanups, providing Spanish translation services if needed. Resources from other agencies, such as the , the Agency for Toxic Substances and Disease Registry (ATSDR), and local and state health departments participated in public meetings and open houses to discuss the health effects of lead exposure and mitigative measures that could be taken. Meetings were also held on weekends and evenings to accommodate residents' schedules. After becoming involved at the Site, the PEHSU also provided a Grand Rounds seminar for healthcare providers in East Chicago on lead poisoning prevention, educating providers to better serve the needs of impacted children in the area.
The event that the Region 5 team is proudest of was a successful childrens blood lead testing event held in FY19. Partnering with ATSDR, the Indiana Department of Health and the East Chicago Health Department, the Region 5 team held a superhero-themed event with a mobile blood testing unit, food trucks, and bounce houses to encourage families to have their childrens' blood lead tested free of charge. The event was highly successful in testing blood lead levels of over 50 residents, 41 of which were children. EPA Region 5 staff and partner agency staff were on hand to answer questions, provide tips for reducing childhood lead exposure, and provide educational materials to attendees. To reach the broadest audience possible, EPA did door-to-door outreach and delivered flyers to local churches, homes, and community leaders to advertise. They also selected a location near a local park and community center where an after-school program is held, making it convenient for families to attend.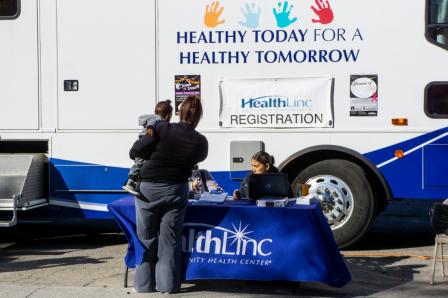 Mobile blood lead lab, East Chicago, IN.
As a result of these actions and more, the affected community at the USS Lead Site remained engaged in their cleanup work and helped move the cleanup along expeditiously. Additionally, Region 5 held weekly status calls throughout the cleanup including Region 5's Superfund Division, RCRA Corrective Action branch, and the Children's Health Program to ensure forward progress. In FY20, the final lead-contaminated residential yards were cleaned up, resulting in a partial deletion of the residential properties from the National Priorities List. Region 5 is exceptionally proud of their efforts in maintaining positive and engaging community relations and the speed at which lead was removed from the impacted residential properties in the East Chicago.
---
Region 6
Celebrating Success: Environmental Health Visualization Application
Dr. Sala N. Senkayi is the acting Regional Quality Assurance Manager in EPA Region 6 and has spent her career finding ways to visualize data in academia and the U.S. Environmental Protection Agency (EPA). In 2016, Dr. Senkayi used EPA's new Qlik Sense data visualization platform to visualize health and environmental data provided by the Centers for Disease Control and Prevention (CDC). In 2017, she received the Presidential Early Career Award for Scientists and Engineers (PECASE). She has used the funding that came with this award to continue collaborating with others on visualizing data. Since 2017, she has worked with EPA Office of Research and Development (ORD) contractor Dr. Bryan Chastain and subject matter experts in New Zealand to develop a Region 6 app/tool, the Environmental Health Data Visualization tool/app (EHD app). The tool allows environmental professionals to visualize tabular data and relationships and also uses GIS to provide insights into spatial interactions between varying variables.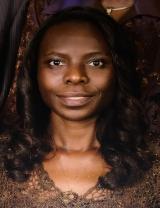 Dr. Sala N. Senkayi.
The Region 6 EHD app uses maps, scatterplots, trendlines, and charts to visually display county-level lead data via CDC's National Environmental Public Health Tracking Network and EPA EJSCREEN: Environmental Justice Screening and Mapping Tool portals, in addition to Cherokee Nation lead and Arkansas blood lead level (BLL) data. The tool assists with noting counties with the highest number of homes built before 1950 and the highest number of children tested with BLLs between 5 and less than 10 µg/dL, for example (see image below). Years of similar lead data are accessible alongside other lead data; additionally, Air Quality (AQ) data can be viewed alongside additional AQ information like wildfires to note visible trends.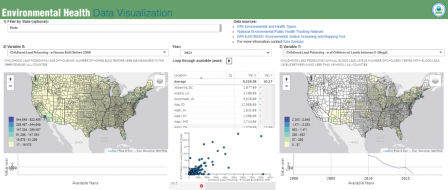 Screenshot of the Environmental Health Data Visualization tool/app (EHD app).
Region 6 EHD App
The Region 6 EHD app team has worked with several groups to better understand their data using visualization tools/apps and utilize a multidisciplinary team approach to understand each group's environmental information further. For example, Cherokee Nation Tribe has supplied the Region with its indoor and outdoor lead paint data (2011-2020). Visualizing these data in the Region 6 EHD apps assists the Region in teasing out any visible relationships and helps the user note those areas with high numbers or percentages of lead. Stakeholders receive the results during educational presentations. This work is funded by PECASE award funds and has been done by EPA's ORD contractor Dr. Bryan Chastain, with the National Geospatial Support Team/National Analytics Support Team (contractor to the U.S. EPA with GDIT). The app and data are available to the public.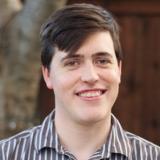 Dr. Brian Chastain.
The stakeholder collaborations have led to numerous discussions, educational webinars, and information exchange. Partnerships are essential in identifying and implementing innovative data processes and learning about best management practices. Additionally, these visualization tools or apps help consistently display data to others during presentations like the 2019 annual All States Lead-Based Paint meeting at EPA Region 6 in Dallas, TX hosted by Mike Adams, the Regional Lead Paint Coordinator and the 2020 Inter-Tribal Environmental Council (ITEC) webinar hosted by Region 6 Tribal Partners. The Region 6 EHD app allows users to view different datasets simultaneously and update indicators based on various relationships. The collaboration was successful due to the diverse participants; additionally, using only one method or tool to highlight discrete relationships may not have demonstrated any spatial associations among such large datasets.
Noting these relationships can help address poor health and any related cost associated with environmental exposures. Both Drs. Senkayi and Chastain teach at local institutions in the Dallas/Fort Worth area to keep abreast of emerging technologies and to encourage future generations to learn more about mapping tools. Dr. Chastain was also part of the winning AirNow EPA Team pictured below with ESRI President Jack Dangermond. 
Winning AirNow EPA Team with ESRI President Jack Dangermond.
Celebrating Success: Tar Creek (Ottawa County) Quapaw, Oklahoma
The Tar Creek Superfund Site is part of the Tri-State Mining District, including northeastern Oklahoma, southeastern Kansas, and southwestern Missouri. The Tar Creek Superfund Site includes approximately 40 square miles of northern Ottawa County, where lead and zinc were mined and milled from about 1900 to the 1970s. When mining ceased, vast volumes of mining waste, including chat and mill tailings, were left behind.
The St. Joe chat pile flanks the outline of what were once the city streets of Picher, of which almost all of the residents were bought out and relocated because of the health and cave-in risks left by the former lead and zinc mining operations. Globe file | Laurie Sisk.
In 1979, the orange acid mine water filling the old mines began to flow into surface waters, which impacted water quality. Dirty water was not Tar Creek's only problem. Children once played on huge hills of mining waste, using the hills like a giant sandbox, and families would picnic on Tar Creek's sandy beaches.
The problem was the toxic sand from the mining waste. One-hundred young school children tested for lead poisoning, and the results showed that they had over 43% elevated blood lead levels (BLLs) – 11 times greater than the state average. In 1983 Tar Creek was added to the federal National Priorities List .
The EPA is the lead federal agency at the Site and works closely with federal, state, and tribal partners to manage ongoing site activities that include planning and future remedial activities. The Oklahoma Department of Environmental Quality (ODEQ) and the Quapaw Nation work directly with EPA under cooperative agreements to oversee cleanup and related activities across different parts of the Site.
There are five (5) operable units (OUs) representing distinct areas of a site designated by EPA, to organize and manage complex cleanups:
OU1  Surface Water/Groundwater
OU2  Residential Areas
OU3  Eagle-Picher Office Complex - Abandoned Mining Chemicals Removal Action
OU4  Chat Piles, Other Mine, and Mill Waste, Smelter Wastes
OU5  Sediment and Surface Water
OU2 includes the communities of Commerce, North Miami, Quapaw, Cardin, and Picher. Adjacent communities of Miami, Afton, Fairland, and Wyandotte have also been impacted by waste from the Site due to using "chat" for roads, parking lots, alleyways, driveways, and as general fill material. The goal is to reduce the ingestion of lead-contaminated soil by people, especially children. Since 1997 approximately 3,000 properties have been cleaned up. Cleanup actions will continue as long as chat, and contaminated soil remain. The remediation of yards and public areas, and education and outreach programs implemented by the Ottawa County Health Department help protect children's health. BLLs of Ottawa County children are showing a significant reduction.  
The ODEQ currently oversees OU2 and continues to address new properties that require investigation and remediation through a cooperative agreement with EPA. Anyone in Ottawa County is eligible for ODEQ's Residential Yard Cleanup Program, and County residents can call a hotline to request soil sampling.
EPA also facilitates greater community involvement in site-related decisions and discussions by making technical assistance services available in coordination with the Local Environmental Action Demanded (L.E.A.D.) Agency. This nonprofit organization promotes awareness of health and environmental issues related to the Site, including awarding L.E.A.D., a Technical Assistance Grant (TAG) and Technical Assistance Service for Communities (TASC).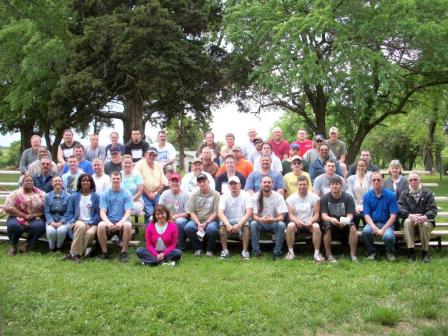 JTI participants in Miami, Oklahoma.
The Superfund Job Training Initiative (SuperJTI) Program was developed by EPA to provide disadvantaged adults with job skills necessary to work at a Superfund site. Through a partnership with EPA and L.E.A.D., the Northeast Technology Center at Afton and CH2M Hill, Tar Creek SuperJTI, provided local jobseekers with new skills and work experience linked to the cleanup of the Tar Creek site. EPA's goal is to help the community create job opportunities and partnerships that remain in place for the long term.
Tar Creek Super JTI staff and the community partner L.E.A.D. created a hotline, distributed fliers, and hosted orientation sessions to publicize the job training program and attract interested candidates. Local radio stations and Workforce Oklahoma also promoted the program.
Although voluntary residential relocations are complete and part of the OU4 remedy, cleanup efforts continue to address source material and transition-zone soil (soils around and underneath chat piles and bases). These include voluntary buyout and relocation of a family residing at the former smelter site (completed in 2019) and voluntary relocations of 628 residences, 74 businesses, and 125 renters from impacted areas in Picher, Cardin, and Hockerville, Oklahoma (completed in 2011), and Treece, Kansas (completed in 2012). The Central Mill Repository now manages the more than 6 million tons of mining waste removed from restricted and unrestricted properties or deposited back into the mine workings.
Investigations on OU5 are ongoing, and Five-Year Reviews on the entire Site ensure that the implemented actions protect human health and the environment.
Through state grants, the City of Miami, Oklahoma, built the Route 66 Miami Splash Pad, a water park designed for younger children. This park is free and open to all and includes restrooms, picnic benches, tables, and a beautiful wooden shade structure. This splash pad, conveniently located right next to the Joe Pollock Sports Complex, allows families to have a fun-filled day for everyone!
---
Region 7
When home repairs and remodeling projects are on the weekend to-do list, many Americans turn to popular online and television remodeling shows to gain ideas and useful advice. However, as construction gets underway, one crucial aspect of a home update project should not be overlooked – the proper steps for conducting a lead-safe renovation
Although the federal government banned the use of lead-based paint in homes in 1978, those built before then likely still have lead-based paint on the walls, windowsills, and other areas. Common renovation activities such as sanding, cutting and demolition can create hazardous lead dust and chips when disturbing lead-based paint. Exposure to lead-contaminated dust from chipped or peeling lead-based paint in these older homes is one of the most common causes of elevated blood lead levels in children.
To protect the health and safety of families from the hazards of lead-based paint, EPA actively engages with contractors and home remodeling experts to ensure compliance and to help educate homeowners on proper lead-safe renovation procedures.
Recently, two home renovation TV programs, "Rehab Addict" and "Bargain Mansions," reached settlements with EPA for violations of the Toxic Substances Control Act's Lead Renovation, Repair and Painting Rule (RRP Rule). Episodes of these shows depicted several improper work practices for the safe handling and disposal of lead-based paint.
The RRP Rule requires that companies and contractors renovating homes and child-occupied facilities built before 1978 be certified by EPA and follow lead-safe work practices to contain dust in the renovation work area and contain the waste during its disposal. The rule is intended to reduce lead exposure from toxic lead dust and debris that can be generated during renovations.
The hosts of the programs, Nicole Curtis of "Rehab Addict" and Tamara Day of "Bargain Mansions," later worked with EPA to learn about compliance with lead-based paint regulations for renovation projects on their shows.
As required by the settlements, both hosts are educating the public on lead-safe renovations through videos, social media postings, and public events. Promoting safe renovations on a national stage encourages homeowners everywhere to ask for and ensure that these vital work practices are in place when renovations occur.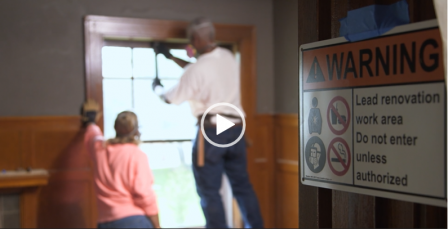 Tamara Day, host of HGTV's "Bargain Mansions," explains Lead Paint Safety in a video posted to her blog, Sept. 17, 2020. (photo credit: tamaraday.com).
EPA Region 7 staff worked with both shows, providing compliance assistance on their videos and blog posts to ensure the information is accurate and complete. Tamara Day, a Kansas City area resident, has also received RRP firm certification for her own company, Growing Days. Social media messages Ms. Day will be posting quarterly over the next year have the potential to reach over 60,000 of her followers. Additionally, several companies who worked on the shows were brought into compliance with the RRP Rule.
Home renovation shows can help drive compliance by demonstrating the necessity to renovate correctly and safely to protect children and adults from exposure to lead-based paint. Businesses and individual contractors have an obligation to abide by the RRP Rule, and families should be empowered with the knowledge and resources to address lead paint hazards in their home.
---
Region 8
Colorado Smelter Superfund Site Lead Story
EPA Region 8 staff have been working to protect current and future residents of the environmental justice community of Pueblo, Colorado from prolonged exposure to lead at the Colorado Smelter Superfund Site. As of August 31, 2020, the Colorado Smelter team has conducted indoor dust sampling at 1,024 homes and indoor dust cleanups at 193 homes. The team has also completed soil sampling at 1,492 homes and soil cleanups at 449 homes. EPA, in coordination with the Colorado Department of Public Health and Environment and the Pueblo Department of Public Health and Environment, has provided no-cost blood lead level (BLL) screening, healthy home assessments to identify indoor sources of lead, and educational resources to Pueblo residents.
Following Colorado's March 11, 2020, declaration of a disaster emergency due to the presence of COVID-19, EPA paused work at the site but resumed outdoor sampling and cleanup work less than a month later. The importance of reducing lead exposure to individuals in the residential area of the site required the site team to develop innovative safety plans and protocols in collaboration with our contractors, state and local health departments, and the community to ensure this critical work could continue in a safe manner.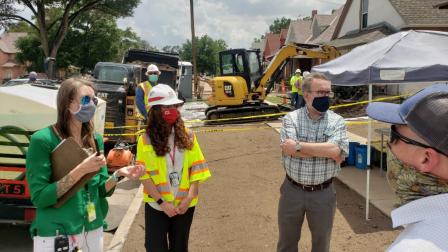 Jamie Miller, Julie Babcock, and Andrew Wheeler (EPA Administrator).
---
Region 9
Lead Removal from Factory Street in Honolulu, Hawaii
Between January and March 2020, EPA Region 9 removed lead-contaminated soil at the densely populated Factory Street site in central Honolulu, HI. The Hawaii Department of Health (HDOH) requested EPA take this action to protect residents in an underserved, overburdened community faced with many environmental justice issues. This part of Honolulu once featured significant industrial operations, and lead contamination stemmed from historical commercial activities such as a dental office, sign painting shop, fishing supply, and a battery rebuilder.
Prior to the removal, HDOH found unusually high levels of lead in the soil, with readings reaching as high as 24,000 parts per million (ppm). This level greatly exceeds EPA's Residential Screening Level of 400 ppm and HDOH's Environmental Action Level of 200 ppm. Removal of the lead was deemed to be the most protective action for the community.
The Region 9 site team implemented a multi-faceted communication strategy for this project. EPA presented multiple times at local neighborhood council meetings and partnered with the local city councilmember to conduct community outreach. EPA also worked with the HDOH Childhood Lead Poisoning Prevention Program (CLPPP) on outreach activities. An "outreach booth" was established near the site where EPA and HDOH directly engaged with over 50 community members and handed out project information and CLPPP materials to approximately 75 people. In order to reach more community members, the team went door-to-door to over 50 residences and participated in local radio, print, and TV news interviews.
EPA completed the project and repaved the street on March 5, 2020. We removed about 53 tons of hazardous waste soil and 455 tons of non-hazardous soil with elevated lead levels. During excavation, EPA used dust control measures and performed air monitoring to ensure there were no risks to the community from the project.
To read the press release, click here.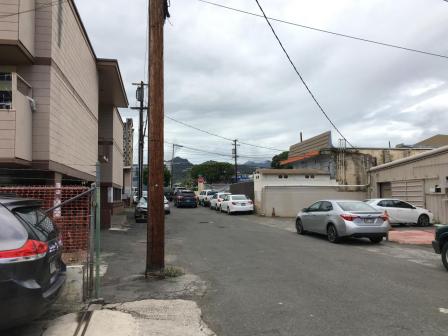 Factory Street in Honolulu, HI after lead removal and repaving.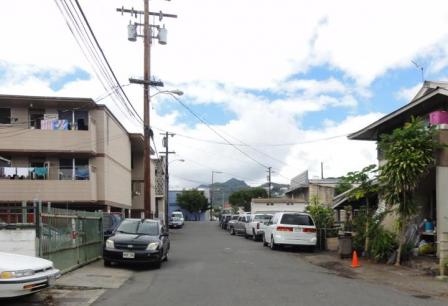 Factory Street lead removal site in Honolulu, HI.
Improved Corrosion Control to Remove Lead from Campo Golden Acorn Casino Drinking Water
In 2014 and 2015, elevated levels of lead were detected in drinking water at the Campo Golden Acorn Casino near San Diego, CA. Sample results indicated lead concentrations at 1.2 milligrams per liter and 0.03 milligram per liter, which both exceeded the EPA's lead action level of 0.015 milligram per liter. The results of these samples, taken by the Campo Kumeyaay Nation, prompted action by the EPA under the Lead and Copper Rule.
The casino, which serves approximately 1,000 customers per day and upwards of 50 staff, needed upgrades to its plumbing to remove suspected lead containing components and corrosion control treatment to prevent the leaching of lead from service lines and fixtures. A plumbing inventory was conducted and all potential lead containing components, such as pipes, fittings, and faucets, were removed and replaced. Concurrently, EPA Region 9 staff assisted the Campo Kumeyaay Nation in designing an appropriate corrosion control treatment protocol to prevent lead within the drinking water and provided guidance on ensuring the effectiveness of the new system.
Since the lead levels were initially detected, sampling of the water system for lead has continued at an increased frequency and over the course of the subsequent years, there has been a gradual decrease in the number of lead action level exceedances. This trend of lead levels decreasing has continued, with all thirty (30) samples collected during 2020 indicating "non-detect" for lead. As a result, the casino's drinking water is no longer exposing patrons and staff to unsafe lead levels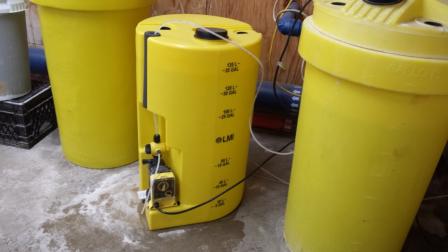 Orthophosphate drum/pump used as a corrosion control treatment "additive" to system.
The phosphate system is a proprietary phosphate dosing system that includes a dual direction dilution water/chemical injection valve, a chemical feed pump, and three chemical dispensers.
---
Region 10
Protecting Public Health in the Town of Northport, Washington
In 2020, EPA Region 10 conducted a removal action to clean up contaminated soil on 15 residential properties and common use areas in the rural town of Northport in northeast Washington state. EPA determined that this cleanup was warranted to reduce people's exposure, especially that of young children, to high concentrations of lead and arsenic in soil. Historical smelting operations and construction practices using mine-waste contaminated materials had contaminated soil in the town of Northport, putting children's health at risk. EPA excavated and removed approximately 4,390 tons of soil from residential properties and common use areas, including a community park/playground, children's community garden, and lawns at the library, Welcome Center, and American Legion lot used for public recreation. EPA and its contractors worked to ensure operations followed COVID-19 safety practices to help protect the crew and the community it serves. This included, among other practices, wearing facial coverings, conducting daily morning health screenings, routine disinfecting, and social distancing at all possible times.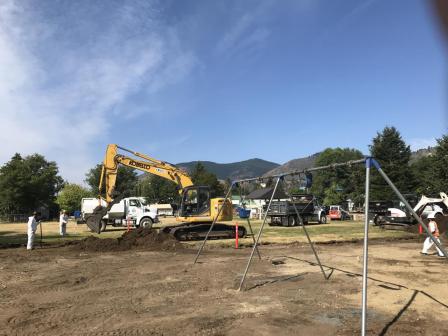 EPA Cleans up Lead Contamination at a Local Park in Northport, WA.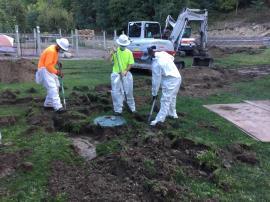 EPA Cleans up Lead Contamination at a Local Park in Northport, WA.