About the Merrimack
On this page:
---
Background
The Merrimack River begins in central New Hampshire and winds 115 miles south to the Atlantic Ocean in Newburyport, Massachusetts. The Merrimack River watershed is the fourth largest watershed in New England, encompassing 5,010 square miles. It includes all or parts of approximately 200 communities, with almost 2.6 million people.
The river provides drinking water for about 500,000 people in five Massachusetts communities; Lowell, Methuen, Andover, Tewksbury and Lawrence. The Merrimack River also provides water to many communities in the greater Nashua, N.H. area, which are served by Pennichuck Water. Manchester, N.H. and Haverhill, Mass. are planning to add infiltration wells along the Merrimack River, increasing the number of people drinking source water from the Merrimack, to more than 700,000.
In the 1800's, the Merrimack River supplied energy to the textile industry's mill complexes. You can learn more about the River's past from an article from the National Park Service. The river's industrial past set it up for the many challenges that we see today. Fortunately, there are many dedicated stakeholders working to improve the Merrimack's water quality. With so many communities depending on the river for clean water for drinking water and recreation, EPA and many strategic partners continue to work together to improve the Merrimack's water quality.
---
Maps
The Merrimack River Watershed Story Map brings together interactive data about the watershed to visualize some of the watershed's greatest challenges and attributes. You can use the Merrimack Mapping Tool in Section 6 of the Story Map to customize layers of data, including adding geospatial data sets to create your own visual story of the Merrimack.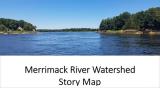 To learn how to use the Merrimack River Watershed Story Map you can watch this video. Exit
More information about the Merrimack River Watershed Story Map can be found in the Frequently Asked Questions.
---
New England Water Permits (NPDES)
The Clean Water Act prohibits anybody from discharging "pollutants" through a "point source" into a "water of the United States" unless they have a National Pollution Discharge Elimination Systems permit, often referred to as a NPDES permit. The permit contains limits on what can be discharge, monitoring and reporting requirements, and other provisions to ensure that the discharge does not hurt water quality or people's health.  Learn more about the NPDES program.
You can find additional information can be about the  NPDES Water Permit Program in New England, including a state-by-state listing of recently issues permits.
---
Enforcement Efforts
EPA's enforcement tools are explained here. Below are the current enforcement documents for each Combined Sewer Overflow (CSO) community in the Merrimack River watershed. Please note that when EPA believes Clean Water Act ("CWA") violations have occurred and/or are continuing to occur, EPA may use one or more enforcement options.
Fitchburg, MA
Greater Lawrence Sanitary District, MA
Haverhill, MA
Lowell, MA
Manchester, NH
Nashua, NH