EPA and Partners Build on Brownfields Redevelopment Success in KC Urban Core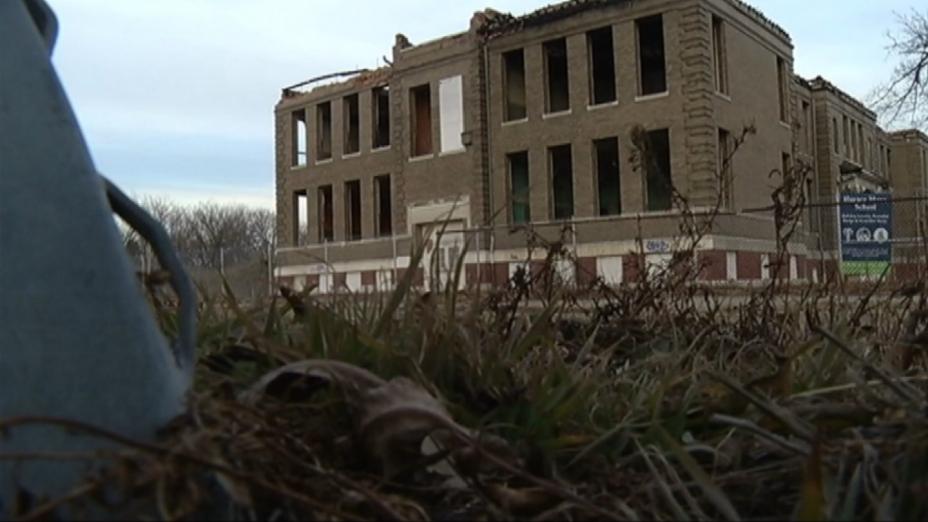 Former Horace Mann Elementary School. Learn more in a blog by EPA Region 7's Brownfields Program chief, Stanley Walker, who was a student there.
– EPA Region 7 Feature –
By Jenn Little, Office of Public Affairs
For decades, lots on the 3800 block of Euclid Avenue sat vacant in the Ivanhoe neighborhood. The former Horace Mann Elementary School on the corner stood riddled with asbestos and lead paint. In Kansas City's urban core, such sights are not entirely uncommon. For these environmentally contaminated sites, known as brownfields, redevelopment can be costly and complicated.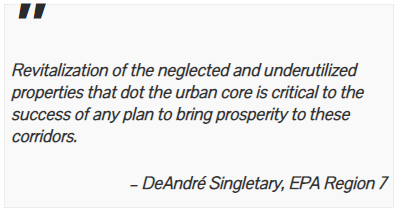 Nailah M'Biti is one of many community leaders working to revitalize these sites. An environmental engineer by training, she understands the contamination problems that come with many of these vacant lots and has been involved with the Ivanhoe Neighborhood Council (INC) since 2008.
"Most of the vacant lots occurred because of housing or commercial areas being deconstructed. Unfortunately, basements were filled in as opposed to being pulled out," M'Biti said. By doing this, harmful contaminants can be trapped into soil and groundwater systems.
M'Biti is INC's Chief Real Estate Development Officer, meaning that she tries to spur housing and business creation. In doing so, she must confront the realities of environmental contamination in Kansas City's vacant lots, many of which are brownfields.
Brownfield sites are properties that have known or suspected environmental contamination from a hazardous substance, pollutant, or other contaminant, often from prior industrial or commercial use. EPA's Brownfields Program was created in 1995 to help communities redevelop these properties.
"Revitalization of the neglected and underutilized properties that dot the urban core is critical to the success of any plan to bring prosperity to these corridors," said DeAndré Singletary, director of EPA Region 7's Land, Chemical and Redevelopment Division. To M'Biti, these sites are the result of a "legacy of disinvestment" in the urban core and predominately Black communities.
Addressing the Past
According to community members, for neighborhoods across Kansas City, including Ivanhoe, the effects of redlining, blockbusting, and White flight following the Brown v. Board of Education decision in 1954 were devastating. By the 1980s, several neighborhoods were afflicted with crime, drugs and pollution. The number of vacant lots in areas like Ivanhoe skyrocketed as shops closed, homeowners moved away, and buildings fell into disrepair. Crumbling buildings leached environmental contaminants into the soil of vacant lots. Some vacancies grew into illegal dumping grounds for tires, appliances and electronics. In turn, brownfield sites became widespread.
Today, Kansas City redevelopment groups are actively working to revitalize these areas and have leaned into support from EPA's Brownfields Program. This program provides federal funding and technical assistance to communities, states, tribes, and other stakeholders, empowering them to clean up pollution and put property to good use.
For M'Biti, Brownfields dollars help kick-start real estate development and enable community-led organizations to afford the necessary environmental site assessments required.
"When I look at the dollars spent on the environmental site assessments for our next construction project, I believe we're at around $40,000. For a $2 million project, that's a small amount of money for developers who have more resources available to them. For us as a nonprofit, that's a big upfront investment," M'Biti said.
Breathing Life into Brownfields
In the Ivanhoe neighborhood, EPA funding supported the establishment of affordable housing on the vacant 3800 block of Euclid Avenue. At 39th and Prospect Avenue, land was redeveloped for a grocery store, a much-needed addition to a neighborhood once considered a food desert.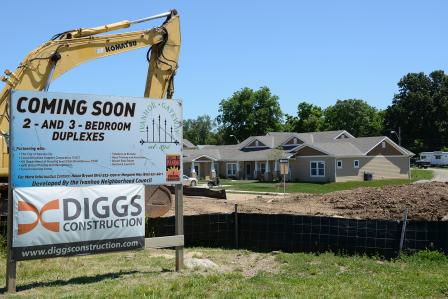 Redevelopment project at 3800 block of Euclid Ave. in KCMO in summer 2015.Singletary noted, "The progress in the Ivanhoe neighborhood continues and serves others as a model for community involvement in redevelopment."
This fall, the INC will begin constructing eight senior cottages at 38th and Garfield Avenue. Plans to develop mixed-use buildings for commercial businesses and apartments on additional brownfield sites have kicked off. M'Biti explained that the asbestos- and lead-ridden elementary school, which was torn down, will be replaced with new senior housing in the coming years. The city of Kansas City, Missouri, performed the environmental site assessment and cleanup with EPA Brownfields funding.
About a mile west, the DeLaSalle Education Center expanded its campus using brownfields from a former gas station, garage, and car wash. Across town, another brownfield site will be the location of a grocery co-op in the Historic Northeast Neighborhood of Kansas City, Kansas.
EPA and KC Partners Team Up
In the greater Kansas City area, EPA Region 7 is supporting several partners who are committed to the revitalization of neighborhoods in the urban core. These partners include the city of Kansas City, Missouri; Unified Government of Wyandotte County and Kansas City, Kansas; Jackson County, Missouri; and Mid-America Regional Council.
Andrew Bracker, brownfields coordinator for the city of Kansas City, MissouriExit, said that "our brownfields policies emphasize community benefit, environmental stewardship, sustainability, corporate stewardship, and equity."
Bracker often partners with EPA and added that "where the Brownfields Program can, it helps to clean up a bit of contamination here, add a few jobs there, and do so in communities that bear that disproportionate burden."
In May 2020, EPA's Kansas City area partners received a total award of $1.4 million in EPA funding for cleanup planning, community engagement, and brownfield site assessments.
"This funding will enable the transformative power of public-private-people partnerships in Kansas City to continue," Singletary said.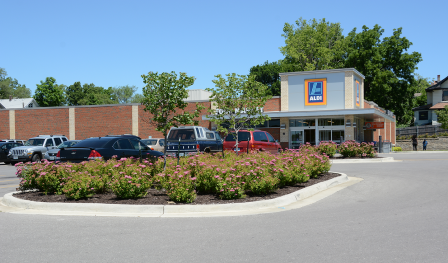 Land redeveloped for a grocery store at 39th and Prospect Ave. in KCMO.The targeted areas are in Qualified Opportunity Zones in Kansas City and Jackson County, Missouri; and Kansas City, Kansas. Priority sites include brownfield sites in old historic corridors, heavy industrial areas, and petroleum industry sites.
"To breathe life back into these places will not only remove any potential contamination that lingers, but it will also help to remove the sting of disinvestment and disenfranchisement many of these communities have faced," Singletary said.
Since 1997, the Brownfields Program has helped create at least 1,400 jobs in greater Kansas City. According to a 2017 study, brownfields projects have also returned double, triple, and sometimes seven times EPA's initial investment through local tax revenues.
An expanded school, a grocery store, and affordable housing units are a few additions in urban core neighborhoods that resulted from community efforts and the Brownfields Program. Although these individual projects aren't a blanket solution to the challenges faced by Kansas Citians, they do demonstrate the kind of progress that is possible when community leaders work with partners like EPA to chip away at the historical legacy of discrimination.
As M'Biti said, "We're playing catch-up, there's no question about it. Things will not change automatically. That doesn't mean you stop doing the work, it just means that it will take some time to get the work done."
Learn more about EPA Region 7's Brownfields Program
Read about recently announced Brownfields funding for the greater Kansas City area
View the announcement of EPA job training grants for the greater Kansas City area
---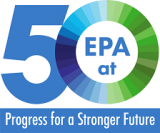 As part of our 50th anniversary, EPA is celebrating land revitalization efforts in July 2020 with the theme "Cleaning Up Our Nation's Land."
Learn more about land revitalization in Region 7.