OGC Core Values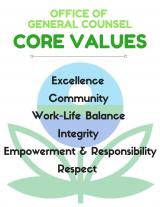 The employees of EPA's Office of General Counsel strive to adhere to the highest standards of practice and professionalism. Our core values include:
---
Excellence
We in OGC:
Endeavor to be extraordinary in everything we do.
Work to maintain our stature as a nationally pre-eminent Office of General Counsel.
Provide outstanding service, advice and innovative problem-solving to help clients and customers accomplish the agency's objectives.
Work across boundaries to meet common goals. 
Exhibit the highest standards of dedication and professionalism in our work.
Community
We in OGC:
Support each other professionally and personally and are invested in each other's success.
Are generous with our knowledge, time and energy.
Embrace our diversity and work together across OGC and the Offices of Regional Counsel as a team.
Listen to and communicate effectively with others to gain a better understanding of different perspectives.
Provide a supportive work environment that encourages collegiality and camaraderie.
Work-Life Balance
We in OGC:
Support flexible work arrangements to improve morale and contribute to high productivity and excellence.
Foster an environment in which people can enjoy full personal lives and maintain high productivity.
Respect people's lives outside of the office.
Integrity
We in OGC:
Exercise the highest standards of ethical conduct and professionalism.
Act with fairness, honesty, and candor.
Have an unwavering dedication to public service and the Agency's mission. 
Act responsibly with the public's resources and trust.
Provide advice, counsel, and service with objectivity.
Honor our commitments.
Empowerment & Responsibility
We in OGC:
Provide employees independence, authority, and resources to perform their work.
Take responsibility for communicating proactively and effectively with those who need information, including colleagues, staff, managers, clients and customers.
Provide guidance, support and opportunities for career growth and development.
Hold ourselves accountable for the quality and timeliness of our work.
Respect
We in OGC:
Value each other's contributions, questions, ideas and individuality, recognizing that everyone performs an important role to advance our mission.
Acknowledge and embrace individual differences to create a positive and supportive work environment.
Listen to and seek to understand each other.
Treat everyone with courtesy and kindness.
Are invested in the professional development of all employees.