Drayage Truck Best Practices to Improve Air Quality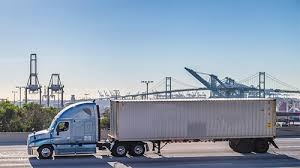 Drayage trucks play an important role in port operations, the economy and air quality. Drayage trucks are generally diesel-fueled, heavy-duty (Class 8) trucks that transport containers and bulk freight between the port and intermodal rail facilities, distribution centers, and other near-port locations. This page describes best practices, listed below, that port authorities, drayage truck drivers, and other port operators can adopt to reduce dray truck emissions. 
On this page:
Clean Air Best Practices: Appropriateness and Effectiveness
This webpage is one in a series of webpages that provide information on best practices at ports to reduce diesel pollution and associated health impacts. While the examples in these webpages are not exhaustive, they are intended to highlight some of the more effective strategies that have been adopted by U.S. ports.  The appropriateness and effectiveness of these strategies will vary for different ports based on many factors, including type of operation, fleet makeup, local air quality and pollutant exposure, and community and port priorities. These webpages will be updated over time as new clean air practices emerge and information evolves.
You may need a PDF reader to view some of the files on this page. See EPA's About PDF page to learn more.There are a number links on this page that exit the site Exit
---
Decrease the average age of the fleet
Newer trucks pollute significantly less than older model years due primarily to improved air emission control technologies installed on these trucks. Since 2007, diesel trucks have been equipped with diesel particulate filters (DPFs) and since 2010, many diesel trucks have been equipped with selective catalytic reduction (SCR) systems. Alternative fuel drayage trucks are also an option to consider, especially as new truck models with low NOx tailpipe emissions (e.g., natural gas and liquid petroleum gas) and zero tailpipe emissions (e.g., electric and fuel cell) come into the market.
Retiring older trucks and engines and replacing them with newer vehicles with the latest emission control technologies plays a major role in reducing air pollution at and near ports. While replacing any older truck with a newer one will yield emissions benefits, you can maximize benefits by replacing the oldest vehicles with the most mileage first and choosing a replacement truck with a model year 2014 or newer engine. Consistent with requirements in EPA's DERA program, the vehicle you're replacing should have accumulated at least 7,000 miles per year for the past two years and have at least three years of remaining life to ensure emissions benefits.
Choosing the Right Trucks and Ensuring Good Maintenance
While newer model year trucks are certified to meet cleaner emission standards, other important considerations when choosing a replacement truck include the following:
Tractors with aerodynamic fairings and low rolling resistance tires will save drivers fuel and reduce emissions. SmartWay designated tractors and trailers can maximize these efficiency savings, reducing fuel use by up to 20% (2,000 to 4,000 gallons of diesel per year).
Proper maintenance is critical to keeping trucks on the road. Requiring dealers to perform all engine checks and maintenance — such as compression and fuel injector tests, fuel and diesel exhaust fluid filter changes, and DPF cleaning — prior to sale will help drivers operate more fuel efficiently and avoid unforeseen costs. Monitoring trucks for visible smoke or illuminated check engine lights can help identify needed maintenance or repairs.
Alternatives to Buying a Newer Truck
For older drayage trucks that you don't plan to replace, consider installing diesel oxidation catalysts and low-rolling resistance tires. Both technologies can reduce emissions, and low-rolling resistance tires can save fuel costs.
Technical Resources
Tips on Performance Targets and Data Collection
Real-World Examples
Many ports have clean truck programs that use grants and other funding to provide financial incentives to improve air quality through truck replacement. Below are a few example programs.
Reduce idle and creep time
Turning off engines and minimizing idle and creep time can reduce air pollution and save money. Not only does unnecessary idling waste fuel, but it causes wear and tear on the engine that requires more frequent maintenance.
In addition to general idling policies, there are many strategies port operators can employ to reduce idle and creep time, including developing appointment systems; automating gates; extending gate hours; and operating during off-peak hours. These operational strategies can reduce emissions and traffic congestion while decreasing truck turn times at ports (i.e., transaction time to enter, load cargo, and depart the port).
Operating during off-peak hours can increase flow and efficiency and reduce the impacts of diesel exhaust during peak ozone hours. Note that there are concerns associated with extended operating hours that include the additional labor needed to staff the terminals and gates at ports, as well as contract restrictions on off-peak labor. Extended hours may also be a concern to surrounding communities due to increased traffic during off-peak hours and may be restricted by noise or other local ordinances, so ports should seek community input when considering off-peak hour operations.
Technical Resources
Tips on Performance Targets and Data Collection
Real-World Examples
Participate in the EPA SmartWay Program

EPA's SmartWay program helps truckers increase efficiency and fuel economy and provides them the documentation to prove it, giving them an advantage with prospective and current clients. If dray truck fleets that serve the port are not SmartWay partners, port operators can encourage them to join. Port operators also can encourage fleet operators to utilize SmartWay tools and resources to measure and improve performance. Additionally, port operators can reach out to known cargo owners and customers who are SmartWay shippers to encourage the dray truck carriers they work with to join and improve their performance.
Technical Resources
Tips on Performance Targets and Data Collection
Consider setting a goal to increase the percent of dray trucks that serve the port that are SmartWay partners, and track progress by using SmartWay's list of partners.
For those dray truck operators that are SmartWay partners, set goals to increase the performance ranking of each dray truck carrier that serves the port, and track progress using the SmartWay Carrier Performance Ranking List.
Real-World Examples
Consider complementary rail and marine operations
Increasing use of locomotive and short-distance water transport operations can help a port increase the fraction of cargo moved by the most energy-efficient modes, alleviate landside congestion and reduce overall emissions, especially if combined with technologies and policies to minimize locomotive idling and barge emissions.
Technical Resources
Tips on Performance Targets and Data Collection
Consider setting a goal to increase the amount of cargo moved by rail and short-distance vessels (e.g. as a percentage of overall cargo or ratio to cargo moved on trucks).
Track progress by measuring cargo (in tons or TEUs) moved in each mode.
Real-World Examples
Designate truck routes that reduce air pollution exposures for at-risk populations
Ports can have a major impact on the air quality in nearby communities, particularly through increased truck traffic in the area. Port-related truck traffic increases emissions and air pollution, and can create additional noise and danger to people in the nearby area, particularly when trucks use residential side streets or other restricted roads. Port operators can work with community leaders and local planning and environmental agencies to develop designated truck routes that address many of these issues. Routes that avoid residential communities can reduce exposures to truck-related air pollution, as well as reduce the nuisance of truck noise for residents and increase safety. For example, it may be possible in some cases to route existing or projected traffic away from populated areas to an industrial setting (e.g., truck only routes). When trucks must be routed through or adjacent to communities, physical structures like sound walls and vegetative barriers between the road and the at-risk populations may be beneficial to reduce exposure to air pollutants (see the factors below concerning use of physical barriers).
Port operators can also work with managers of buildings where at-risk populations spend significant amounts of time to implement mitigation strategies to reduce adverse health effects from exposures to air pollution, such as installing improved air filtration units within the buildings.
When evaluating existing and alternative truck routes, factors that should be considered include:
Distance between the truck route and locations where potentially vulnerable populations, such as children and the elderly, spend significant amounts of time. Air pollutants emitted by trucks can be especially high within the first 500 feet of the road, so special attention should be paid to the number of these sensitive locations within this distance. These sensitive locations can include schools, daycares, parks, playgrounds, residences, health care facilities, and other public buildings like libraries. 
Existence of physical barriers between these sensitive locations and the road. Research suggests that sound walls can reduce concentrations of traffic-related air pollutants immediately downwind of a roadway, although the extent of this reduction can vary by the wall height, length and distance from the road. Such barriers may also increase concentrations in the air on and immediately over the road as well as locations upwind and near the edges of the structure. If properly designed, vegetation barriers can be used to reduce near-road air pollution, either alone or in combination with solid structures like sound walls.
Air quality modeling personnel at EPA Regional Offices and state and local air agencies can be consulted to help evaluate air pollution impacts to sensitive locations along existing and proposed truck routes. 
It is also good practice to assess the rate of dray truck use of designated truck routes that avoid at-risk populations and to conduct outreach to truck operators to encourage greater usage.
Technical Resources
Real-World Examples