Managing the Quality of Environmental Data at EPA Region 1
On this page:
On other page:
---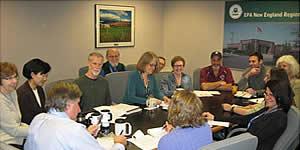 The Quality Assurance Unit is a multi-disciplinary group of chemists, scientists, environmental protection specialists and a chemical engineer. The staff is responsible for assuring the quality of data used to make decisions in support of the Agency mission and implementing and assessing the regional Quality system.
The QA Unit provides the following services:
Technical Assistance:

Project planning
Expert chemistry and engineering advice
Method reviews
Document reviews

Plan Reviews:

Quality Assurance Project Plans
Quality Management Plans

Training:

Quality Assurance and Technical
Assessments:

Laboratory
Field
Management systems
Data

Contract Management:

Contract Laboratory Program
Environmental Services Assistance Team

Quality Systems Documents
---
Program Guidance & Requirements
---
Quality Assurance Tools
EPA New England Quality Assurance Training
Training forms a vital part of the EPA New England Quality System. To assure that quality assurance and quality control responsibilities and specifications are understood at every stage of project implementation, the QA Unit provides training for all levels of EPA management and staff. In addition, QA training is made available to state and tribal partners, grantees and EPA contractors.
Tables
Miscellaneous