About the RAD Program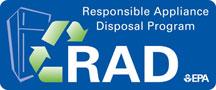 What is RAD?
The U.S. Environmental Protection Agency's (EPA's) Responsible Appliance Disposal (RAD) program is a partnership launched in October 2006 to protect the ozone layer, cut greenhouse gas (GHG) emissions, and benefit communities. The RAD program recognizes partners that commit to collecting and disposing of old refrigerated appliances using the best environmental practices available and going beyond what is required by federal law.
More about RAD
Section 608 of the Clean Air Act prohibits the release of refrigerant containing an ozone depleting substance (ODS) or substitute such as hydrofluorocarbons (HFC) during the disposal of an appliance. Federal law also requires proper management and storage of universal waste (e.g., mercury), used oil, and polychlorinated biphenyls (PCBs) prior to appliance disposal or recycling. However, federal regulations do not require the recovery of appliance foam, which contains substances that are potent GHGs and that may, depending on the vintage of the unit, deplete the ozone layer.
Further, up to 25% of disposed refrigerators/freezers are resold onto the secondary market;1 the continued use of these older, less efficient models demands more energy from the nation's grid. RAD partners collect old, inefficient refrigerant-containing appliances from consumers and work with recyclers to ensure the proper handling of all materials in compliance with federal law. In addition, RAD Partners take on the responsibility of recovering foam insulation from end-of-life appliances.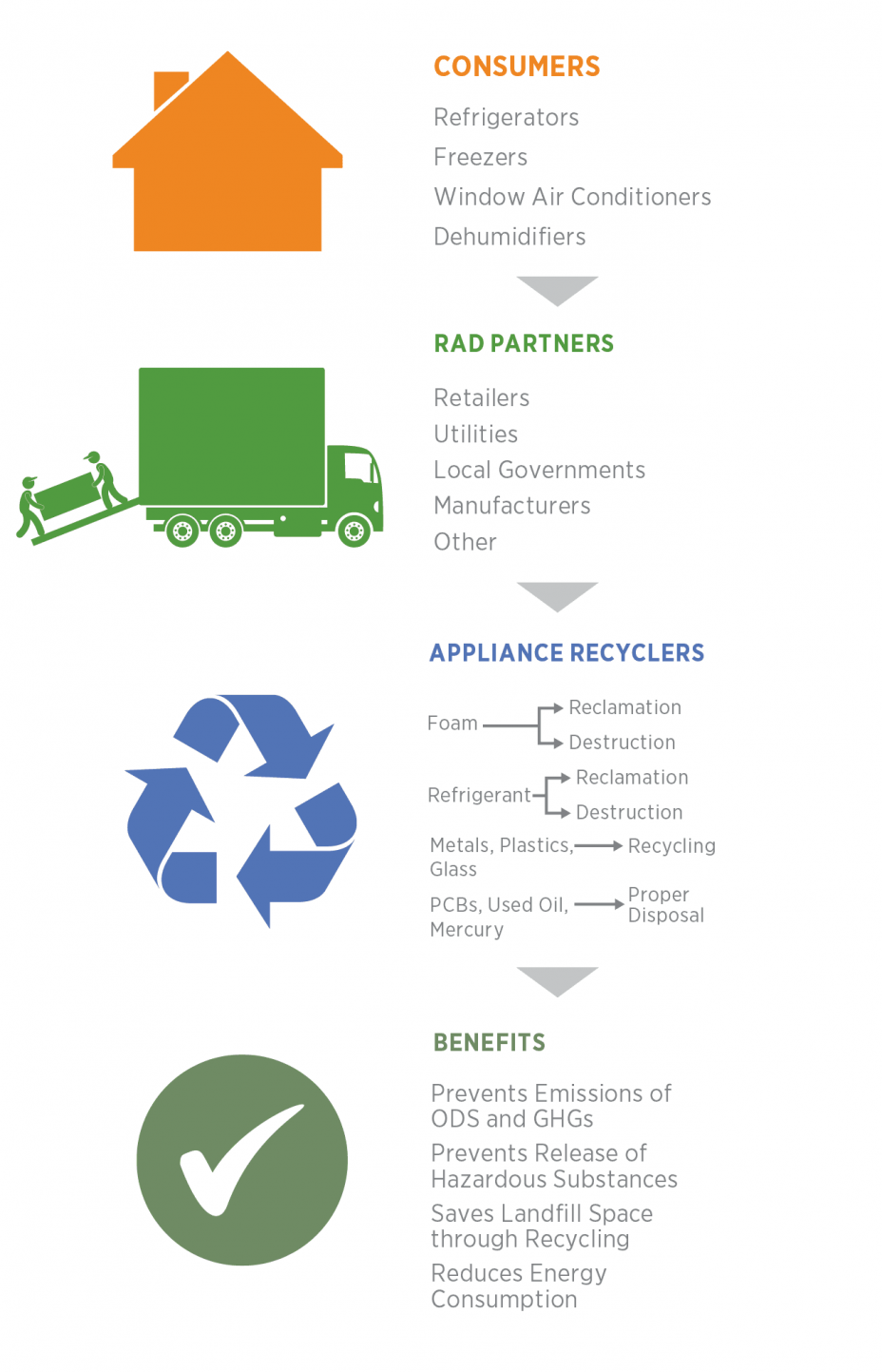 What are the concerns over appliance disposal today?
Insulating foam blowing agents are released to the environment, contributing to stratospheric ozone depletion and climate change.

While federal law does not require the recovery and proper treatment of the insulating foam that lines the walls of refrigerators and freezers, this foam contains substances that are potent GHGs and that may, depending on the vintage of the unit, deplete the ozone layer. Historically, appliance foam was manufactured with chlorofluorocarbon (CFC) or hydrochlorofluorocarbon (HCFC) blowing agents, both of which are potent ODS and GHGs. These ODS have been phased out under the Clean Air Act, although some imported appliances still contain these chemicals. Typically, newer units contain HFC blowing agents, which are safe for the ozone layer but are still potent GHGs. Increasingly, units are being manufactured using climate-friendly blowing agents, such as hydrocarbons and fluorinated olefins. But given the long lifetime of refrigerators, ODS and GHG blowing agents will continue to reach our landfills for decades to come. 

Refrigerant and other harmful substances may be released to the environment, against federal requirements.

Federal law requires that all refrigerant be recovered prior to dismantling or disposal and that universal waste—including mercury—as well as used oil and PCBs be properly managed and stored. However, because there may be little to no economic incentive for the proper disposal of these materials, their ultimate fate is often unknown. There have been reports of appliance dumping, venting of refrigerant, and release of hazardous components to the environment. Some of these improper disposal practices (i.e., the release of refrigerant and other hazardous components) may still be referred to as "appliance recycling" if the metals or other durable components are recycled.

Only the most valuable metals get recycled, while other durable goods get landfilled.

Units that are not fit for resale are typically sent to scrap metal companies, where valuable metals are salvaged for sale on the recycling market. However, plastics, glass, and other durable materials are typically shredded and landfilled. The industry often refers to this practice as "appliance recycling."

Appliance "recycling" is a term used loosely in the industry that can mean many things—the resale or reuse of an old unit, or the placement of the unit's valuable metals on the recycling market while the remaining durable components are landfilled and some hazardous substances are released to the environment. "Recycling" is not necessarily synonymous with best environmental practices.

The resale of old, inefficient units leads to increases in energy consumption, energy costs, and GHG emissions.

At the time of disposal, many refrigerated appliances are collected through pick-up programs offered by municipalities or retailers (when a new unit is purchased and delivered). Municipalities and retailers typically subcontract the disposal of appliances to third parties, who often refurbish and resell an estimated 25% of these units. Old, inefficient appliances that are put back on the electricity grid continue to operate, consuming excessive amounts of electricity. The industry often refers to such reuse as "recycling." While it can be environmentally beneficial to reuse some secondhand appliances, extending the lifetime of old units can take an undue toll on our energy grid, resulting in higher energy costs for consumers and environmental and health impacts for all. 
How do RAD partners help?
Partners in EPA's RAD program commit to collecting used refrigerated appliances and implementing best practices for the recycling/disposal of these units that go beyond federal laws. This means:
Recovering appliance foam
Complying with laws on the recovery of refrigerant, used oil, mercury, and PCBs
Promoting recycling of all durable goods
Promoting the permanent retirement of old, inefficient appliances to save energy
RAD partners also commit to annual reporting to track the environmental impacts of their efforts. A list of partner responsibilities can be found on the Partner Roles & Responsibilities page.
What are the benefits?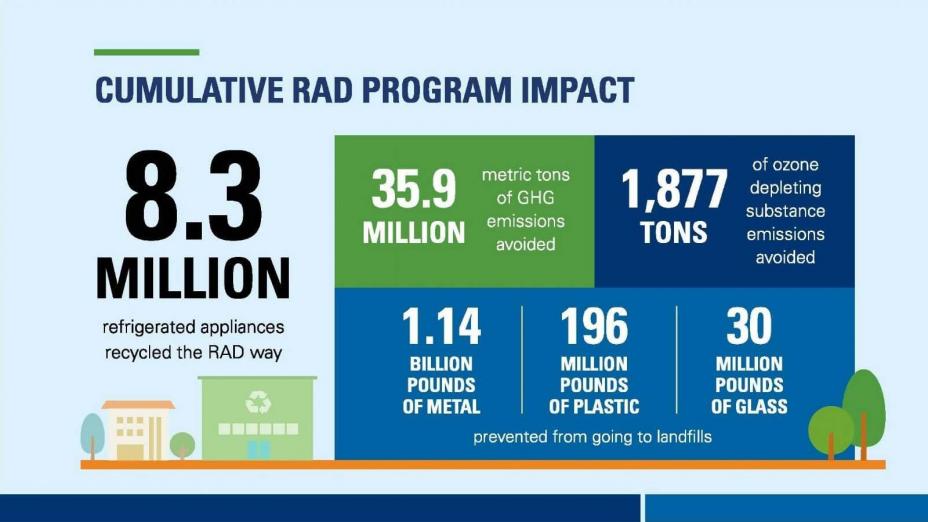 To learn more, visit the Program Benefits page or view our most recent Annual Report.
1 Based on studies published by Cadmus Group, Innovologie, NMR Group, and the U.S. Department of Energy.