Butler County Recycling & Solid Waste District Becomes the First Local Government Partner in EPA's Responsible Appliance Disposal Program
August 23, 2019
Butler County Recycling & Solid Waste District Media Contact:
Anne Fiehrer Flaig
Anne.FiehrerFlaig@bcohio.us
(513) 887-3963
RAD Media Contact:
Sally Hamlin
Hamlin.Sally@epa.gov
(202) 343-9711
The U.S. EPA's Responsible Appliance Disposal (RAD) program is excited to welcome Butler County Recycling & Solid Waste District as the program's first local government partner. Butler County's partnership with RAD represents a groundbreaking opportunity for raising awareness about proper appliance disposal practices among its residents.
Partners in EPA's RAD program commit to collecting and disposing of old refrigerated appliances using best environmental practices. This means that in addition to complying with laws on the recovery of refrigerant, used oil, mercury, and polychlorinated biphenyls (PCBs), they also recover appliance foam, promote the recycling of all durable goods, and promote the permanent retirement of old, inefficient appliances to save energy. As a result of their commitments, RAD partners have achieved significant environmental benefits since RAD first launched in 2006.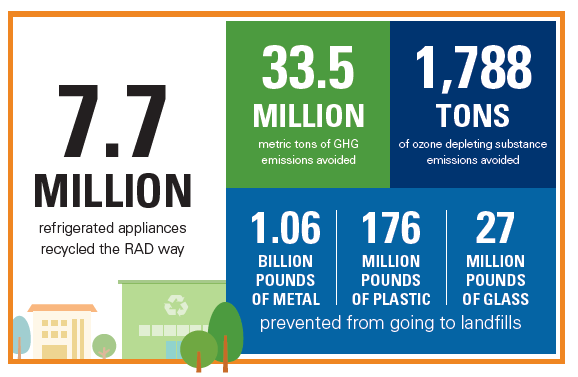 As a RAD partner, Butler County will expand the Program's reach in the Midwest region, and provide more consumers with the opportunity to dispose of appliances in an environmentally responsible way. In addition, Butler County's RAD partnership will serve as an example to other counties and districts in Ohio and beyond of how to successfully incorporate proper appliance disposal practices into local recycling and solid waste disposal operations.
"Butler County is setting an excellent example of environmental leadership at the local level by enabling residents to reduce their impact on Earth's ozone layer and climate," says Sally Hamlin, the EPA RAD Program Manager. "We at EPA hope that Butler County's partnership will increase awareness among residents about the importance of proper recycling, and spur additional local government agencies to consider joining the partnership as well."
According to Anne Fiehrer Flaig, Butler County Recycling & Solid Waste District's Executive Director, "By becoming a RAD partner, Butler County is demonstrating our commitment to managing all components of refrigerant-containing appliances to the highest environmental standard.  In the process, we are increasing consumer awareness about recycling and engaging consumers in making thoughtful disposal decisions - with impact to the environment as a priority."
Butler County Recycling & Solid Waste District serves the entire county by promoting recycling, waste reduction, and the responsible disposal of waste from households, businesses, and industry; it is one of 52 solid waste districts in Ohio. Butler County will collect refrigerated appliances from residents beginning in June 2019 through the end of October 2019. To schedule a pickup of your refrigerator, freezer, air conditioner, or dehumidifier contact Recleim at 1-877-562-9947 or visit https://www.recleim.com to schedule your appointment online.
About EPA's RAD Program
EPA's RAD program is a voluntary partnership program that works with utilities, retailers, manufacturers, state and local government agencies, affiliates, and others to dispose of old refrigerated appliances using best environmental practices—going beyond federal requirements to protect Earth's climate and ozone layer. For more information on EPA's RAD program please visit: www.epa.gov/rad.