For Consumers
Why should I care about responsible appliance disposal?
That old fridge or freezer is taking up space in your garage or basement. Replacing it could save you up to $50 a year in energy costs. Plus, there are significant benefits for the environment and your community if you get rid of that old appliance—the RAD way. Specifically, the proper disposal of an old fridge or freezer will:
Reduce your household energy consumption, which will save you money and prevent greenhouse gas (GHG) emissions
Avoid the release of ozone depleting substances (ODS) and GHGs, which contribute to ozone depletion and climate change
Save landfill space and energy by recycling—rather than landfilling—the metals, plastics, and glass contained in your appliance
Avoid the release of used oil, which can cause damage to the liver, brain, immune system, and reproductive system
Avoid the release of mercury, which can lead to impairment of neurological development and other problems associated with the human nervous system
Avoid the release of polychlorinated biphenyls (PCBs), which can have carcinogenic and non-cancerous health effects
Learn more about the benefits of RAD on the Program Benefits and Program Results pages.
How can I recycle my appliance the RAD way?
Use the Find RAD Partner Programs page to find a RAD partner program near you. Most RAD partner programs will pick up your old refrigerated appliances (such as a fridge, freezer, window air-conditioning unit, and dehumidifier) directly from your home. In some cases, they might even offer a financial incentive such as a reward or rebate for turning in your old units.1 These appliances will then be sent to a recycling facility capable of properly handling the environmentally harmful substances contained in the units, using the best environmental practices and technologies available.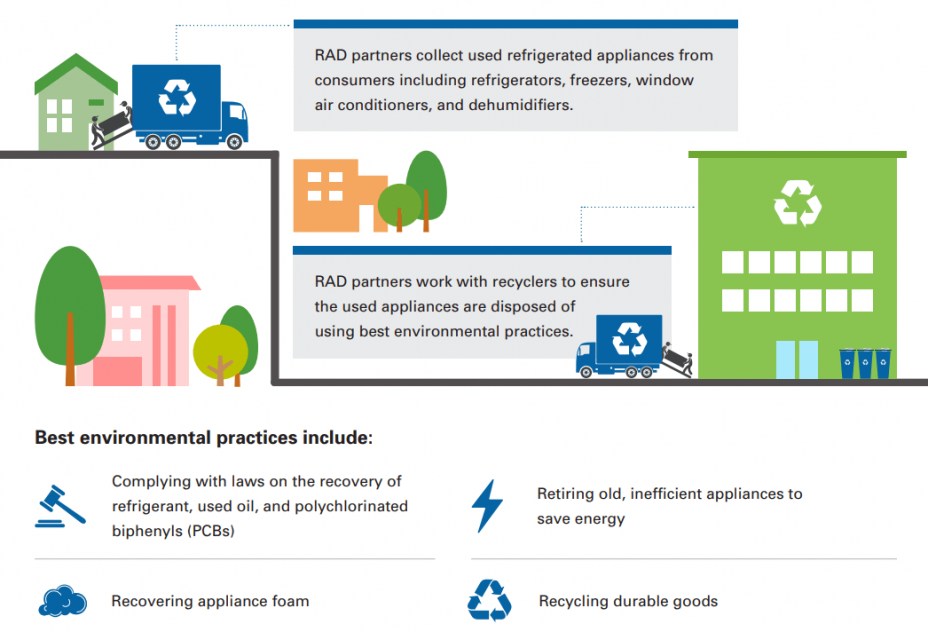 If a partner program is not currently available in your area:
Check with your state energy office or local electric utility. Local utilities and energy efficiency organizations support a growing number of refrigerator and freezer recycling programs. Some programs offer cash to recycle your old fridge; others offer utility bill credits.
Ask about municipal pick-up of appliances. Your local waste management division or department of public works may offer heavy trash pick-up and recycling programs for appliances. Contact them directly for information.
Talk to your local scrap metal recycler. Thousands of local scrap metal recyclers can recycle old fridges and freezers. Ask your scrap metal recycler for assurance that your old unit will be properly recycled. Learn more about the concerns over appliance disposal today to ensure responsible appliance disposal.
Appliances left curbside might be picked up by peddlers who may improperly vent refrigerant or otherwise dispose of the appliance in an unsafe manner.
How much does it cost to dispose of my old appliance?
The cost for appliance pick-up and/or disposal varies. For example, your municipal public works department may provide free collection of refrigerant-containing appliances or there may be a fee for this service, which may vary by appliance type.
Some retailers offer appliance pick-up and disposal services with the purchase and delivery of a new model. Depending on the retailer, a fee of $10 to $50 may be charged for this service.
Utilities that operate a bounty program or retailers that have "trade-in" policies may also provide free pick-up/disposal services for old refrigerators/freezers, or even pay you to allow them to pick up your unit.
Related Pages
1
Some programs also offer rebates and discounts toward the purchase of new
ENERGY STAR®
qualified models. Use
ENERGY STAR's rebate finder
to see a list of rebates and other special offers in your area.