Milestones in EPA's Safer Chemicals Research History
EPA turns 50 this year. Since the beginning, our Agency has been working for a cleaner, healthier environment for the American people. Every step has been grounded in science. EPA researchers and their partners embrace the principles of green chemistry to produce safer chemicals. They design technologies for faster toxicity testing, and tools to manage chemical risks.  Here are some of our most important research achievements over the last 50 years. 
See also:
History of EPA Research
EPA at 50: Progress for a Stronger Future
1981 - Research Demonstrates Effects of Lead Exposure in Children
EPA research begins to demonstrate that low-level lead exposure in North Carolina children impairs hearing and cognitive function. These data subsequently contributed to the Centers for Disease Control and Prevention's decision to lower the level of concern for lead exposure in children.
1981 - Researchers Develop Computational Models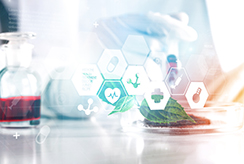 EPA develops computational models to predict toxicity and bioaccumulation potential of new and existing chemicals. This work supports the implementation of the Toxic Substances Control Act.
Computational Toxicology Research Fact Sheet: December 2018
 
1998 - EPA Publishes Neurotoxicity Risk Assessment Guidelines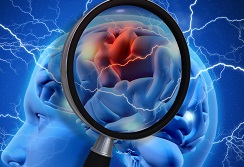 EPA produces the Guidelines for Neurotoxicity Risk Assessment to promote consistency in conducting risk assessments of chemicals and other toxic agents on the nervous system.
EPA's Guidelines for Neurotoxicity Risk Assessment

 
2001 - EPA Publishes Results of Exposure Study on Young Children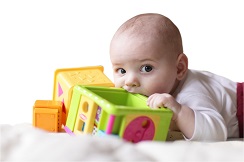 EPA publishes findings of the largest study to date of young children's aggregate exposures to chemicals in homes and day care centers.
A Pilot Study of Children's Total Exposure to Persistent Pesticides and Other Persistent Organic Pollutants (CTEPP)
 
2005 - EPA Publishes its Biotechnology Research Strategy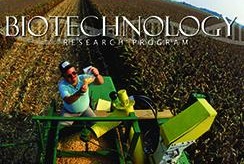 EPA releases the Biotechnology Research Strategy and implements a program to help improve the science needed to inform Agency decisions about the risk and safety of biotechnology products.
EPA's Biotechnology Research Program
 
2005 - EPA Creates the National Center for Computational Toxicology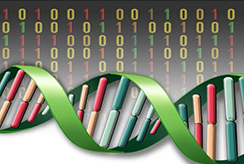 EPA creates the National Center for Computational Toxicology following a directive from Congress to conduct research to determine how computational toxicology can be used to better evaluate chemicals for potential human and environmental health effects.
About the National Center for Computational Toxicology (NCCT) (Archived January 19, 2017) 
2008 - Researchers Use EPA's Model to Predict Risk for Children in Landmark Study
Researchers use EPA's Stochastic Human Exposure and Dose Simulation model to predict risk for children exposed to decks and play structures treated with chromated copper arsenate.
Stochastic Human Exposure and Dose Simulation (SHEDS) to estimate human exposure to chemicals
The SHEDS-Wood Model: Incorporation of Observational Data to Estimate Exposure to Arsenic for Children Playing on CCA-Treated Wood Structures Exit
2009 - EPA Publishes Results of the Healthy Homes Survey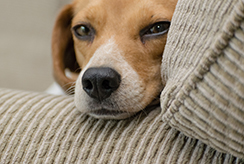 EPA and the U.S. Department of Housing and Urban Development publish results of a nationally-representative survey of pesticide residues in U.S. homes.
American Healthy Homes Survey on HealthyPeople.gov

 
2010 - EPA Develops the Toxicity Reference Database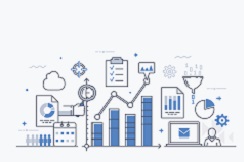 EPA releases the Toxicity Reference Database (ToxRefDB), which captures 30 years and $2 billion worth of animal toxicity studies previously only available through paper documents. ToxRefDB version 2.0 structures information from over 5,000 toxicity studies into a public resource for training and validation of predictive models.
ToxRefDB version 2.0: Improved utility for predictive and retrospective toxicology analyses.
2011 - EPA and Partners Debut Tox21 Robot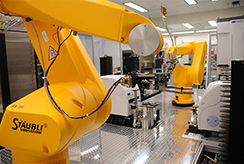 EPA and other Tox21 collaborators unveil a new robot to screen 10,000 chemicals for potential toxicity. The environmental chemicals being screened are called the Tox21 library and were selected for their potential to disrupt biological pathways that may result in toxicity. Results from this screening help researchers prioritize chemicals for further in-depth investigation.
Toxicology Testing in the 21st Century (Tox21)
Tox21.gov
2013 - EPA Publishes ToxCast Data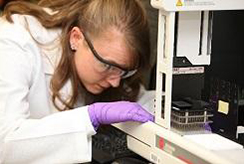 EPA releases ToxCast data on over 1,800 chemicals, making the data publicly available through a user-friendly online tool called the interactive Chemical Safety for Sustainability Dashboard (iCSS Dashboard) .
Toxicity Forecasting--Advancing the Next Generation of Chemical Evaluation
2014 - EPA Debuts a Dashboard for the Study of Endocrine Disruptors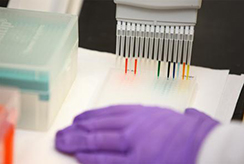 EPA expands testing of chemicals for endocrine disruption in 2010. Four years later, EPA releases the "Endocrine Disruptor Screening Program in the 21st Century Dashboard, EDSP21," to provide easy access to new data on the thousands of chemicals of interest to the program.
Endocrine Disruptor Screening Program (EDSP) in the 21st Century
2014 - EPA and Partners Release EnviroAtlas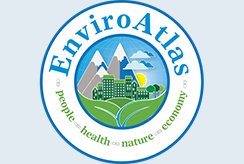 EPA, National Geographic Society, USGS, and others release EnviroAtlas--an interactive web-based tool that states, communities, and citizens can use to help inform policy and planning decisions that impact the places where people live, learn, work & play. EnviroAtlas provides geospatial data, easy-to-use tools and other resources related to ecosystem services, their stressors, and human health.
2015 - EPA Updates its Endocrine Disruptor Screening Program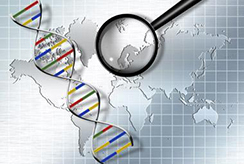 EPA releases a plan to incorporate New Approach Methods into the Endocrine Disruptor Screening Program (EDSP). The plan calls for EPA scientists to develop a set of non-animal high-throughput assays that can serve as an alternative to the assays currently included in the EDSP tier 1 screening battery. This plan will leverage cutting edge technology to improve the agency's ability to fulfill its statutory mandate to screen pesticides and other substances for their ability to cause adverse effects by their interaction with the endocrine system.
Endocrine Disruptor Screening Program for the 21st Century (EDSP21) Workplan Summary
2015 - EPA Studies Perfluorinated Chemicals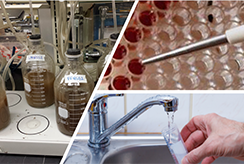 EPA publishes over 100 peer-reviewed papers between 2005-2015 on perfluorinated chemicals -- PFCs, PFOS, and PFOA. The studies led to decisions to phase out certain PFAS chemicals, which are a group of man-made chemicals found in a wide range of consumer products. There is evidence that exposure to PFAS can lead to adverse health outcomes in humans. In 2017, EPA launches a broad effort to address PFAS to identify actions to support local communities, enhance coordination with other partners, and increase research on the chemicals.
Research on Per- and Polyfluoroalkyl Substances (PFAS)
2016 - EPA Launches CompTox Chemicals Dashboard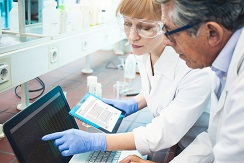 EPA launches the CompTox Chemicals Dashboard. The dashboard is a is a freely accessible online database that provides access to multiple types of data including physicochemical properties, environmental fate and transport, exposure, usage, in vivo toxicity, and in vitro bioassay. EPA and other scientists use the data and models contained within the dashboard to help identify chemicals that require further testing and reduce the use of animals in chemical testing.
2018 - Researchers Advance the Assessment of Thyroid Hormone Disruption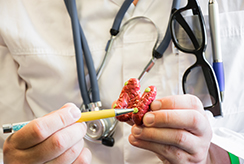 EPA scientists discovered a key indicator of thyroid hormone disruption effect – called heterotopia - on the developing brain. This discovery has revolutionized the assessment of thyroid hormone disruption by providing an apical endpoint that can be directly linked to earlier steps in the adverse outcome pathway and can be readily quantified.
Developmental Thyroid Hormone Insufficiency Induces Cortical Brain Malformation and Learning Impairments: A Cross-Fostering Study
2018 - EPA Releases its Plan to Reduce Animal Testing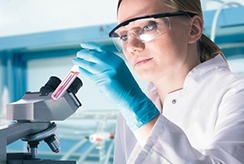 EPA releases a strategic plan to reduce the use of vertebrate animals in chemical testing. This will be accomplished with New Approach Methods, a group of new and developing technologies and methods that can be used to provide information on chemical hazard and risk assessment without using live animals. These approaches have been used to prioritize chemicals EPA is evaluating under the Toxic Substances Control Act.
Alternative Test Methods and Strategies to Reduce Vertebrate Animal Testing
2019 - Researchers Lead an International Effort to Study New Risk Assessment Methods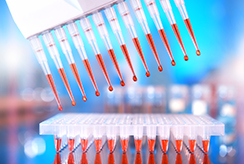 EPA scientists are leading members of the Accelerating the Pace of Chemical Risk Assessment (APCRA) consortium, a government-to-government initiative whose aim is to promote collaboration and dialogue on the scientific and regulatory needs for the application and acceptance of New Approach Methods in regulatory decision making. EPA Scientists led an international effort comparing no- and low- adverse effect levels (NOAEL/LOAELs) from traditional in vivo toxicity data with predictions from high throughput in vitro New Approach Methods. This case study demonstrated that disruption of important biological pathways and processes in high-throughput in vitro assays provided a conservative estimate of in vivo NOAEL/LOAEL values.
Accelerating the Pace of Chemical Risk Assessment (APCRA): An International Governmental Collaborative Initiative