Final 2020 New Source Performance Standards for Residential Wood Heaters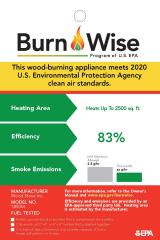 EPA now accepting submissions for voluntary hangtags from manufacturers of wood burning devices
On April 2, 2020, the United States Environmental Protection Agency (EPA) published the finalized amendments to the 2015 New Source Performance Standards (NSPS) for New Residential Wood Heaters, New Hydronic Heaters and Forced-Air Furnaces (collectively referred to as "wood heating devices").  
These final amendments contain several actions:  
EPA is maintaining compliance dates that were established in the original NSPS, which means retailers will have until May 15, 2020, to sell wood heating devices that do not comply with more stringent emission standards. 
EPA is removing the pellet fuel minimum requirements from the 2015 NSPS. However, the agency is retaining the prohibition – stated in the eighth pellet fuel minimum requirement – that pellet fuel must not contain any of the prohibited fuels listed in the 2015 NSPS. Minimum requirements are already included in the standards used by the Pellet Fuels Institute and other EPA-approved third-parties for the grading of pellet fuels.
EPA is clarifying requirement regarding the use of unseasoned wood in pellet fuel production. 
This final action helps ensure that, in the future, customers buying wood heaters anywhere in the United States will be able to choose from cleaner-burning models. Today's actions do not apply to wood heaters that are currently in use in people's homes, or to fireplaces, backyard barbecues, chimineas, or fire pits.
EPA continues to work with states, industry and other stakeholders to more accurately account for air emissions from wood burning devices.  Since the 2015 rule was issued, EPA believes that current testing requirements may lead wood heater manufacturers to design appliances that do not reflect their actual use – and that may not achieve the environmental benefits contemplated in the rule. The 2015 rule is based on tests that burn standardized configurations of lumber, rather than tests that burn logs – the type of wood a typical homeowner would burn for heat.  EPA is conducting a series of discussions with key stakeholders about improving the air emissions testing and operational procedures for these devices.
04/2/2020 - Final New Source Performance Standards
10/15/2019 - Federal Register: Final New Source Performance Standards