A Year in Review: Progress on the Research Goal of the Federal Lead Action Plan
Published January 22, 2020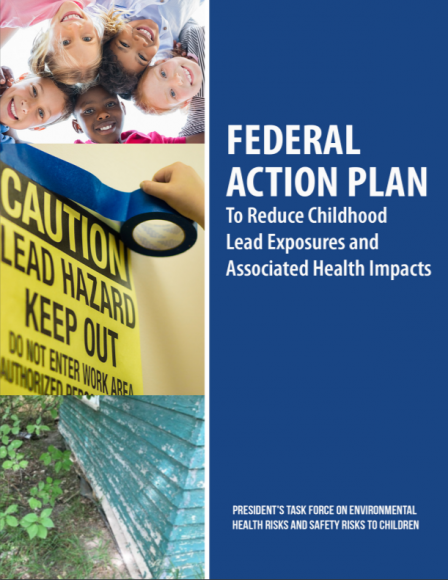 On December 19, 2018, EPA, the Department of Housing and Urban Development, and the Department of Health and Human Services unveiled the Federal Action Plan to Reduce Childhood Lead Exposures and Associated Health Impacts ( Action Plan). Developed through cross-governmental collaboration of the President's Task Force on Environmental Health Risks and Safety Risks to Children, which includes 17 federal departments and offices, the Action Plan is a blueprint for reducing lead exposure and associated harms by working with a range of stakeholders, including states, tribes and local communities, along with businesses, property owners and parents.
The four goals of the Action Plan are:
Goal 1: Reduce Children's Exposure to Lead Sources
Goal 2: Identify Lead-Exposed Children and Improve their Health Outcomes
Goal 3: Communicate More Effectively with Stakeholders
Goal 4: Support and Conduct Critical Research to Inform Efforts to Reduce Lead Exposures and Related Health Risks
Over the past year, EPA researchers have been working on various aspects of lead research as described in Goal 4 of the Action Plan. Key efforts under this goal include prioritizing and addressing the critical research and data needs to inform policy and guide decisions. EPA researchers are using a range of scientific data and tools to better understand the key drivers of blood lead levels.
This knowledge  helped to inform lead regulatory decisions, such as the new dust-lead hazard standards, which were put into effect in June 2019. To inform these new standards, EPA researchers ran scientific models that helped EPA policy-makers better understand how various amounts of lead dust on floors and window sills could impact blood lead levels. Using this and other information, the Agency lowered the dust-lead hazard standards from 40 micrograms of lead per square foot (µg/ft2) to 10 µg/ft2 on floors and from 250 µg/ft2 to 100 µg/ft2 on window sills. The more protective dust-lead hazard standards will apply to inspections, risk assessments, and abatement activities in pre-1978 housing and certain schools, child care facilities, and hospitals across the country. 
EPA's Office of Research and Development has been conducting research on identifying lead service lines, controlling corrosion in lead drinking water pipes, sampling drinking water systems, analyzing exposure and understanding health effects. EPA's scientific modeling work, along with EPA researchers' expertise in water sampling, premise plumbing and estimating health impacts also helped inform revisions to the recently proposed Lead and Copper Rule. On October 10, 2019, EPA announced a proposed rule that includes a suite of actions to reduce lead exposure in drinking water where it is needed the most.
A critical element of informing decisions is predicting blood lead levels based on various exposure scenarios. This is often done through modeling approaches since it is difficult to get representative real-world data, and models allow users to predict changes in blood lead levels under different risk management scenarios. In October 2019, EPA's Science Advisory Board conducted an external peer review of EPA's All-Ages Lead Model (AALM), which can be used to predict blood lead levels. The AALM was developed by EPA researchers as a computational tool for predicting blood lead concentrations associated with multimedia exposures to lead that occur from birth through adulthood. The model is a substantial extension of an earlier EPA model, used widely to inform Superfund clean-up decisions, that predicts blood lead levels in children. The AALM is an important development because it allows EPA to consider life stages beyond early childhood (older children, adolescents, older adults) and it can be used to examine long-term as well as episodic exposures.
Another important part of Goal 4 of the  Action Plan is identifying areas with high exposure to lead using data, models and visualization tools. EPA researchers provided technical assistance to several regions across the country to help identify high exposure locations in multiple states using available housing, sociodemographic, environmental and blood lead level data. EPA is also providing ongoing technical support to assess the effectiveness of corrosion control treatment for addressing lead in drinking water in multiple cities.
In May 2019, EPA worked with several South-Central states (Texas, Louisiana, Arkansas, New Mexico and Oklahoma) and the Association of State Drinking Water Administrators, to hold a workshop to provide information and training relevant to small drinking water systems. This workshop was the first designed to bring together EPA and regional experts to focus on small system challenges that states in the region are facing. As a result, workshop attendees were able to better understand compliance issues faced by small drinking water systems in these states and discussed potential solutions. In September 2019, EPA held its 16th Annual Drinking Water Workshop: Small Systems Challenges and Solutions with more than 500 participants. This workshop included sessions on lead corrosion, a keynote on lead, and breakout sessions on corrosion and lead in schools.
These are just some of the highlights of EPA's recent lead research and technical support. EPA researchers are excited to see how efforts have been making a big impact in communities across the country. From working closely with the states, to helping support some of the country's most important regulations, all these steps are helping to reduce childhood lead exposures and address the goals of the Action Plan. Learn more about EPA's implementation of the Action Plan.