EPA created maps for six fish species that show changes in abundance and distribution as they relate to seasonal changes in the salinity gradient over a 33-year time period. The maps visualize established salinity-abundance relationships and show how distribution has changed over time in the San Francisco Bay Delta Estuary.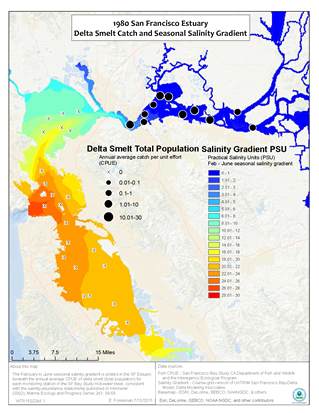 The seasonal salinity gradient was simulated by the coarse-grid version of the UnTRIM San Francisco Bay-Delta Model and fish monitoring data are from the San Francisco Bay Study.Exit
The maps show that the abundance of a number of fish species is higher when the low salinity zone is within or westward of Suisun Bay consistent with established science.
This work was published in the journal San Francisco Estuary and Watershed Science (July 2016), "3-D Simulations of the San Francisco Estuary with Subgrid Bathymetry to Explore Long-Term Trends in Salinity Distribution and Fish Abundance."Exit
If you experience a problem reading a document with assistive technology, please
contact us
.
You may need a PDF reader to view some of the files on this page. See EPA's About PDF page to learn more.