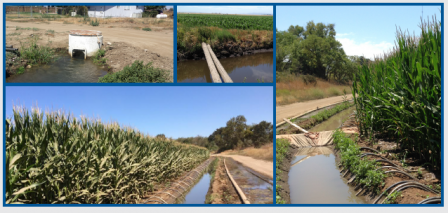 EPA funded mercury and methylmercury sampling on agricultural fields in the Sacramento-San Joaquin Delta (Delta) to expand the available knowledge about these areas as sources of mercury and methylmercury to the Delta ecosystem. The following list summarizes key observations from the final report, Characterization of Methylmercury Loads for Irrigated Agriculture in the Delta.
Methylmercury was produced on non-rice agricultural fields and strongly correlated to levels of dissolved organic carbon in field outflows
Total mercury concentrations were elevated in field outflows and positively correlated with total suspended sediment in field outflows
During the summer, fields can be sinks for methylmercury and total mercury when inflow volumes are much higher than outflow volumes draining off fields
Methylmercury and total mercury can be remobilized in the winter when outflow volumes increase again
This work is an initial characterization of the magnitude and timing of mercury and methylmercury loads that come from irrigated agricultural lands in the Delta. Additional data are needed to produce robust load estimates from Delta agriculture in general.
If you experience a problem reading a document with assistive technology, please
contact us
.
You may need a PDF reader to view some of the files on this page. See EPA's About PDF page to learn more.