2017 Local Foods, Local Places Summit
Lessons from Community Leaders on Using Local Foods to Revitalize Downtowns: Summary of the 2017 Local Foods, Local Places Summit
On this page:
Event Overview
The Local Foods, Local Places (LFLP) Program is a community-based economic development program that nurtures local and regional food systems, catalyzes economic growth, and improves environmental and public health outcomes by engaging with local partners to reinvest in existing neighborhoods. LFLP aims to boost economic opportunities for local farmers and businesses; improve access to healthy, local food; and improve human health and wellness by creating walkable, healthy, economically vibrant neighborhoods. In 2017, the program was sponsored by the U.S. Department of Agriculture (USDA), the U.S. Environmental Protection Agency (EPA), the Centers for Disease Control and Prevention (CDC), the U.S. Department of Transportation (DOT), the U.S. Department of Housing and Urban Development (HUD), the Appalachian Regional Commission (ARC), and the Delta Regional Authority (DRA).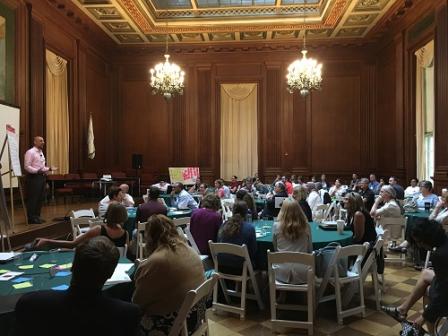 Summit participants networked with others across the country to share lessons learned and generate new ideas.On July 24 and 25, 2017, EPA and its federal partners brought together representatives from 33 of the 90 communities served through LFLP and its predecessor, Livable Communities in Appalachia, to discuss their successes and challenges with different local food and community development approaches. The meeting's objectives were to promote discussions among these representatives about their successes and lessons learned and to give federal partners feedback about how the federal government could continue to help communities across the country.  
During the summit, participants engaged in an exchange of ideas and stories about the impact LFLP has had in their communities. Participants noted that the LFLP planning assistance helped them focus their efforts, develop clearer goals, and establish a more concrete vision that helped advance their project ideas. Many communities have been able to match or leverage funds from different sources to ensure continued and expanded funding to implement projects.
This summary shares the experiences of the communities participating in the summit more broadly and is useful for LFLP communities that could not attend the summit as well as other places looking for advice on starting and maintaining local food and revitalization projects. Opinions expressed in this summary are those of summit participants and do not necessarily reflect the views of EPA or other federal agencies.
---
Discussion Highlights
The summit included plenary presentations, small table dialogues, and breakout sessions. Informal networking in the evening let participants continue conversations sparked during the day. The following sections summarize key themes or important points that were shared across the different sessions. They are organized broadly into:
General Themes
Successful Practices to Address Key Challenges
Ongoing Challenges
General Themes
Some general themes emerged throughout the meeting:
Many communities had already started one or more related efforts (e.g., community revitalization initiatives, farmers markets, community gardens) before they participated in the LFLP program. They noted that the LFLP workshop helped them focus their efforts, develop clearer goals, and establish a more concrete vision that helped advance their project ideas.
Participants shared a variety of goals that prompted them to engage in the LFLP program, including improving community health, enhancing community connections, encouraging economic development, and promoting food security. This range of goals shows how LFLP is flexible enough to adapt to and address many community needs.
Because of the diverse range of needs that the LFLP program can help communities address, the workshops have helped communities garner many benefits, such as enhanced networks that provide access to new resources, breaking down silos across community and government organizations, emerging public-private partnerships, and more focused efforts.
Partnerships are critical to the success of any project.

Committed and diverse partnerships help promote community buy-in.
Having the full local food life cycle represented (e.g., farmers, processors, distributors, food hubs, service providers) helps create opportunities for new connections.
Diverse networks provide access to more resources. These networks can also promote connections with surrounding communities, which can lead to greater gains.
Public-private partnerships were noted as being particularly powerful. City leadership is critical to get things started, but private-sector involvement and resources are often needed to implement projects.
Schools, universities, hospitals, health departments, and extension agencies were identified as key partners. Schools and universities can provide a forum to educate students and engage them in activities as volunteers. Hospitals and health departments can bring resources and "customers" to the project. Extension agencies can provide technical expertise and engage farmers.
Formal and informal partnerships are both necessary. For example, a formal "food policy council" at the local government level can help establish policies that promote growth of the local food system. Informal partnerships can lead to networks of stakeholders who collaborate on various projects as needed.
---
Successful Practices to Address Key Challenges
Participants highlighted several successful practices that helped overcome some major challenges they experienced in project startup and implementation.
Communication and Collaboration
Managing communication about the community's local foods initiative and progress can be challenging. It can be difficult to assess what is too much and what is too little information, but providing information is critical for maintaining momentum. Summit participants recommended that communities:

Develop outreach plans, have open houses, use surveys, participate in community events, and use social media (e.g., Nextdoor and Facebook).
Celebrate small successes to help maintain enthusiasm. In particular, getting good press that communicates key messages can help promote buy-in and generate interest from community members and project partners.
Have regular conversations about food and food systems to embed concepts in people's minds and build a culture of food.
Have tailored messages for different audiences.
Use focus groups to refine messages.
Use community health ambassadors to bring the messages to people personally.

Many communities prioritize developing diverse networks and partnerships but find it can be a challenge because of different organizational missions and potentially competing interests or priorities. In particular, it can be hard to reach consensus on a plan across these diverse organizations.

It might be necessary to focus on common interests and goals even if they are not the highest priority of any individual organization.
Establish clear roles and responsibilities to keep people focused on their own areas of interest. These roles should be documented in action plans, but teams should continue to update the plan as necessary.

Although it is important to quantify success, it can be difficult to connect actions with outcomes. Some things that communities are tracking to communicate progress include:

Increases in sales of healthier food and/or food from the farmers market.
Increases in buying power.
Reductions in rates of food imports (ultimately moving to self-sufficiency).
The level of collaboration.
Changes in knowledge and attitude.
Changes in purchasing behaviors.
Changes in the number of farmers and number of acres farmed.
Reductions in missed days of work.
Amount of abandoned land reclaimed for use.
Growth in small businesses.

Some communities observed that residents are not fully using the public services available to them, especially those related to healthier lifestyles. To encourage residents to take advantage of services such as health screenings, in some communities a variety of public agencies collaborate to set up shop at farmers markets or related facilities. Having several services in one place makes it easier for residents to use multiple services that they might not otherwise take the time to obtain separately.
Maintaining Momentum
Have a clear vision and a plan to achieve that vision. This will help galvanize support and increase the community's ability to accomplish projects even as individuals come and go. While a community's vision should be lofty, goals and milestones should be realistic and incremental. It is important to show progress and communicate interim success to motivate community members' continued participation.
Each community needs a champion to lead and serve as a coordinator for implementing the community's action plan. In some communities, this champion is a local government official, such as a "food czar" or a local development coordinator. In other communities, an informal community volunteer can fill this role.
Get commitment from elected officials and city staff to support implementation of the community's action plan. Nearly every plan requires city involvement and/or support for at least some components.
Perseverance is critical. Some things take time, and there will likely be setbacks, but communities should always stay focused on their vision.

While the LFLP community workshop is a one-time event, it typically sparks work that spans many years. It can be difficult to maintain momentum following the LFLP workshop, as communities apply for new grants and implement and maintain projects. Summit participants noted several successful practices that have helped communities maintain momentum from year to year:
Generating new ideas to maintain interest of project partners and community members can be difficult. It is important to promote diverse and open conversations in the community because good ideas can come from anywhere. In particular, summit participants recommended involving non-experts and unusual voices to provide alternative perspectives and ideas.
Several participants indicated that understanding community needs was the critical first step for determining their projects' direction and focus. These community needs drove the initial actions; however, these needs can change over time. Communities should be open to adapting to changing needs.
Action plan implementation often requires a wide variety of volunteers, which can be difficult to find. Participants identified several potential resources, including Americorps/Vista, colleges, universities, and high schools. Several communities noted that it is important, though challenging, to involve young people.
Projects might be difficult to start or expand due to fear of change in the community.

Tap into culturally appropriate food to generate interest and connect with local populations.
Hold community listening sessions to understand concerns and engage residents in the process.
Funding
The LFLP workshop helps communities get organized and launch their projects. Many communities have been able to match or leverage funds from different sources to ensure continued and expanded funding for project implementation. Because LFLP touches a variety of issues—including bike and pedestrian connections, community and environmental health, food sustainability, and economic development—community efforts that arise from an LFLP workshop can tap several potential funding sources.
Working with local development districts can be an effective way to piece together various funding sources.
Mapping out the best ways to leverage funds can provide a roadmap for multi-stakeholder projects.   
It is often difficult to get resources to scale up projects.

Engage/partner with big food companies to help promote healthier products.
Community and Economic Development in Smart Locations
Some communities have seen disinvestment in their downtowns, and people might be reluctant to go there due to concerns about crime. Several communities are revitalizing their downtowns to help change this image. One common practice is to improve access to downtown by installing biking and walking paths that connect downtown to other areas. Other communities are creating parks in or near the downtown to create more inviting spaces for people to gather.
Acquiring property can be difficult. In some small towns, one person or entity owns much of the downtown. If that landowner is not on board with a revitalization plan, it can be difficult to find places for markets and other new businesses. Some communities are looking to use blighted and abandoned properties as potential market locations and convert former public housing sites to urban farms. Other communities are exploring mobile markets to reach more people without the need for a permanent location for a market.
Continued revitalization requires that new, qualified entrepreneurs have access to capital, including equipment and staffing—which can be challenging to provide. Some communities are addressing this challenge by creating incubator spaces that provide capital (space and equipment) and run classes to build skills.
Projects frequently prioritize access to healthy foods for low-income communities, but affordability is sometimes a barrier. Getting farmers markets to accept SNAP can be difficult but is an important part of planning for any farmers market. Those that do accept SNAP are seeing real impacts in improving access to healthy food. Community gardens are another way to help low-income residents get healthy food. One community was able to get a local bank to provide $5 tokens to school kids to use at the market to encourage them to choose healthier food.
---
Ongoing Challenges
Summit participants also discussed ongoing difficulties that they had not yet found satisfactory solutions for. These issues are organized by topic below.
Maintaining Momentum
Transitioning partnerships and organizations from the workshop to ongoing, working partners to implement projects can take considerable effort. Just keeping groups organized can be a challenge.
Keeping the community engaged requires a long-term commitment and "stick-to-it-iveness" that is hard to maintain.
Funding and Capacity
Learning and understanding federal grant-writing language is challenging.
There is often not enough funding to cover operating expenses for organizations that are 100 percent volunteer and to cover salaries for organizations with paid staff.
A lack of capacity at the local level can often hinder effective project implementation.
Dealing with Opposition and Apathy
Community leaders' support is critical but sometimes lacking. Local elected officials in particular might be risk averse. This is particularly problematic when communities are pursuing larger projects requiring major investments (e.g., food incubator, commercial kitchen, indoor farming).
Some community members might not recognize needs or problems in the community (e.g., hunger). Without this awareness, it is difficult to sell the vision that helps garner support and promote action.
Farming and Food Availability
Established farmers are often reluctant to participate in new local food initiatives that have uncertain benefits for them. Some farmers are not interested in entering certain urban markets.
Many communities struggle with growing the next generation of farmers. Local food initiatives cannot be sustainable over time without new generations continuing to farm.
In sharing success stories, challenges, and lessons learned in implementing local food projects with other communities, summit participants helped inspire and motivate each other to continue their work to develop a local food system that revitalizes their community, improves access to healthy food, and creates new economic opportunities. This document is just one resource to help others undertaking similar efforts. Communities can also read detailed case studies and a toolkit designed to guide communities through the process of convening their own workshop.