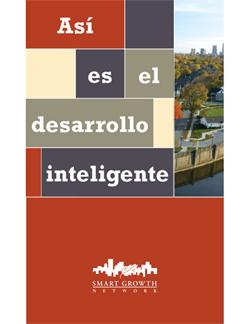 La EPA se asoció con el Centro de Estudios para el Desarrollo Sustentable (CEDES) de la Escuela de Asuntos Ambientales de la Universidad Metropolitana en San Juan, Puerto Rico. Con la ayuda del CEDES, nuestra publicación educativa This Is Smart Growth ahora está accesible a los lectores de habla hispana con la versión en español Así es el desarrollo inteligente.
Así es el desarrollo inteligente describe cómo el desarrollo, cuando se hace bien, puede ayudar a crear oportunidades económicas, a construir lugares excelentes que la gente desea visitar o prefiere para vivir, a preservar las cualidades que a la gente le gustan de sus comunidades, y a proteger los recursos ambientales. Muchas personas quieren saber cómo es el desarrollo inteligente y Así es el desarrollo inteligente ilustra y explica los conceptos y los resultados de este tipo de desarrollo.
La publicación resalta 40 lugares alrededor del país – ciudades, suburbios, pequeños pueblos y comunidades rurales – donde un buen desarrollo ha mejorado la calidad de vida de los residentes. Las fotos ilustran cómo estos gobiernos locales han invertido sabiamente el dinero de los contribuyentes, ofrecido a los ciudadanos más alternativas en vivienda y transportación, protegido tierras de valor natural y agrícola, promovido ambientes saludables, creado un legado duradero para la comunidad y alcanzado otras metas positivas para la comunidad.
Otras publicaciones traducidas al español:
You may need a PDF reader to view some of the files on this page. See EPA's About PDF page to learn more.