Cool & Connected: Lakeville, Indiana
The main street along U.S. 31 includes a free museum of meteorites and fossils. The new sidewalks are part of the town's streetscape improvements.Lakeville is a town of about 800 people in St. Joseph County in northern Indiana, just south of South Bend. The town was incorporated in 1905 as the crossroads of two railroad lines (both of which have since stopped operating), which helped establish Lakeville as a local economic center.
Lakeville has many assets. A $2.5 million, high-speed, high-capacity, fiber optic cable called Metronet Zing runs through the downtown. While the broadband infrastructure exists, as of 2017, it was "dark," or unavailable for residents to use, other than at the local library and one local business. A streetscape project made the town more walkable and includes sidewalks, curbs, trees, benches, planters, bike racks, and a bike fix-it station.
The town also has a large baseball and soccer facility and small lakes that draw visitors. Near Lakeville is the third busiest park in the state, Potato Creek State Park. Lakeville and several local and state partners are also working to create a Wetland Trail and Wetland Community and Education Center on 10 acres next to downtown. The town hopes to use this center as an economic driver while also maintaining land to manage stormwater and plans to include Quick Response (QR) code smartphone technology in the project.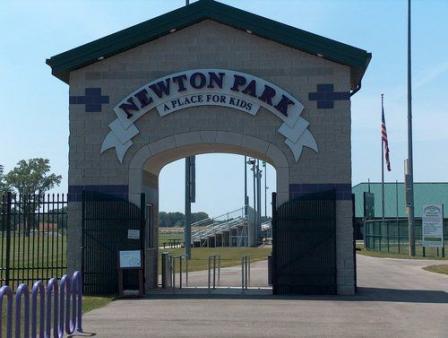 The regional park with ball fields brings thousands of soccer, baseball, and track students to town. Town leaders want to draw them to the main street with signs.Manufacturing accounted for about 40 percent of the county's jobs in 2009. The region is suffering from the steady decline in manufacturing, and the county lost more than 1,000 manufacturing jobs between 2001 and 2008. According to the 2010 U.S. Census, 27 percent of Lakeville's population lives at or below the poverty level. In 2014, U.S. Route 31, which connects Lakeville to South Bend, was rerouted a mile east of Lakeville's downtown, dropping traffic counts from 27,000 vehicles a day to 5,400.
Lakeville asked for Cool & Connected assistance to help it spur commercial and economic development while also improving the community and maintaining its small-town charm. The Cool & Connected team of contractors and staff from EPA visited Lakeville in 2017 to conduct a workshop with local officials, business owners, and other stakeholders to develop a vision for the town and next steps to achieve its goals.
Through the workshop, residents and local and regional officials created a vision of Lakeville developing as a bedroom community for South Bend and a destination for visitors to Potato Creek State Park, with a distinctive character as a place for people to live, work, play, and pray. Specific goals included creating a coworking space and technical assistance to encourage economic development, putting up signs to encourage visitors to explore the downtown, coming up with a social media strategy to promote Lakeville's small-town charm, providing free public wi-fi downtown, extending wi-fi to natural areas, and creating a multimodal corridor to encourage walking and biking.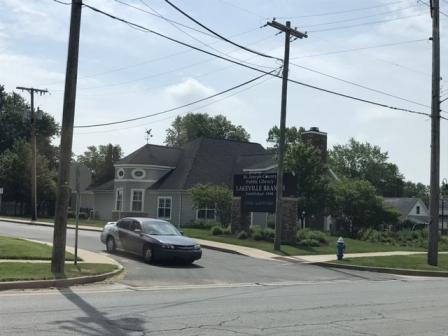 The public library offers free high-speed wi-fi.Since the workshop, Lakeville Downtown District has seen improvements. In late 2017, Lakeville received a $500,000 state grant to help with the planning and funding of an updated Lakeville Fire Rescue Emergency Services Building in the heart of downtown, which will include more community conference space. The land purchase to create the wetland park was progressing. Plans to turn an existing barn into a community center have advanced. The promise of these new amenities has attracted development to the Lakeville Commerce Park at the south end of the wetlands. A restaurant and a brewery are planned to open. These community gathering places will be able to take advantage of proposed free public wi-fi.
The Lakeville housing market has also seen an uptick. A housing subdivision that had not seen growth in five years had five homes built in 2017, and an additional permit was issued. The demand for rental housing is very strong, spurred by excellent schools and an inviting town administration. New and improved properties in the Downtown District have increased the town's tax revenue through the tax increment financing district controlled by the Lakeville Redevelopment Committee. These properties include a new gas station, a new dollar store, and an apartment complex that doubled in size, adding 48 units.
After working closely with a broadband access consultant, the Lakeville Redevelopment Committee approved use of tax-increment funds for the nearly $45,000 cost of planning and installation to extend broadband from the Metronet Zing throughout downtown.. The next phase will extend broadband to residential neighborhoods.
The county is negotiating with the state highway department to take over the old U.S. Route 31, which would let the county make the former highway safer for walking and bicycling. Meanwhile, the town received a Community Crossing Grant for just over $126,000 from the state department of transportation to repave and preserve several streets.
LESSONS LEARNED:
Linking high-quality, modern broadband service to other place-making initiatives, like better signage and streetscaping, can accelerate main street redevelopment in even the smallest of towns.
Outdoor recreation opportunities (e.g., parks and wetlands), good broadband service, and a charming downtown can attract visitors and retain young people.
It takes only a few committed local leaders with a vision for revitalizing a town to make changes that result in better quality of life and a healthier environment.
---
Published October 2020.