Cool & Connected: Millinocket, Maine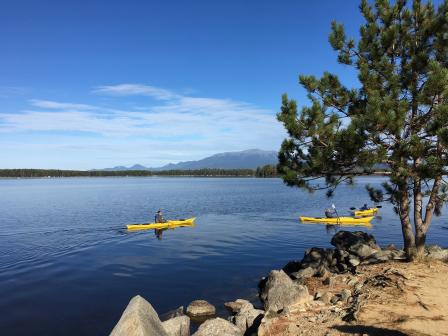 Mount Katahdin and Millinocket Lake are among the beautiful natural amenities that attract visitors to Millinocket.Millinocket, a town of more than 4,000 people, is in Penobscot County, Maine, just southeast of Mount Katahdin and Baxter State Park. As a gateway town to Mount Katahdin, the northern end of the Appalachian Trail, Millinocket receives most of the trail's through-hikers at the end of their journeys and hosts tourists enjoying outdoor activities throughout the year.
The Great Northern Paper Company, historically Millinocket's biggest employer, once hired many of the town's high school graduates, but it shuttered in 2008 and took with it the town's major industry. In the wake of the paper mill's closing, Millinocket is looking for ways to diversify its economy and use its assets of natural beauty and broadband access to attract new residents and businesses.
While some of Millinocket is connected to high-speed internet, many residents do not have reliable service in their homes. Many people go to the library or the downtown wi-fi corridor to access public wi-fi. With support from Maine's ConnectMe Authority in 2016, Millinocket surveyed the community and develop a broadband roadmap that will improve the town's broadband opportunities and attract more entrepreneurs and telecommuters.
Our Katahdin, a nonprofit that promotes community and economic development in the region, acquired a dilapidated building on the town's main street in 2016 and plans to use federal grant money to renovate it as a community space. In 2017, it acquired the 1,400-acre site of the former paper mill and plans to redevelop the land and reconnect it with Millinocket's main street. Downtown Millinocket is in a federal Opportunity Zone.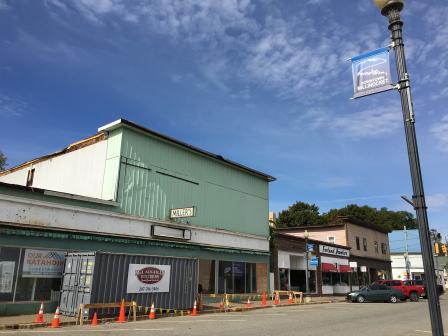 Our Katahdin is renovating this building in downtown Millinocket.Our Katahdin requested the Cool & Connected assistance to leverage existing resources, promote regional collaboration, and support economic development in conjunction with its projects. The Cool & Connected planning assistance team of contractors and staff from EPA and the U.S. Department of Agriculture visited Millinocket in 2017 to talk with local business people, elected officials, and other stakeholders and gather public input on a vision for downtown revitalization spurred by broadband access.
The action plan developed through the workshop lays out specific steps Millinocket can take to achieve its goals of developing a community space downtown, making downtown more attractive, and engaging residents and community organizations. Community members are working to implement the plan, including by expanding digital literacy programs, improving public space on the town's main street to attract more visitors and residents, and reconvening the regional Broadband Committee to collaborate on broadband goals with Medway and East Millinocket.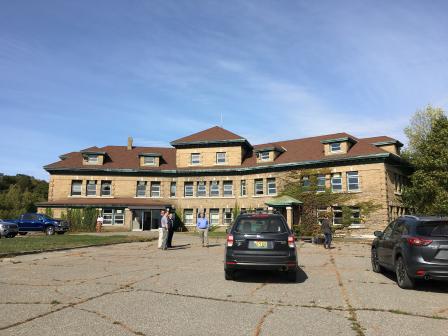 The mill site's former administrative building could be repurposed for new businesses or for community space.In February 2018, Our Katahdin announced an anchor tenant to catalyze redevelopment of the mill site, bringing 100 jobs to the region. The group is also proceeding with rehabilitating the downtown building and is soliciting public input on potential uses for the building, including perhaps shared retail space for local vendors, co-working offices for entrepreneurs and small businesses, or some other community use.
In spring 2018, the Millinocket Memorial Library received a grant to develop a digital literacy curriculum and to purchase laptops that residents can borrow and take home. The library now offers classes teaching residents about everything from computer and internet basics to social media to coding. Learning these skills can help people start local businesses that can provide goods or services far outside of Millinocket or get jobs that require technological skills. Another new initiative, the Katahdin Gear Hub, lets residents borrow a bicycle or tools to fix their own bicycle, which can encourage more people to bike around downtown or to nearby lakes and forests.
LESSONS LEARNED:
Access to high-quality broadband service is necessary for small towns to be competitive in attracting new residents and businesses.
Natural beauty and fun things to do outdoors, good broadband service, and a lively downtown can make a community appealing for young people to stay in or move to.
It's not enough to have broadband service: the community needs to work to help all residents and business owners get online and take advantage of opportunities.
Better use of broadband can lead to environmental and health improvements, such as reusing vacant or underused properties, reducing pressure on working lands, and improving air and water quality.
Learn more about how Millinocket is planning for its future, and how the Cool & Connected workshop helped, in a podcast from Smart Growth America, Exit EPA's contractor for this program.
---
Published October 2020.