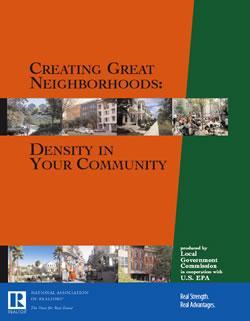 Smart growth developments can reduce air and water pollution, preserve open space, and encourage brownfields cleanup and reuse. One principle of smart growth is to take advantage of compact building design. Building compactly with attractive designs is a practical approach to growth used in diverse places across the country. Compact development that uses land efficiently is integral to creating neighborhoods that offer convenience, value, and a high quality of life.
Creating Great Neighborhoods: Density in Your Community (2003) highlights the success of nine community-led efforts to create vibrant neighborhoods through compact design. It helps readers understand the connections between smart growth and density, introducing five time-tested design principles to ensure that density becomes a community asset and not a liability:
 
Increase densities in appropriate locations.
Connect people and places.
Mix uses.
Find parking alternatives that support density.
Create great places for people.
This publication is a grant product of the Local Government Commission in cooperation with EPA and sponsored by the National Association of Realtors®.
You may need a PDF reader to view some of the files on this page. See EPA's About PDF page to learn more.