Local Foods, Local Places: Huntington, WV
Local Foods Market Builds Community 
Huntington, West Virginia, is a city of about 49,000 people, down significantly from its peak of more than 80,000 in the 1950s. It is an industrial city on the Ohio River, with an economy that was based primarily on the steel industry through the 1970s.
In 2012, a group of Huntington residents and nonprofit organizations began discussions about opening a market to provide an economically viable outlet for local producers and improve access to healthy, local food. To organize community support and input, they used weekly "chat-n-chews," which were established by Create Huntington, a grassroots support network, to provide a place where residents interested in positive change could gather and explore ideas for improving the city.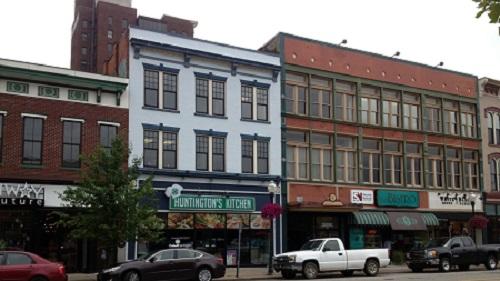 Downtown Huntington has seen revitalization—success the city hopes to replicate in Old Central City. Soon, a steering committee formed focused on a new market, and the committee used Facebook to gather additional input, announce events, and generate community support for the idea. In less than a year, the Wild Ramp opened, offering local producers the chance to sell on consignment. Producers set their own prices and stock their own displays, keeping 80 percent of the proceeds, with the market using the remainder to fund operations. Three paid staff members and a volunteer board of 11 people operate the market with the help of a large cadre of volunteers who collectively work about 500 hours per month.
By 2014, the Wild Ramp outgrew the space at its first location and moved into a new 2,500-square-foot building along a historic commercial corridor in the part of town known as Old Central City. The city of Huntington subsidized the move as part of an initiative to reduce crime and blight and help rejuvenate the neighborhood.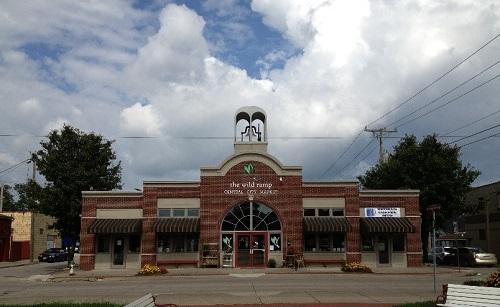 The Wild Ramp's building anchors the Old Central City commercial corridor.The city sought proposals from organizations that would manage the city-owned building as a market for local foods. The winning proposal for the Wild Ramp helps advance the city's goals to reduce vacancies, prioritize development in existing commercial corridors, and promote commercial uses that serve residents' needs. The market brings new foot traffic to the corridor while giving neighborhood residents much-needed access to fresh, local food.
The Wild Ramp was able to expand to nearly three times its original size, allowing space for a small commercial kitchen, cooking classes, agricultural workshops, sustainability programs, and other community events. Huntington used its Local Foods, Local Places workshop in 2014 to help plan for the success of the market in its new location and usher in revitalization in its new neighborhood. Coordinating several related projects helped make each a bigger success.
In the first five years of operation, more than 225 producers and artisans have earned $2 million from sales at the Wild Ramp. In addition, the Wild Ramp has been part of Old Central City's renaissance as a tourist destination filled with antique stores and other small businesses.
LESSONS LEARNED
Early community input and buy-in generated enthusiasm that has sustained the effort.
Volunteer labor and the city's financial support were critical to the market's success.
Location on a commercial corridor benefits the market and other businesses.
---
Published July 2017.
Source: Personal communication with Gail Patton, Executive Director, Unlimited Future, Inc.
This case study appears in the Local Foods, Local Places Toolkit.